Glasgow 2014: Where will home nations finish in the medal table?
By Neil Johnston
BBC Sport in Glasgow
Last updated on .From the section Commonwealth Games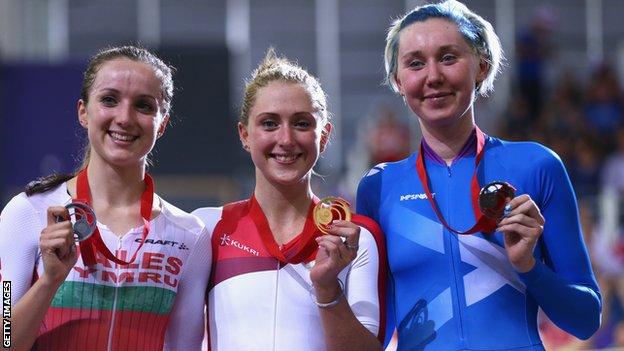 It is 28 years since England finished top of a Commonwealth Games medal table yet with three days of competition left in Glasgow they are on course to end Australia's dominance.
Australia have ended the last six Games top of the pile but trail England in the table as the 20th edition reaches a thrilling climax.
Scotland and Wales have also enjoyed successes, while Northern Ireland are poised to finish strongly in the boxing ring.
There are still 64 golds on offer. Can England finish top? Will Scotland hold on to fourth spot? Can Wales and Northern Ireland break into the top 10? Here, BBC Sport assesses their chances.
Can England finish top?
Scotland is turning out to be a home from home for England.
England's medal haul at recent Commonwealth Games

Gold

Silver

Bronze

Total

Position in medal table

Kuala Lumpur 1998

36

47

52

135

2nd

Manchester 2002

54

51

60

165

2nd

Melbourne 2006

36

40

34

110

2nd

Delhi 2010

37

59

46

142

3rd
The last time they finished a Games top of the table was in 1986 in Edinburgh when Sir Steve Redgrave dominated the rowing and Steve Cram struck gold in the 800m and 1500m.
Since then they have played second fiddle to Australia, who have ended the 1990, 1994, 1998, 2002, 2006 and 2010 Games at the medal summit.
England ended Thursday with a total of 44 golds - eight more than Australia. So in which sports can England extend their advantage over the last three days? And where can nearest rivals Australia look to reduce the deficit?
Australia will certainly be eyeing gold on the track on Friday in the shape of Olympic 100m hurdles champion Sally Pearson, while Lauren Mitchell is a serious prospect in artistic gymnastics.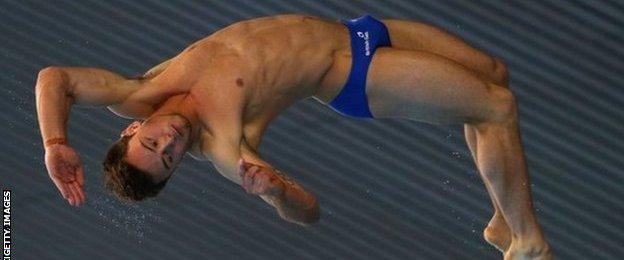 But their men's hopes of winning a third straight 4x400m Commonwealth title on Saturday have been dealt a serious blow after Steve Solomon suffered a hamstring injury during his 400m individual semi-final.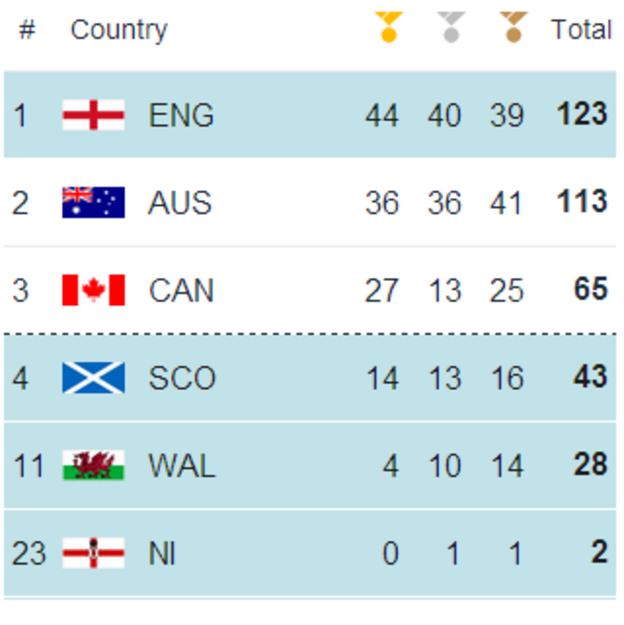 And while the likes of Cadel Evans, Richie Porte and Mick Rogers will be missing from Sunday's cycling road race, Australia do have a gold medal prospect in 31-year-old Mark Renshaw.
Last day golds in the men's hockey and women's netball will also be on Australia's radar but by then England could have cemented their place at the top of the medals table.
Wolverhampton-born artistic gymnast Kristian Thomas qualified in first place for the men's vault final which takes place on Friday.
And there are decent gold medal chances for Rebecca Downie and Claudia Fragapane (beam), Max Whitlock and Nile Wilson (parallel bars), Hannah Whelan and Claudia Fragapane (floor) and Kristian Thomas and Nile Wilson (vault).
And England diving duo Jack Laugher, who has already won gold in the 1m springboard, and Chris Mears are vying for glory in the men's synchronised 3m springboard final at Edinburgh's Royal Commonwealth Pool.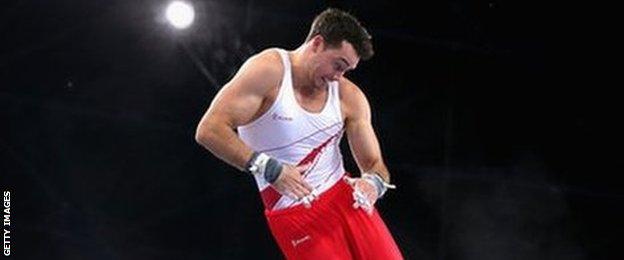 Olympic bronze medallist Tom Daley will also be eyeing victory in diving's individual 10m platform contest on Saturday having already hoped to have clinched gold in the synchronised event 24 hours earlier with partner James Denny.
Australia's Anabelle Smith and England's Hannah Starling are also contenders in the women's 3m springboard.
On the final night of athletics on Saturday, England's 4x100m relay team, which includes Mark Lewis-Francis, are defending the gold they won in Delhi four years ago although the night could yet belong to Usain Bolt and Jamaica.
England are guaranteed at least a silver in bowling's women's pairs after Jamie-Lea Winch and Natalie Melmore reached Friday's final.
And boxers Nicola Adams, Qais Ashfaq, Sam Maxwell, Joe Joyce, Savannah Marshall, Scott Fitzgerald and Antony Fowler are guaranteed bronze medals.
England's Lizzie Armitstead is also a favourite for the women's road cycling, while the men's hockey team will compete in either a bronze or gold medal match - as will the women's netball team.
In squash, there is also the possibility of a second gold for Nick Matthew as he teams up with Adrian Grant in the doubles as they face a quarter-final against Wales.
England are also guaranteed two medals in the table tennis mixed doubles on Saturday as they've got three of the four pairs in the semi-finals.
Can Scotland hold on to fourth?
Scotland have already broken their medal record for a Commonwealth Games.
The haul of 33 at Edinburgh 1986 had been Scotland's previous Games best but, with three days of competition still remaining, they have 43.
Scotland's medal haul at recent Commonwealth Games

Gold

Silver

Bronze

Total

Position in medal table

Kuala Lumpur 1998

3

2

7

12

11th

Manchester 2002

6

8

15

29

10th

Melbourne 2006

11

7

11

29

6th

Delhi 2010

9

10

7

26

10th
Fourteen of those have been golds - also a new national record.
Team Scotland currently sit fourth in the table but can they end a fine home Games by staying ahead of India and, perhaps most threateningly, New Zealand?
Lynsey Sharp will be Scotland's biggest hope at Hampden Park on Friday, where she will hope to win a Commonwealth 800m title.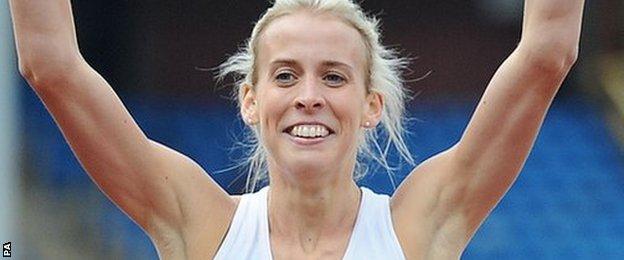 On the closing night of the athletics action on Saturday, Scotland will hope to win medals through Chris O'Hare in the 1500m, while the women's 4x400m relay will be one of the most eagerly anticipated events of the evening, with Scotland's squad being led by golden girl Eilidh Child.
In addition, Scotland will be confident of success in the boxing ring with Reece McFadden, Josh Taylor, Charlie Flynn and Stephen Lavelle all battling for medals.
Four of Scotland's five-strong men's gymnastics team have made it through to finals, with Frank Baines and Adam Cox going in the vault.
Baines will also hope for a medal in the parallel bars after Baines finished top in qualifying. Daniel Purvis was third in qualifying.
Daniel Keating - as well as Baines - represents Scotland in the horizontal bar.
Arbroath's Darren Burnett is in the men's singles gold medal match at the Kelvingrove Lawn Bowls Centre.
And what about New Zealand, who trail Scotland by one gold medal in the table?
They will have designs on winning the men's hockey and women's netball, while Li Feng Yang and Liam Stone have high hopes of medalling in diving's 3m synchronised springboard.
Nick Willis, the 1500m gold medallist in Melbourne, is running a 1500m and 5,000m double at these Games.
Can Wales and Northern Ireland break into the top 10?
Wales have reached their target of 27 medals and are guaranteed at least 32, beating the record of 31 set at Manchester 2002.
Jazz Carlin became the first Welsh woman in 40 years to win a gold medal in the pool at the Games.
Wales have failed to finish in the top 10 of the medal table in the last three Commonwealth Games.
They currently sit 11th but have a chance to climb the table over the next three days.
Wales will have five boxers in Friday's semi-finals. Joseph Cordina is probably their best chance of a gold.
Bantamweight Sean McGoldrick is the defending champion but hasn't looked convincing so far and is up against Northern Ireland's Michael Conlon.
Lauren Price has already created history by becoming the first Welsh female boxer to medal at the Games.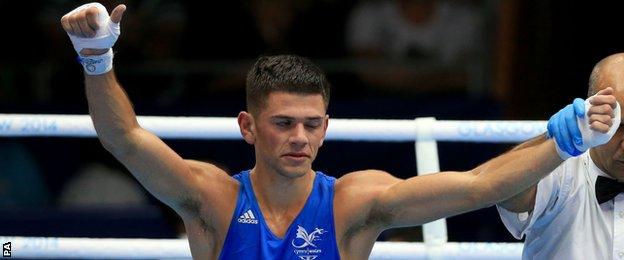 Geraint Thomas is poised to take part in Sunday's road race.
Thomas has played down his chances at these Games after the Tour de France, and even suggested Team Wales team-mate Luke Rowe could be the leader in the race.
Wales' medal haul at recent Commonwealth Games

Gold

Silver

Bronze

Total

Position in medal table

Kuala Lumpur 1998

3

4

8

15

10th

Manchester 2002

6

13

12

31

9th

Melbourne 2006

3

5

11

19

13th

Delhi 2010

2

7

10

19

15th
And what of Northern Ireland?
They have started slowly but could end these Games strongly thanks to their talented boxers, with nine competitors in Friday's semi-finals.
Going for places in Saturday's finals are light-flyweight holder Paddy Barnes, welterweight Steven Donnelly, middleweight Connor Coyle, bantamweight Michael Conlan, lightweight Joe Fitzpatrick, Sean Duffy at light welterweight, heavyweight Sean McGlinchy and women boxers Michaela Walsh and Alanna Audley-Murphy.
Northern Ireland's medal haul at recent Commonwealth Games

Gold

Silver

Bronze

Total

Position in medal table

Kuala Lumpur 1998

2

1

1

4

13th

Manchester 2002

2

2

1

5

17th

Melbourne 2006

0

2

0

2

23rd

Delhi 2010

3

3

4

10

14th
In bowls, the women's pairs of Barbara Cameron and Mandy Cunningham are into the semi-finals.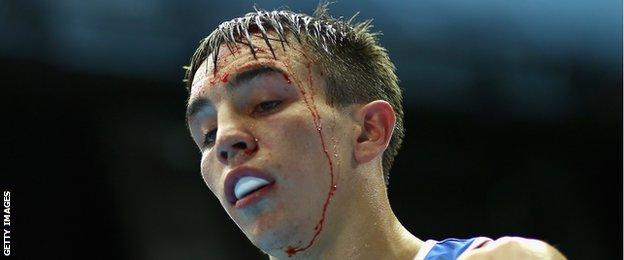 Win, it's gold or silver. Lose and they go into contest for bronze.
And what of the rest?
The Isle of Man are currently the only one of the crown dependencies with a medal, thanks to cyclist Peter Kennaugh's silver in the men's points race.
Jersey, without a medal at the Commonwealth Games since 1990, could join them if Lindsey Greechan and Katie Nixon beat Northern Ireland in Friday's play-off for bronze in the women's pairs lawns bowls.
Guernsey's last chance of a medal in Glasgow appears to lie with cycling's road races on Sunday as they have teams entered in both the men's and women's races.