Glasgow 2014: Fran Halsall and Adam Peaty win gold for England
Last updated on .From the section Commonwealth Games
Fran Halsall and Adam Peaty were both winners on a golden Commonwealth Games night in the pool for England.
Halsall, 24, won the women's 50m free in 23.96 seconds, the fastest time in the world this year and a Games record.
And Peaty triumphed in the 100m breaststroke in a Games and British record of 58.94secs to finish ahead of South Africa's Cameron van der Burgh and Scotland's Ross Murdoch.
It made Peaty, 19, England's fourth gold medallist in the pool in Glasgow.
The tally was added to with a silver for Tom Hamer in the Para-sport S14 200m freestyle and bronzes for Molly Renshaw in the 200m breaststroke and the women's 4x200m freestyle relay.
Wales also enjoyed a strong night, Georgia Davies touching in a new national record of 59.58secs to take silver in the 100m backstroke final and Jack Thomas earning bronze behind Hamer.
For Scotland, Murdoch's bronze was preceded by near misses for Hannah Miley, Cameron Brodie and Craig Benson, who finished fourth in their respective races.
Home nations' Saturday pool party
England:
Gold - Fran Halsall, Adam Peaty; Silver - Tom Hamer; Bronze - Molly Renshaw, women's 4x200m freestyle relay
Wales:
Silver - Georgia Davies; Bronze - Jack Thomas
Scotland:
Bronze - Ross Murdoch
However, the bulk of the glory belonged to Peaty and Halsall.
The Uttoxeter breaststroker was fourth behind the victorious Murdoch in the 200m on Thursday but became the first British man to break the 59-second barrier in the 100m event, beating Olympic champion and world-record holder Van der Burgh in the process.
"I can't believe it. It's a dream," he said. "I've studied Cameron van der Burgh for a while; he was my idol - now my rival - so I know he goes off quick but I caught him."
Livingston's Benson, 20, just missed out on the medals for Scotland and York's James Wilby, 20, was seventh.
Welshman Rob Holderness, 24, from Wrexham, was disqualified.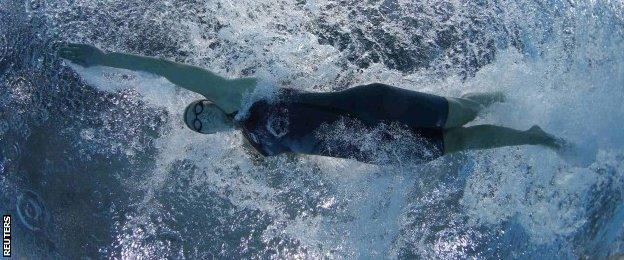 Halsall, meanwhile, finished four-hundredths of a second ahead of Australia's Cate Campbell, whose younger sister Bronte took bronze.
Scotland's Sian Harkin, 19, was seventh, and Amy Smith, 27, of England eighth.
"I felt sick before because I knew it was going well and I had more in the tank," said Halsall, who was the fastest qualifier but has had a difficult time since struggling at the Olympics.
"Sometimes I can try too hard but I upped my weight and got stronger and that's definitely paid off. I'm so happy."
Halsall later positioned herself as favourite for a second gold, this time in Sunday's 50m butterfly final, by setting a new British and Games record of 25.36 in winning her semi-final.
Wales also had something to celebrate, with Davies setting a national record of 59.58secs in the 100m backstroke final.
The 23-year-old from Swansea was 0.21secs behind Australian winner Emily Seebohm, 22, whose compatriot Belinda Hocking took bronze.
"Finally I've broken my personal best from three years ago, although I stuffed up my finish and had a massive glide," Davies said. "But I'm so happy to be on the podium."
England's Lauren Quigley, 19, and Lizzie Simmonds, 23, were fourth and fifth respectively.
Renshaw brought England another medal with a strong finish to her final.
The 18-year-old from Mansfield clocked 2min 25secs to finish behind the Australian duo of Taylor McKeown and Sally Hunter.
"I was hoping to get a personal best but to come away with a bronze, I couldn't ask for anything more," said Renshaw.
Scotland's Miley, 24, in one of her weaker events, was 0.4secs behind Renshaw in fourth.
Her fellow Inverurie native Brodie was similarly denied a podium place in the 200m butterfly.
The 21-year-old had qualified in the fastest time but touched 0.04 seconds behind South Africa's bronze medallist Sebastien Rousseau.
His compatriot Chad le Clos won in a new Games record of 1:55:07, the London 2012 gold medallist finishing more than a second ahead of Australian Grant Irvine.
However, just making the blocks was a relief for the South African, who twisted an ankle stepping off a bus after Friday's finals.
He said: "The physio strapped it but I was so nervous because I didn't know it I would be able to swim."
English 23-year-old Roberto Pavoni, from Brentwood, was seventh in 1:58.03.
Team-mate Hamer was in better form, though, setting a new British record to win silver in the Para-sport S14 200m freestyle behind Australia's Daniel Fox.
And a rewarding evening ended with more medal success for England when Siobhan-Marie O'Connor, 18, Amelia Maughan, 18, Ellie Faulkner, 21, and Becki Turner, 21, earned bronze behind Australia and Canada in the women's 4x200m freestyle relay.
Scotland finished fifth and Wales were disqualified for an illegal change-over.