Gareth Warburton doping charge shocks Welsh Athletics chief
Last updated on .From the section Commonwealth Games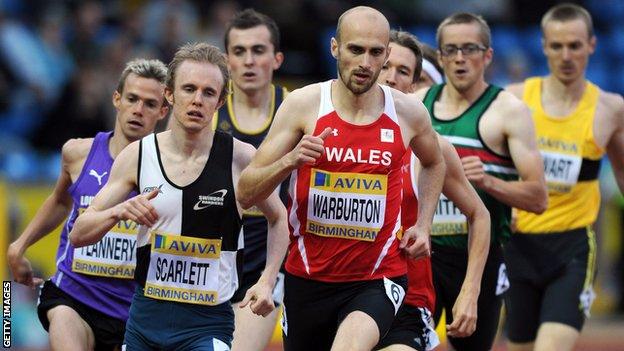 Welsh Athletics chief executive Matt Newman says that Gareth Warburton's doping charge is a "shock".
The 800m runner will miss the 2014 Commonwealth Games in Glasgow after being provisionally suspended for anti-doping rule violations.
"There's a real sense of shock about what's come out in the press release," Newman told Radio Wales Sport.
"Clearly Gareth is devastated by the news and also it's been a real surprise and shock to Welsh Athletics as well."
Warburton said he had not "knowingly taken any banned substance".
He narrowly missed out on a medal at the Delhi Games in 2010 when he finished fourth in the 800m behind Kenyan trio Boaz Lalang, Richard Kiplagat and Abraham Kiplagat.
He has won silver and bronze medals at the European Indoor Championships and was also part of the Great Britain team at the London 2012 Olympics, where he failed to qualify from his first-round heat.
In a statement, he said: "The responsibility for this situation lies with me and I'm committed to working with UK Anti-Doping and will fully cooperate in the legal process."
Newman praised Warburton for the manner in which he had responded to the charges and said that Welsh Athletics would work with him.
"I've been aware of this situation for a couple of days and I've been spending quite a bit of time with Gareth as he works himself through the process," Newman added.
"I think it was important for Gareth to respond in a positive way to the press release that initially came out from UK Athletics and to put out to the public how he's reflected on the news.
"He's probably feeling a bit numb to be honest at the moment.
"It's one of those situations that no athlete would ever want to be in and I think he's man enough to admit that he needs to take full responsibility.
"But it's important as well that Welsh Athletics, the team around him, is supportive through this process."