Gladys Ganiel completes long road to Commonwealth Games

Last updated on .From the section Commonwealth Games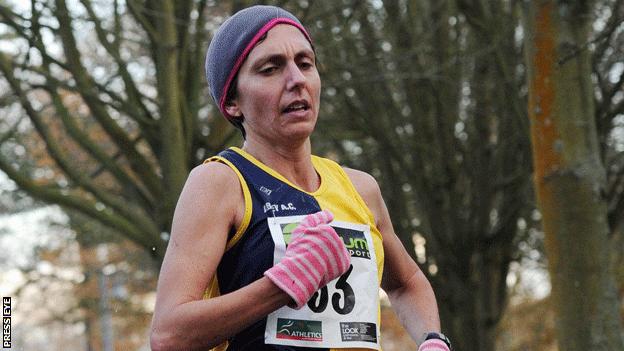 "Bangor, Maine - not Bangor County Down." It is a clarification Gladys Ganiel uses regularly when revealing where she is originally from.
And the 37-year-old marathon runner has certainly come a long way - and waited a long time - to wear an Irish vest in a major championships.
Ganiel has been living on this side of the Atlantic for 14 years, gaining Irish citizenship a few years ago. She shunned the US Olympic trials in 2010 to have a crack at qualifying to run for Ireland at London 2012 instead.
She did not make it on that occasion, but now she has qualified to represent Northern Ireland at the Commonwealth Games in Glasgow.
Ganiel is not a full-time athlete - she is an assistant professor in Conflict Resolution and Reconciliation - nor is she a contender for a medal.
But, like many others, getting to the 'friendly games' has been a goal in itself.
To make the NI team for Glasgow, Ganiel needed to run a marathon in two hours, 40 minutes - and she did it in Berlin last September, clocking two hours, 39 minutes and 26 seconds.
"I had run a fairly even race but, as the course was marked in kilometres rather than miles, I did a few miscalculations and I needed to pick it up a bit to make sure I got under the time," said Ganiel, who recently visited Glasgow, with coach Matt Shields, to check out the course for the marathon.
The race takes place on Sunday, 27 July and Ganiel will head over to Scotland a few days before that.
"I am not going to go to the opening ceremony or anything like that. I think I will be better watching on TV and resting," added Ganiel, a member of North Belfast Harriers.
"The marathon course is two laps and there are a few hills. There is a part that goes through some parklands and there are some short steep ones at about 18 or 19 miles, so that might not feel very good.
"I am not sure it is a course you would run a personal best on, but it is a fair enough course.
"My aim is to compete. It is a strong field and a lot of the girls would have faster PBs than me."
Ganiel, who is married to website company owner Brian O'Neill, works at Trinity College Dublin's School of Ecumenics.
And not surprisingly, Northern Ireland offers rich pickings in the field of conflict resolution and reconciliation.
"A lot of my research and community involvement is with church groups and I see people on the ground taking positive steps," said Ganiel.
"Even if the top-level political negotiations are not going so well, you can see small changes going on around you.
"Peace processes take generations, not just a few years."
In others words - a marathon, not a sprint.