Usain Bolt & Glasgow 2014: Steve Cram delighted by relay run
Last updated on .From the section Commonwealth Games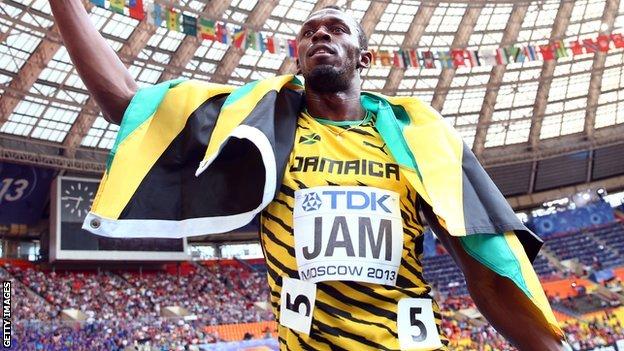 Steve Cram says it is great for Glasgow that Usain Bolt wishes to take part in the Commonwealth Games.
Bolt, who won gold medals in the 100m, 200m and 4x100m relay at the 2008 and 2012 Olympics, has never competed at the Commonwealth Games.
"Even if it is just for the relay, it's great for the Games and great for Glasgow," said triple Commonwealth Games gold medallist Cram.
Bolt is not fit enough to attempt to qualify for the 100m and 200m at the Jamaican Championships this weekend, but is likely to run in the 4x100m relay.
Speaking to John Beattie's Commonwealth Countdown, Cram added: "I always had the feeling if he was fit he would want to come and run.
"He's said at this stage of his career it's about winning medals and championships, that's what he thrives on and it's what he's good at.
"His preparations haven't gone well in terms of building up for the summer, we thought we'd see him before this. He's been running out of time in terms of getting himself in shape to run the 100m and 200m but hopefully he will be there in some capacity.
"Usain has a great big personality, he's a great character and he's brought that to the fore on the track, and that's why people love him, not just because he's good.
"He's been great for the sport and that's why we want him in Glasgow. It's better he's there in some capacity because he will lend something to the Games - he's one of the biggest names in world sport.
"The Games will be successful anyway, they're going to be great. Every major championship has athletes who don't make it for one reason or another, but those things are forgotten.
"He wouldn't want to turn up in the 100m and get beat."
Jamaica took silver behind England in the 2010 relay but, led by Bolt, won the World Championships last year.
The heats of the men's 4x100m will be held at Hampden Park on Friday, 1 August, with the final the following evening.
Scot Ian Stewart, who won the 5000m gold medal at the 1970 Commonwealth Games, said it is understandable that Bolt will not push himself to take part in the full compliment of events.
"There's a lot of pressure put on Bolt, probably more than any other athlete has experienced," he said. "He's been racing at a huge level ever since the Beijing Olympics so there's going to be one of the years when he has to take it a little bit easier, and I guess this is it.
"It's going to be great to see him in Glasgow anyway, it would be great to see him run the relay, he's fantastic at any of the events he does.
"He's not going to come and run the 100m or 200m if he's not 100% fit. He's had some niggles and has been running out of time."