Ben Reynolds to race Dayron Robles at Gothenburg meeting
Last updated on .From the section Commonwealth Games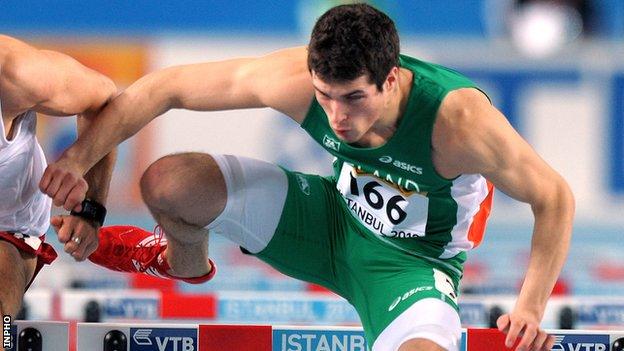 Holywood hurdler Ben Reynolds will continue his build-up towards the Commonwealth Games when he runs in Gothenburg on Saturday.
Reynolds will be in action in a 110m hurdles field which is scheduled to include 2008 Olympic champion Dayron Robles.
Robles is not currently in his former world record form of 12.87 so Reynolds may hope to get close to the Cuban.
Reynolds's best is 13.49 but believes he will soon move into world class.
"This week in Gothenburg I will have a nice field to run with and that really steps up the rhythm," Reynolds told BBC Sport Northern Ireland.
"Comparing last winter, I've been head and shoulders above where I was the year before.
"I am thinking fast. Low 13s. You get to a certain point where it's belief. Having the mindset to be world class. I am ready for that."
Reynolds produced a major breakthrough at last year's Mary Peters International meeting in Belfast when he improved the Northern Ireland record to a very respective 13.49.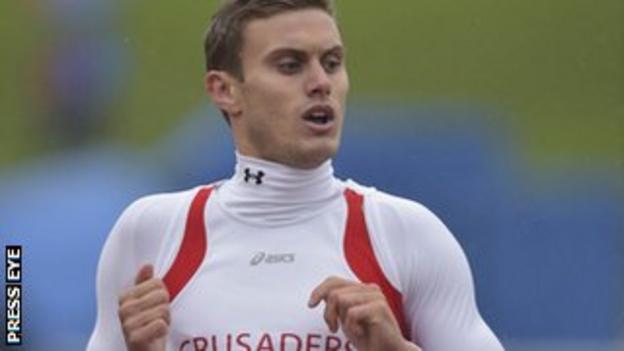 That time has firmly established Reynolds as Irish number one and he has produced a solid, if unspectacular start to this season by posting times of 13.79 and 13.83.
But Reynolds insists that his performances so far in 2014 are not an accurate indicator of his current form.
"The 13.83 last weekend and the 13.79 in my season-opener were just what I would categorise as training runs," adds Reynolds.
"What's very promising is that the feeling when I run those times is a 'not get going' feeling. Last year, that same feeling would give me a 14.1.
"What I've been doing in training is looking towards the lower 13s, once the rhythm really switches on.
"Anything on the other side of 13.5, I see as a training run, a recalibration. It's about getting the rhythm, getting everything balanced.
"Only when you are balanced into the hurdle and off the hurdle, can you really apply speed into between the hurdles.
"Otherwise you are rebalancing for the next hurdle and you are very passive.
"So when you get your balance, it switches on and you move up several gears, that's what your are building towards."
Reynolds's fellow hurdler Jason Harvey is also looking forward towards his Commonwealth Games challenge in Glasgow.
"I feel in the best condition of my life right now," says Harvey.
"I definitely think things can happen in Glasgow. I feel this is definitely my year.
"I had a couple of niggles in my Achilles last summer but everything then went well in the winter."
Harvey's career is primarily guided by former world indoor bronze medallist Paul McKee but he has also been receiving specialist hurdling coaching from Dublin-based John Coghlan, a brother of Irish 100m hurdles record holder Peter Coghlan.
"John was over with us during our warm weather training stint in California recently.
"I had a good couple of sessions with him there and I feel like I am steadily improving.
"I'm not there yet. It's only my third year doing the event. I picked up the event because I thought I could do well in it and I've got the Commonwealth standard so it shows I've got some sort of potential.
"But it's just about getting used to running 400m hurdles races. In my lifetime, I've only raced about 10 or 11."