Glasgow 2014: Scots athletes choose Kilmarnock base
By Jane Lewis
BBC Scotland
Last updated on .From the section Commonwealth Games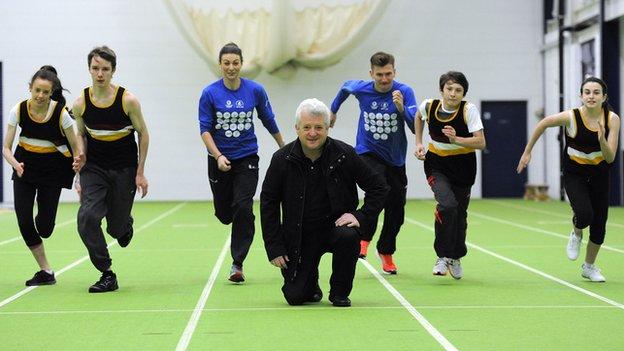 Team Scotland track and field athletes will be based at Ayrshire Athletics Arena in the immediate run-up to the Commonwealth Games next summer.
Director of Coaching Stephen Maguire told BBC Scotland: "Kilmarnock fits the bill really well. It is a world-class facility, the track is superb."
Athletes will have contact with - and access to - their personal coaches until the last moment before competing.
"Once they see it and the logic is explained, they'll enjoy it," he said.
"It is very important obviously in that last preparation period before the athletes go into the Games village.
"There are some athletes who are not going to be here and they prefer to maybe do it in their own base or whatever and that's fine as well, but more and more of them are saying, once they see the facility, they want to be here.
"The only stipulation I have with athlete and coach pairings is that they're in the Commonwealth Games village two days before they compete.
"A lot of competitions are won and lost on what preparation is like and we want to keep that as normal as possible."
Maguire said a key element of the decision was that the Kilmarnock facility had the same surface of running track that will be laid at Hampden Park for the 2014 Games.
"People ask why Kilmarnock? Why not somewhere else?" he said.
"To me, it's about creating an environment where they're going to be able to prepare properly.
"We had lots of options to go abroad, such as Portugal or Spain and even England, but the nature of the team and the way it is made up - we are going to have a team of 35-40 athletes - pretty much every one of those athletes has a personal coach.
"The most important thing for me is the personal coaches will have contact.
"It is normality. We want to get the vibe of what Scotland's going to be about coming into the Games and I think this is going to give us that opportunity."