Glasgow 2014: Eilish McColgan targets podium finish in 3,000m
Last updated on .From the section Commonwealth Games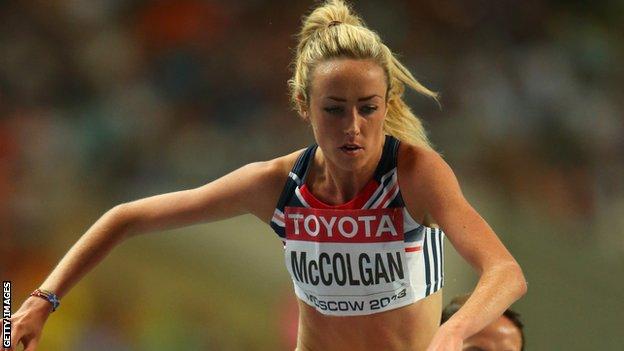 Eilish McColgan believes winning gold at next summer's Commonwealth Games is unlikely in her Kenyan-dominated event.
"I feel like if I wasn't in the top four, I'd be really disappointed," said McColgan.
"If I can get in amongst the medals, I would be happy with that."
McColgan, who splits her time between Dundee and Loughborough, recently returned from four weeks in Kenya where she was high altitude training in preparation for the Glasgow Games.
However, she remains unsure of how close she can get to the Kenyan athletes who currently dominate the 3,000m steeplechase.
Milcah Chemos Cheywa won gold at this year's World Athletics Championships in Moscow while her compatriot Lydiah Chepkurui took silver, and McColgan believes it will be difficult to match the Kenyan duo.
"In my event, the Kenyan athletes are the best in the world and for the Commonwealth Games it's the world standard, so it's not any easier," said McColgan.
"I feel like in order to try to compete with the top in the world, I have to be training there. If the Kenyans train like that, you have to train with the best in the world to be at that level.
"I went out there in January for the first time, for high altitude training - it was my first time out there - I absolutely loved it.
"I came home a lot fitter and healthier than previously, so I jumped at the opportunity to go out again in October.
"I feel the whole experience has benefited me again and I'm looking forward to going out again in January."
With just eight months to go before Glasgow 2014, McColgan insists her two main targets will be to run a personal best time and get close to Barbara Parker's British record of 9mins 24.24secs.
"Obviously, I want to run the fastest time I possibly can," said McColgan. "If I could get close to the British record, I would be more than happy.
"I'm very highly ranked after the three top Kenyans, so it depends who makes their team."