Commonwealth Games: Pakistan's men's hockey team miss Glasgow
Last updated on .From the section Commonwealth Games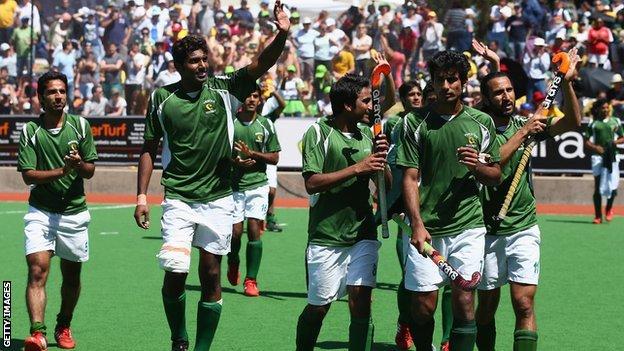 An internal sporting dispute means Pakistan's men's hockey team will not play at next year's Commonwealth Games.
The Pakistan Olympic Association split into two factions earlier this year, one recognised by the International Olympic Committee and the other backed by the state-run Pakistan Sports Board.
The Pakistan Hockey Federation ignored the IOC-backed faction of the POA as it relies on the state-run board.
As a result, it showed no interest in sending a team to the Glasgow Games.
The country's women's team was not scheduled to take part because of its ranking.
POA president Arif Hasan said the decision would damage hockey, a hugely popular sport in Pakistan.
"Every Pakistani has emotional association with hockey, but the apathy from the hockey officials has led to this exclusion," said Hasan, who added that Pakistan would be sending athletes to Glasgow to compete in other sports.
Pakistan have won four hockey world titles and three Olympic golds, but the men's team failed to progress from the group stages at the London Olympics and they have failed to qualify for next year's World Cup.
The team's poor performances forced the federation's secretary, Asif Bajwa, to resign last week.
And former players have demanded changes in the country's hockey set-up and threatened to destroy their medals unless the government addresses the slump in the sport.
The two parallel Olympic bodies to emerge from the Pakistan Olympic Association have been locked in a power struggle, risking suspension by the IOC.
The world body has now summoned officials of both factions and government officials to Lausanne to try to settle the dispute.
Michael Hooper, chief executive of the Commonwealth Games Federation, told BBC Scotland that his organisation had given the POA a month beyond the original 16 August deadline to submit an entry for the 2014 Games.
However, the POA did not receive the assurance it required from the country's hockey federation that it would provide a team and so it made no application to come to Glasgow.
"Unfortunately common sense hasn't prevailed. It's sad," said Hooper.
"The POA did everything they could to get the PHF to work with them but it simply did not happen. We have now issued an invitation to the first reserve on our list to send a team instead."
Pakistan finished sixth in the 2010 Commonwealth Games in India.
Their best finish was a silver medal in the 2006 Games in Melbourne.
Meanwhile, applications for tickets for the hockey semi-finals and finals have outstripped the capacity of the new stadium at Glasgow Green.
However, with matches being played on all 11 days of competition, organisers say there is a good chance of ticket applications being successful, especially for the preliminary stages.