Glasgow 2014: Eilish McColgan reaches Commonwealth standard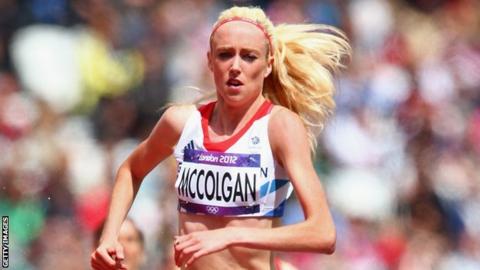 Eilish McColgan was one of 14 Scottish athletes to reach Commonwealth Games qualifying standards over the weekend.
McColgan ran a 1,500m time of 4:09.67 at the Loughborough International, beating the required 4:10.00.
Hurdler Eilidh Child also registered a qualifying time at the same Loughborough meeting.
McColgan said: "The standards were set at times and distances that were reasonable. I think people who are good enough will get them."
She added: "I think there is a bit of momentum building even though it is important for everyone to bear in mind that it is only May 2013.
"It is there on the horizon, yes, but there's a summer season and an indoor season and into 2014 left for those with hopes of qualifying for Team Scotland."
Also reaching the required standard at Loughborough were triple-jumper Nony Mordi, high-jumpers Jayne Nisbet and Allan Smith and long-jumper Jade Nimmo.
Hammer throwers Susan McKelvie, Mark Dry and Andy Frost, Libby Clegg in the T12 100m and the 4 x 400m women's relay team also met their targets.
Steph Twell in the 5000m, David Bishop in the 1500m and hammer-thrower Chris Bennett also set standards in other meetings.