Sir Chris Hoy eyes Commonwealth Games mentor role for Scotland
Last updated on .From the section Commonwealth Games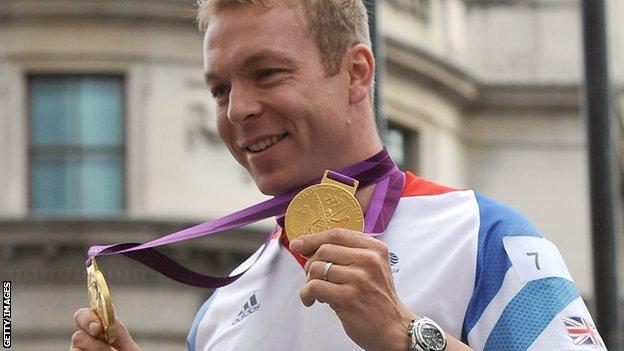 Sir Chris Hoy may not be competing at the 2014 Commonwealth Games in Glasgow, but he still hopes to help the hosts.
"I won't be coaching, mentoring possibly with the Scottish team for the Commonwealth Games," he said.
"I'm basically giving my time up to be available to athletes who perhaps want to discuss their concerns leading up to the Games."
In a glittering career, Hoy won two Commonwealth gold medals and two bronze medals, although he did not appear at the Delhi event in 2010 since it clashed with the European Championships.
On his mentoring, he added on BBC Breakfast: "You might want to ask 'how do you deal with pressure?' or 'how would you advise me to deal with this or that situation?'.
"It may be that it's just a five-minute chat or ongoing meetings with athletes and maybe even coaches.
"A coach has the same commitment as an athlete, they have to be there for all the training sessions and competitions and it's a huge commitment and a full-time thing."
Hoy, who collected his last two Olympic gold medals with victory in the team sprint and keirin at last summer's London Games, has played a big part in Britain's cycling boom.
"Cycling's grown and there's one face that's been at the front of that - Chris Hoy," former world champion Mark Cavendish told BBC Sport last week.
However, Hoy was typically modest in playing down his contribution to a decade which has seen enormous growth in the popularity of cycling.
"There's no one reason for it," he added. "I think it was the right people at the right time coming together in the team.
"It's the fact that we've been very fortunate to have this support from lottery funding that started just at the beginning of my career.
"We got Manchester Velodrome, now we have Glasgow Velodrome, London Velodrome and Newport Velodrome, so the sport is growing.
"It's not just track cycling, it's across the board. The Tour de France win for Bradley Wiggins, Mark Cavendish winning stages and being world champion - it's phenomenal.
"And as a fan of the sport, to see it just transform over the years. When I first started we had Chris Boardman and Yvonne McGregor, one or two medallists, but now you've got a whole host of household names."