Canoe Slalom World Cup: David Florence & Joe Clarke win golds in Poland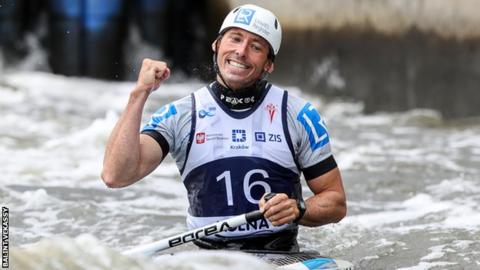 Olympic champion Joe Clarke and three-time world champion David Florence won golds for Britain at the Canoe Slalom World Cup in Krakow, Poland.
Clarke's victory in the men's single kayak (K1) on Sunday was the 25-year-old's first world cup gold medal, despite taking gold at Rio 2016.
And Florence's men's C1 win a day earlier was his first world cup podium in three years.
"It's good to be back, I am back on top of the podium again," Clarke said.
Staffordshire's Clarke shared the podium with the same two men who won silver and bronze in Rio too, as Peter Kauzer of Slovenia was second, with Jiri Prskavec of the Czech Republic in third.
Scot Florence, 35, finished ahead of Slovakia's Alexander Slafkovsky, with Michal Jane of the Czech Republic taking bronze at what was the second stage of this season's world cup.
Florence, who last won a world cup medal in 2015, also said he was "incredibly pleased to be back on the podium".
"I have felt like I have paddled so well in recent times but just not got the rewards," he explained.
"The guys in Britain are so strong now that winning selection in itself was a great achievement."
The third leg of the World Cup takes place in Augsburg, Germany, next weekend, with the fourth stage in Tacen, Slovenia, from 31 August-2 September and the overall final in La Seu d'Urgell, Spain, from 7-9 September.