Canoe Slalom European Championships: GB's Mallory Franklin wins gold and silver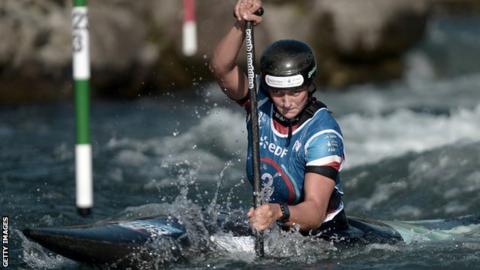 Britain's Mallory Franklin won team gold and individual silver at the Canoe Slalom European Championships in Prague.
Franklin and team-mates Kimberley Woods and Bethan Forrow beat France by more than six seconds to retain their C1 crown.
In the individual C1 event, world champion Franklin finished 0.57 seconds behind Austrian Viktoria Wolffhardt.
"It was really good to end up that close to winning," said Franklin, 23.
"I had a suspicion I had done enough to medal but thought I might slip to bronze.
"My run wasn't the best as I made a mistake and hit a gate. The course was so hard and it was just a general struggle all the way down."
Forrow, 17, finished ninth on her international debut, while fellow Briton Woods - a two-time European champion in the event - was 10th, before the trio combined to ensure Britain's third consecutive C1 team title.
In the men's K1 events, Britain finished fourth in the team event, missing out on bronze to Slovenia by 0.88 seconds.
Chris Bowers was fifth, Bradley Forbes-Cryans eighth and Olympic champion Joe Clarke 11th in the individual event.