World Cup canoe sprint gold for Liam Heath and Jon Schofield
Last updated on .From the section Canoeing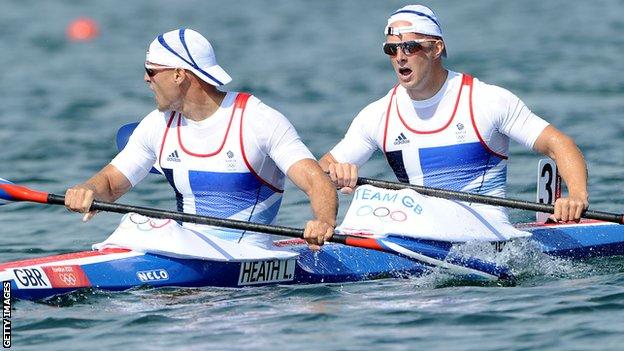 British Olympic medallists Liam Heath and Jon Schofield won K2 200m gold at the Sprint World Cup 3 in Copenhagen.
Olympic champion Ed McKeever claimed bronze in the K1 200m, while Lani Belcher took silver and Louisa Sawers finished third in the K1 5000m.
David Florence and Richard Hounslow won bronze in the C2 at the Canoe Slalom European Championships in Germany.
Florence, who won Olympic silver with Hounslow in London, said: "What is most pleasing about the C2 is that lots of times we have won medals but haven't been consistent. We were the best boat here."
Meanwhile, World Cup gold-medal winner Heath said the conditions in Copenhagen were tougher than in Duisburg last week, when he finished third.
"It's fantastic to win the gold and it's a great indication of where we are standing and how our training has been going," said Heath.
"Today we had slightly more challenging conditions than in Duisburg and the start wasn't as good as we would have liked, but we were quite strong through the middle and to the end."
The final event of the series will be the World Championships in August in Montemor, Portugal.