British Canoe Slalom trials: Olympians dominate
By Jenna Hawkey
BBC Sport at Lee Valley
Last updated on .From the section Canoeing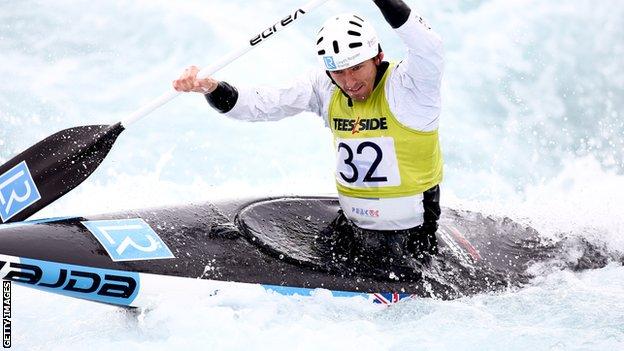 London 2012 silver medallists David Florence and Richard Hounslow dominated the British Canoe Slalom trials.
The C2 pair went undefeated over three days of racing at Lee Valley, with Olympic champion Etienne Stott and Mark Proctor finishing second.
Both crews will race for Olympic qualification at the World Championships later this year.
"It's a high standard, so to win by such a high margin was pleasing," Florence told BBC Sport.
"There is a lot competition in the C2 field at the moment."
GB Canoe Slalom team for World Cup series, European Championships and World Championships 2015 (subject to ratification by international panel):
Women's C1: Mallory Franklin (pre-selected as world silver medallist 2014), Kimberley Woods, Eilidh Gibson
Men's C1: David Florence, Ryan Westley, Adam Burgess
Men's K1: Joe Clarke, Richard Hounslow, Bradley Forbes-Cryans
Women's K1: Fiona Pennie (pre-selected as world silver medallist 2014), Lizzie Neave, Kimberley Woods
Men's C2: David Florence/Richard Hounslow, Mark Proctor/Etienne Stott, Adam Burgess/Greg Pitt
The BBC will be broadcasting the Canoe Slalom World Championships, which take place from 15 to 20 September at the Lee Valley White Water Centre and will serve as the first round of Olympic qualification for Rio 2016.