Etienne Stott: Canoeist vows to return from shoulder injury
Last updated on .From the section Canoeing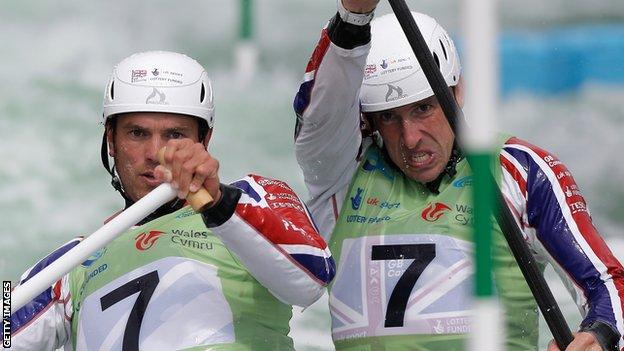 Olympic gold medallist Etienne Stott has said his second shoulder dislocation in two years will not end his canoeing career.
Bedford's Stott, 34, and in July this year damaged his left shoulder.
"It's possible to come back." he told BBC Three Counties Radio.
"There is an increased risk of re-injury, but I'd rather have that increased risk rather than not be able to canoe again."
Following keyhole surgery Stott managed to recover from his 2011 injury in time to
But his second setback, suffered at a World Cup competition in Spain, is more complicated, with the ligament becoming completely detached.
"It's not a trifling injury, but the surgeons see this kind of thing and say it's possible to repair it," said Stott, who had finished second and fourth with Baillie in the two previous World Cup events.
"You have to go out there and get on with it. What else can I do? I love what I do. The sooner I can get back the better.
"Luckily it was on the other shoulder. If you destroy an old repair it's a much more serious proposition.
"Early in the new year is when I'll be back on the water. So I've got a long way to go still. I'm probably just over halfway."
The injury means the second half of 2013 has been a write-off for the pair, who were unable to compete at last month's world championships.
"That was Tim's year derailed as well," said Stott. "He's been doing projects closer to his heart and keeping fit.
"When we get back on the water we can hopefully get back to where we were."