David Florence wins C1 silver at Canoe Slalom World Cup
Last updated on .From the section Canoeing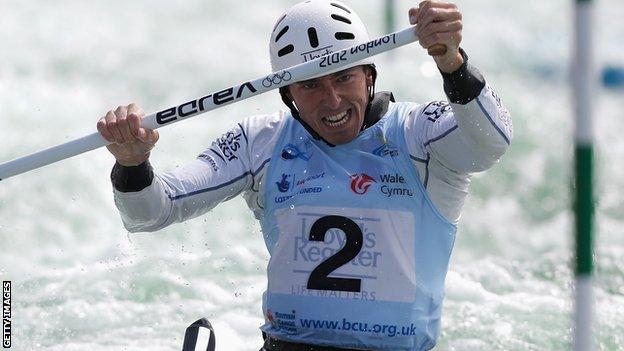 Britain's David Florence has won silver medal in the C1 at the Canoe Slalom World Cup Final in Slovakia.
Matej Benus, another home competitor, took bronze less than a second behind Florence.
In the women's final, Stafford's Jasmin Royle, 20, won bronze behind Australian winner Jessica Fox and Czech Republic's Katerina Hoskova.
Florence, who finished third in the morning semi-finals, spun out slightly between the last gate and the finish, costing him some time.
"I obviously want to race all the World Cups, they are all big races and here you have all the top guys racing," he said.
"To be up against three good Slovaks in the World Cup final on the water in Slovakia is always a big ask so to get in amongst them and not be far off the first place was great."
Royle earned a medal after a penalty for experienced Australian Rosalyn Lawrence which dropped her to sixth place.
"This morning I was quite happy to make the final so when I reached the bottom and I was guaranteed fourth, I was already pretty happy," said Royle. "So when she unluckily got her penalty I couldn't believe I had got bronze.
"I've been quite disappointed with my year so far. I've been paddling really well in my races but have messed up just one move so to come here in a senior race, to finally deliver a run and come away with bronze is great."