Hannah Craig misses out on European final by one second
Last updated on .From the section Canoeing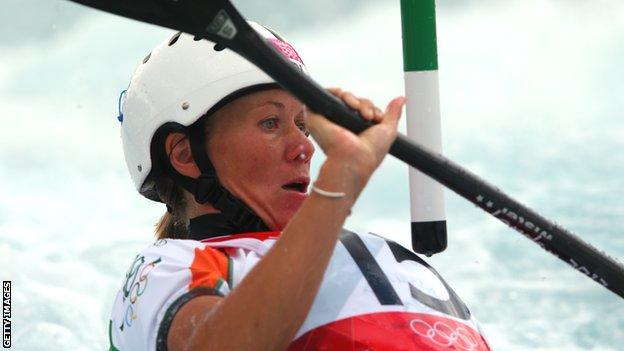 Hannah Craig missed out on a place in the final of the European Canoe Slalom Championships by just one second.
The Armoy Olympian was competing in the K1 event in Krakow, an event that was disrupted by the torrential rain which caused flooding last week in central and western Europe.
Craig, who finished 10th at the London 2012 Games, had no penalties in her run and finished 17th overall.
The Northern Ireland girl finished in a time of 99.82 seconds.
The Armoy woman became the first Irish female paddler to reach an Olympic final last August when she finished tenth in the K1 class.
The course had to be drained on Friday by opening two dams after the banks of the nearby River Vistula overflowed.
It meant that the competition was held over just two days instead of three and for Craig only one qualifying run instead of the normal two.
The tenth and final qualifier for the medal run made it in a time of 98.81, but for Craig it was a solid start to the season.
Great Britain's Fiona Pennie won the event.
There will now be five world cup events over the next couple of months leading up to the world championships in Prague in September.
The first of those will be held in Cardiff in a couple of week's time.