GB's Lizzie Neave wins European canoe slalom bronze
Last updated on .From the section Canoeing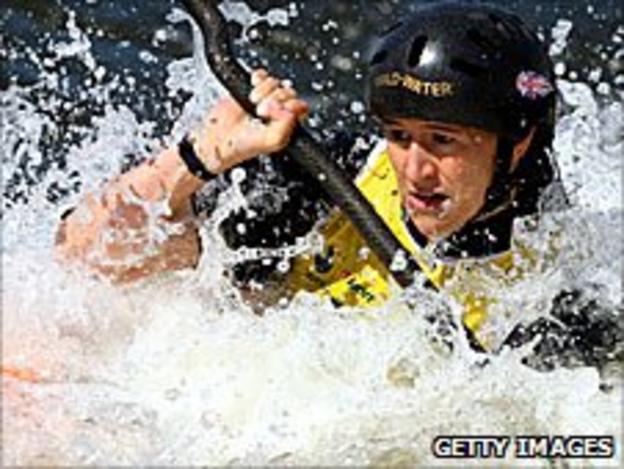 Lizzie Neave picked up Britain's solitary medal at the canoe slalom European Championships in Spain with a third place in the women's K1 event.
Neave produced a spirited performance and crossed the line in 106.76 seconds, behind Slovakia's Jana Dukatova and Claudia Baer from Germany.
Coach Paul Ratcliffe said: "There was one area where she was off line but she kept it together in a quality race."
British racers reached six other finals but failed to win more medals.
However, performance director John Anderson said: "I am very pleased with the seven individual finals. It's been the first international race of the year and it's a good measure of where we are.
"It's above the average of what we have been making in finals. It has been a solid weekend."
Richard Hounslow and David Florence came closest to adding to Britain's tally at La Seu d'Urgell. The pair finished fourth in the canoe doubles, missing out on a medal by 0.2 seconds.
Hounslow was then fifth in his first K1 final since 2008, while Olympic silver medallist Florence finished 10th in the C1 category, one place behind 22-year-old team-mate Mark Proctor.
"If I had thought a week ago I would get a fourth and fifth I would be happy with it," said Hounslow.
Campbell Walsh, who won K1 silver at the Athens Olympics in 2004, failed to reach the final after being hit with a 50-second penalty, while a two-second penalty for Huw Swetnam kept him out of the final.
British canoeing confirmed that both penalties were appealed, although race officials upheld their original decisions.
"We were convinced the penalties were not what they were and we did protest," a spokeswoman told BBC Sport.
"We aren't saying we were hard done by. They were controversial calls but that is not an excuse.
"It's the nature of our sport. We are subject to the decisions of judges."
In the developing women's C1 class, 16-year-old Mallory Franklin was looking to improve on her sixth place from last year's European Championships but after finding herself off line early, she accrued a 50-second penalty and finished ninth.