Saul 'Canelo' Alvarez v Billy Joe Saunders: Mexican wins with eighth-round stoppage
Last updated on .From the section Boxing884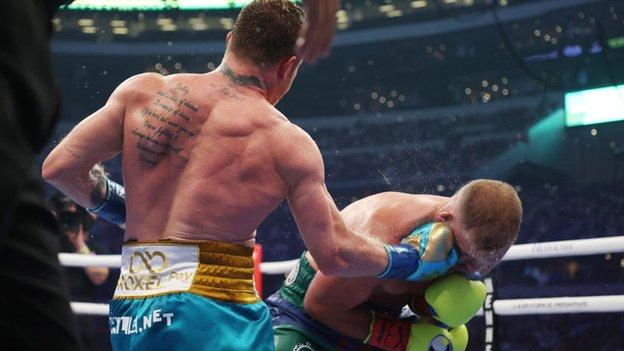 Saul 'Canelo' Alvarez produced a devastating uppercut to leave a distraught Billy Joe Saunders unable to rise from his stool after eight rounds of their world title unification bout.
Just as Saunders looked to be gaining a footing, the Mexican found a shot which caused an instant swelling over the British fighter's right eye.
Saunders' trainer called the bout off, with his fighter unable to see.
"I think I broke his cheek," said Alvarez. "The truth is I knew it."
Alvarez, 30, added: "I guessed in the corner and told my trainer Eddie Reynoso 'I broke his cheek'."
Within seconds of landing the pin-point blow - made more forceful by the fact Saunders was crouching into the shot - Alvarez raised his hands in front of his rival, ruthlessly letting the 73,126 in attendance know that he had broken the resistance of a man now at his mercy.
The champion beat his chest defiantly when it became clear Saunders would not rise for the ninth. He had married patience with ferocity in seeing off the seventh British opponent of his career to now hold three of the four world titles at super-middleweight.
As an emotional Alvarez was left in the ring in front of a record indoor crowd for a boxing event in the US, footage on the big screen inside Arlington's AT&T Stadium showed a heartbroken Saunders visibly in pain on his walk back to his changing room. The 31-year-old was quickly taken to hospital with a suspected broken eye socket, an injury which has proven difficult to overcome for the likes of British fighter Kell Brook in recent years.
Ruthless, emotional, remarkable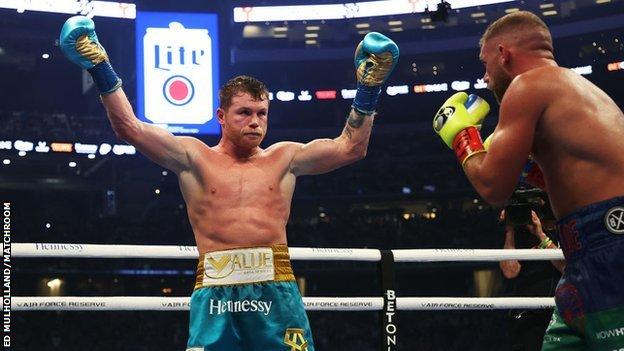 Saunders - who was unbeaten in 30 fights - was down on all three scorecards at the time of the stoppage but he had unquestionably posed a puzzle and - albeit briefly - threatened to turn the tide in the middle rounds.
Early on the Briton struggled to hold off the calculated pressure of Alvarez, who threw with spite when up close while his rival could merely flick out shots in a bid to maintain distance.
But through rounds six and seven Saunders landed more and his confidence peaked with every minute that Alvarez failed to pin him in.
Some 59 fights - and only one defeat - have however given the Mexican an assurance few ever enjoy between the ropes. When his moment came, he countered a Saunders attack with a decisive right uppercut and mercilessly followed it with an attack of head and body punches until the bell sounded.
Now the owner of the WBA, WBC and WBO world titles in the super-middleweight division, Alvarez wants to fight American Caleb Plant for the IBF title in a bid to become the only Mexican in history to hold all four belts at 168lbs.
Few would bet against him doing it and continuing a remarkable career he has said may go on for another seven years.
Addressing the partisan crowd who cheered him passionately on Mexico's Cinco de Mayo holiday weekend, he looked close to tears and said: "It's something very difficult to explain. I don't have words, the emotion I feel for all the people who have come out. The motivation they give me to continue on is very difficult to explain."
Saunders was a huge underdog and any win would have ranked among the greatest a British fighter had achieved on foreign soil.
Some are quick to harshly judge a fighter who fails to stand from his stool. But the speed with which trainer Mark Tibbs called time made clear Saunders' injury was severe and promoter Eddie Hearn said the corner "saved their fighter".
Saunders can take some comfort from the fact he posed the sport's best operator some questions.
Alvarez, meanwhile, continues to prove himself a fighter of remarkable class and one with abundant answers.
Good stoppage, greatness and questions...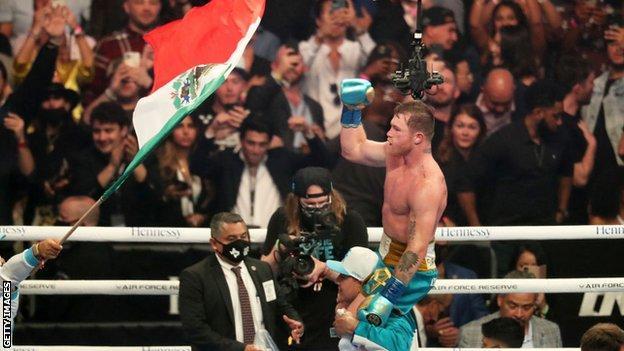 BBC Boxing correspondent Mike Costello: "There was never any sign of panic from Canelo.
"The intensity needed to hold this man off. He is just a constant menace. When Canelo is in the ring he seems to own more of the ring than his opponent.
"For all the great work Saunders was doing, it's like Canelo is never panicking."

BBC Radio 5 Live analyst Steven Bunce: "What was amazing was how quickly it changed. It was all over with one punch. It's amazing, just one shot.
"Mark Tibbs - Billy's trainer - knows what to look for. He's been in enough corners. He's spent a lifetime in boxing. You sense he knew. There was no remonstrating or complaining from Billy. He is in terrible pain and more than that, he can't see.
"I think it will be the money that makes Saunders know what he is going to do. He has made an awful lot of money. He has had fantastic pay days and invested it well. Let the eye heal. There are big fights out there for him. How do you get up for them though when you've been in front of 73,000 people?"

Boxing trainer Joe Gallagher on BBC Radio 5 Live: "Those high class operators only need that split second and they will take you out. Is the hunger or desire still there for Saunders? We'd love to see him against [Chris] Eubank Jr but, as we saw with Kell Brook, when you have that eye damage late in your career it's hard to come back from."