Daniel Dubois: Trainer Martin Bowers says Londoner will prove people wrong
Last updated on .From the section Boxing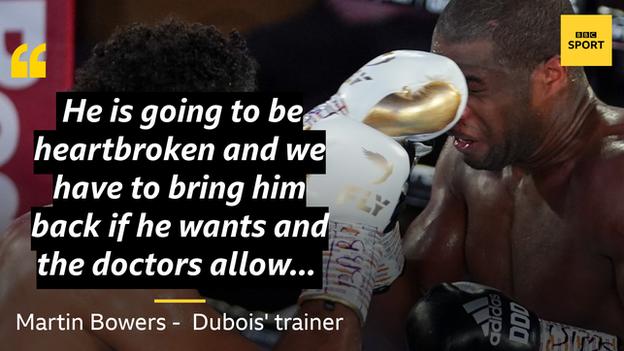 Critics who said Daniel Dubois had no "bottle" after his defeat by Joe Joyce are "twisted and wrong", according to his trainer Martin Bowers.
Dubois, 23, was stopped by Joyce on Saturday when an eye injury forced him to kneel on the canvas and he failed to make the count early in round 10.
Fighters past and present said Dubois, who it was later revealed had broken his orbital bone, had "quit".
Bowers told 5 Live Boxing: "What do we want to see, a kid lose an eye?"
He said the criticism of Dubois was "very sad" and a "little bit disrespectful".
"Going into the 10th round I said we had three rounds left in the fight and one left in the eye," he said.
"The next round, come what may, I was pulling him out.
"As I'd said it, I turned round and Daniel was on his knee. I could see it wasn't there. It wasn't not there because he didn't have any bottle. People who say that are twisted and wrong."
Dubois said on Monday he was out of hospital and had "tried to fight through the injury".
The Londoner, who was ahead on two of the three scorecards when he was stopped, said he wanted to prove his doubters wrong when his fracture had healed.
'We have a very good kid there'
This was the first time in Dubois' professional career that he faced adversity - and Bowers could be heard telling him between rounds: "This is the fight game now and you're in it."
Bowers, who said his fighter started dealing with the eye problem in round three, added: "We talk boxing and great boxers - what made them great?
"It's because they are in real fights with real fighters. I was trying to get that across to him: 'Do you want to be one of them and have you got that in you?'
"It's brutal. Boxers who get in the ring are special people. People saying he took a knee is rubbish. I am not having that."
Bowers believes Dubois will return and "prove a lot of people wrong".
"I think we have a very good kid there," he said. "I think he's got a champion in him.
"He is going to be heartbroken and we have to bring him back if he wants to and if the doctors allow him to."
'Pain and a mental mountain' - analysis
BBC boxing correspondent Mike Costello
I've never heard Bowers as passionate as that. When he talks passionately about a fighter and what they are prepared to take... the old Peacock Gym he worked out of has a statue outside as a monument to Bradley Stone, who lost his life in a ring in 1994.
This is a man who knows what boxers are prepared to give and what boxing has taken from them. The fire in his voice, I've not heard that before.
Dubois is going to see a lot of this. Within that he will see this traffic labelling him a quitter. Every time now he's in a big occasion, the events will be clouded by this narrative.
I think that's where the psychological mountain comes in.