Carl Frampton: Title fight with Jamel Herring planned for 'fourth quarter of year'
Last updated on .From the section Boxing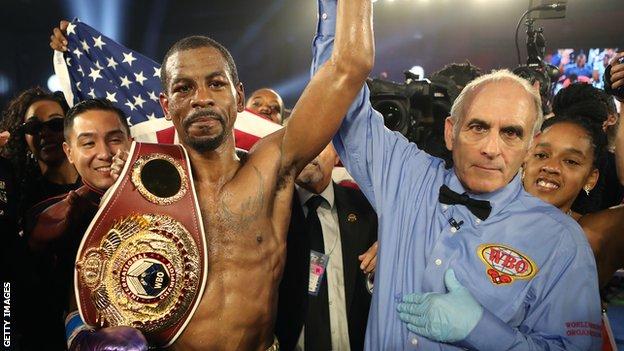 American boxing promoter Bob Arum has indicated that Carl Frampton is set to fight Jamel Herring for his WBO super-featherweight title later this year.
Herring's scheduled defence against Puerto Rican Jonathan Oquendo on Tuesday was called off after the champion tested positive for Covid-19.
Arum hopes both Frampton and Herring will return to the ring in August.
"If they're both victorious, we will attempt to match them against each other in the fourth quarter of 2020."
In his tweet, Arum also said: "We were greatly saddened when Jamel Herring tested positive for Covid-19.
"We expect not only him back in the ring in August, but also Carl Frampton."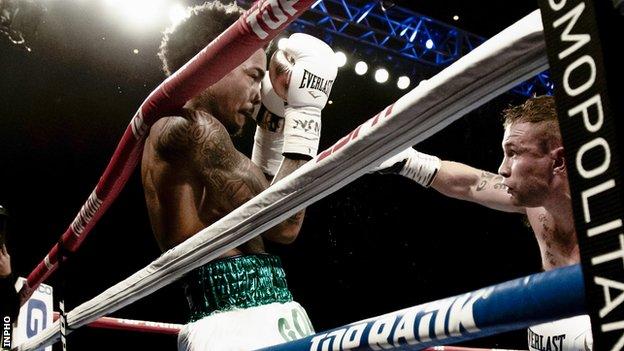 Herring's scheduled contest with Oquendo was called off one day prior to the fight.
It was the second time the 34-year-old had tested positive for coronavirus after a previous diagnosis on 22 June.
"I quarantined and recovered as directed by my doctor. I then retested on 3 July and my test was negative, so this result is a complete surprise," said Herring earlier this week.
Frampton is expected to fight behind closed doors in the UK this summer, having previously hoped to fight Herring in June before the onset of the pandemic forced a change of plan.