Lee Selby: Boxer wary of boxing return due to family health concerns
Last updated on .From the section Boxing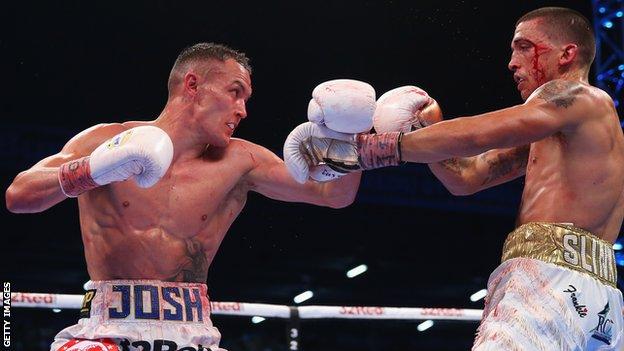 Welsh boxer Lee Selby says concerns over family members with underlying health conditions make him reluctant to return to the boxing gym.
Selby was set to face George Kambosos Jr in Cardiff on 9 May, but that is one of many bills affected by Covid-19 with British boxing suspended indefinitely.
Promoter Eddie Hearn says he hopes shows in empty arenas could resume in June or July but Selby is wary.
"In my house I have two people at risk," Selby said.
While the date was initially moved to July 11, that is no longer official although Hearn is optimistic he will once again be able to start staging shows in empty arenas.
The British Boxing Board of Control have said the suspension will continue after the coronavirus lockdown is lifted because of the pressure the sport puts on the National Health Service.
Hearn said: "We're planning to get boxing back up and running at the end of June, certainly July we will be in full flow behind closed doors, for sure."
While Selby believes his conditioning means he could fight straight away, he says he would have to consider the ramifications of returning to his Newport gym and the impact on his family's well-being.
"I'm what people call a gym rat, I'm always in the gym, I'm always working," he said in an ePress Conference to promote the fight.
"If I was to box a 12-round fight or spar 12 rounds tomorrow I could do that no problem.
"But the sparring for a big fight like this, you'd need to be properly prepared so I'd need the sparring, maybe six weeks' worth of quality sparring.
"But it's having the confidence to go back into the gyms.
"In my household I have two people at risk: my partner has congenital heart disease, she was born with two holes in her heart, but she's been fine ever since the operations as a baby. But there is still a risk there.
"And my daughter has asthma so to get the confidence to go to the gyms and know that I'm not going to bring anything back to the house, that's the only problem with me."
Selby held the IBF featherweight title for three years before losing to Josh Warrington in 2018 via split decision.
After moving up to lightweight and revealing the troubles he had making featherweight, Selby won both of his fights in 2019 against Omar Douglas and Ricky Burns before agreeing to face the IBF's top-ranked contender Kambosos.
Kambosos, who at 26 is seven years younger than Selby, said: "I'm the young bull coming through, you're the old bull heading out.
"You've been there, done it and won your world title. I haven't done that yet... you've had your time."