KSI v Logan Paul 2: KSI wins on split decision in YouTubers' contest
Last updated on .From the section Boxing450
The biggest event in internet history? Possibly. Pure entertainment? Definitely.
In front of a global audience of millions, the YouTube boxing grudge match between Britain's KSI and his American rival Logan Paul on Saturday produced, perhaps surprisingly for some, a superb sporting spectacle in Los Angeles on Saturday.
KSI won on a split decision in a tear-up that was dripping in controversy after Paul was deducted two points for hitting his opponent on his way down.
Here's how the entertaining - and sometimes surreal - night unfolded in LA.
KSI edges it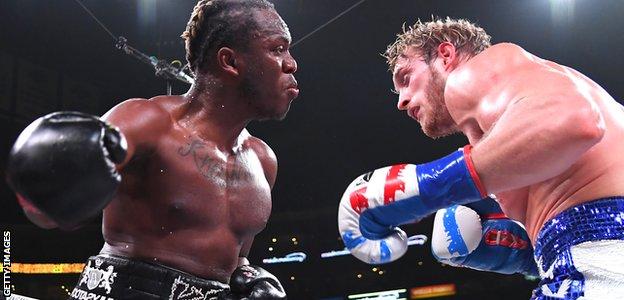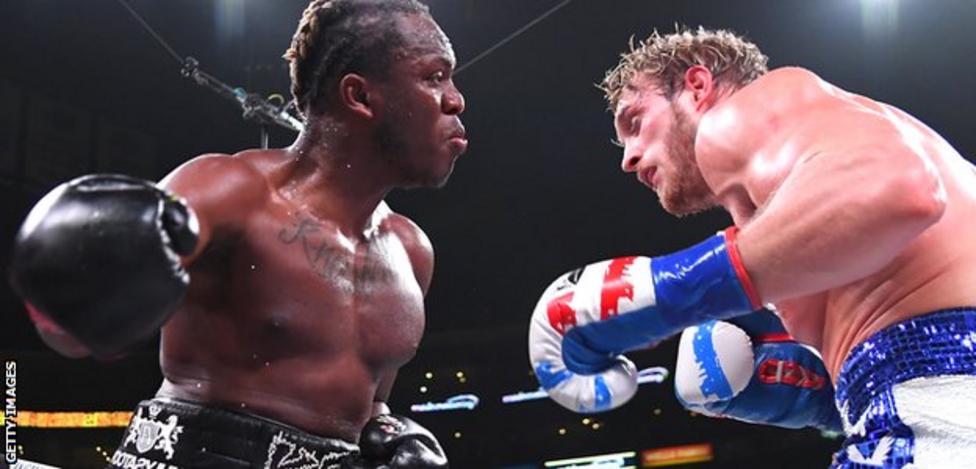 First, the fight. Fury-Wilder it wasn't, but it was an entertaining bout from the first bell to the last.
KSI, 26, deserved to win. He was the better fighter for the first four rounds as he continually threw booming rights which rocked the taller, rangier Paul onto the back foot.
It was one-way traffic until Paul sneaked through KSI's defences with an uppercut and then, with his opponent on his way to the canvas, landed another blow which took the wind from the Brit's sails.
The referee intervened because Paul broke KSI's fall, following the uppercut, to land another blow and the official demonstrably gave the Brit time to regain his composure.
And while two points were deducted from Paul's card, a knockdown was registered in the American's favour on account of the first blow.
KSI belied his inexperience to stay out of trouble for the remainder of the fourth round - displaying much improved footwork from the pair's first fight - and the frenetic pace continued for the full six round.
KSI - whose real name is Olajide Olayinka Williams Olatunji - was judged the winner 57-54, 56-55, 55-56 on the judges' scorecards.
It was a popular victory for the Brit, who was the more popular fighter inside the sell-out arena, despite crossing the Atlantic to fight on his opponent's home soil.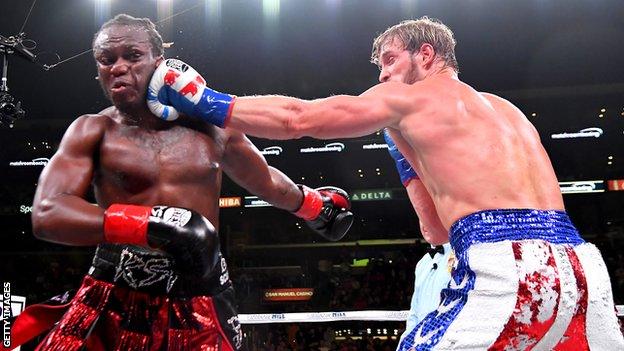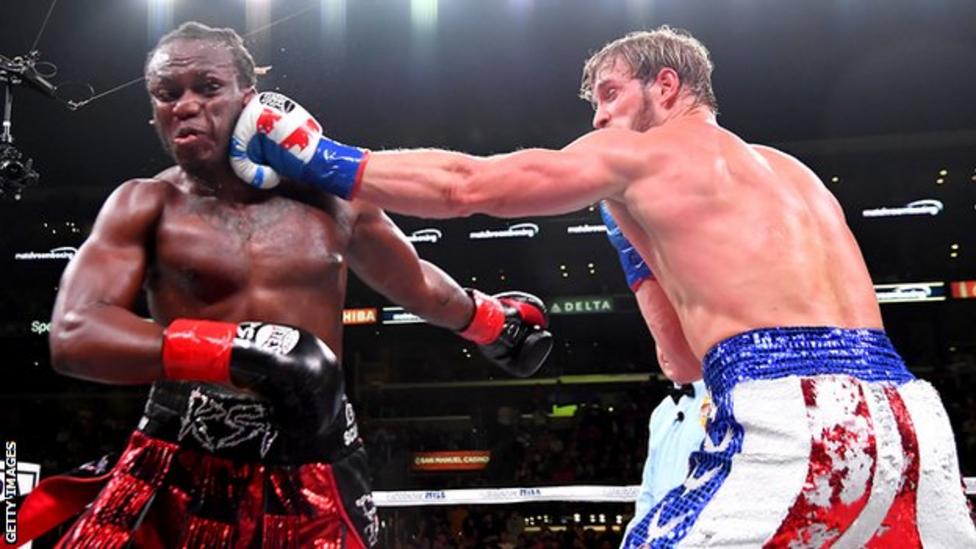 Who was there?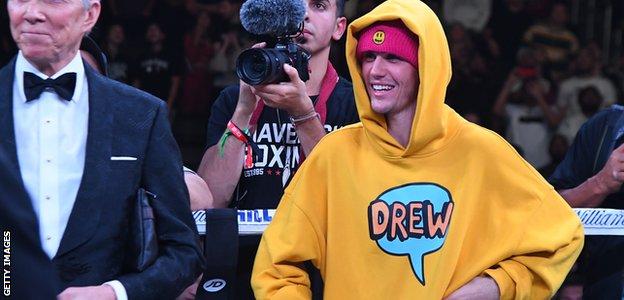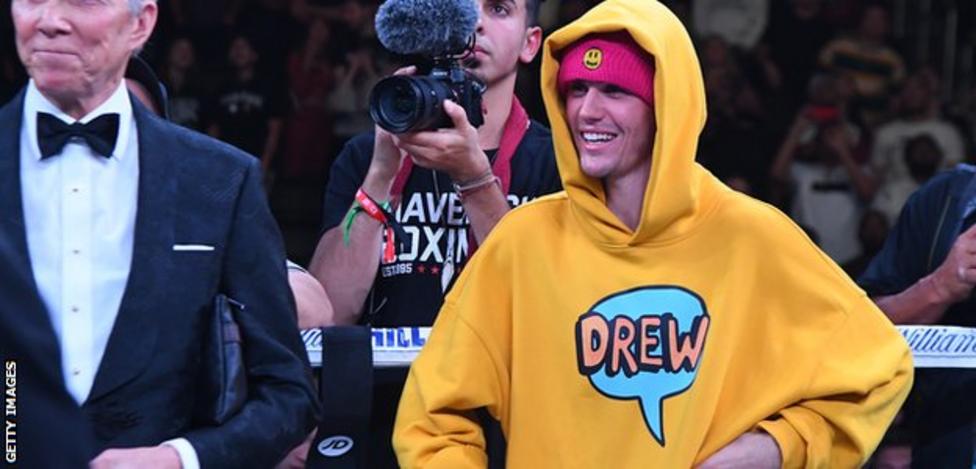 You could tell it was going to be a something special from the moment the two YouTubers walked into the ring.
Logan Paul came in like a pantomime villain - booed and jeered in front of a home crowd as he strutted through in a star-spangled USA robe.
KSI arrived in a red and black mask covering most of his face, and American rapper Rick Ross walked him in performing Down Like That - a song they've collaborated on.
While most people became enthralled in the tense fight, there was also a Justin Bieber sideshow to keep an eye on. The Canadian singer was in Paul's corner and after appearing with him backstage before the fight, Bieber was soon trending on social media after giving Paul a standing ovation after the second round.
The Staples Center was full of internet celebrities who wanted in on the action, and social media full of messages for the two fighters.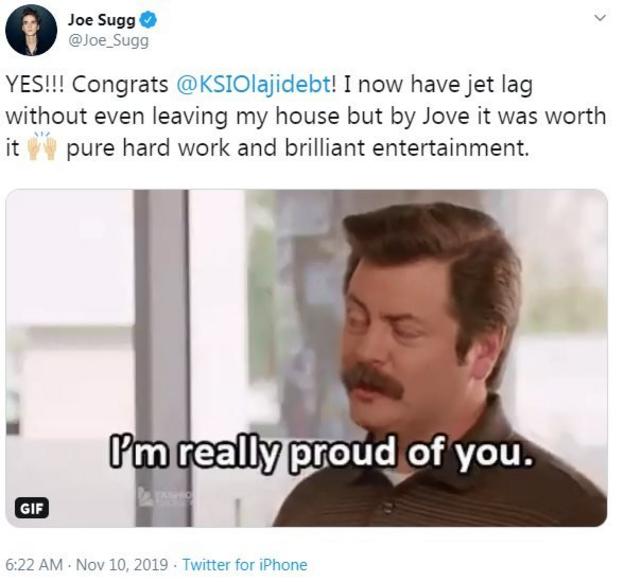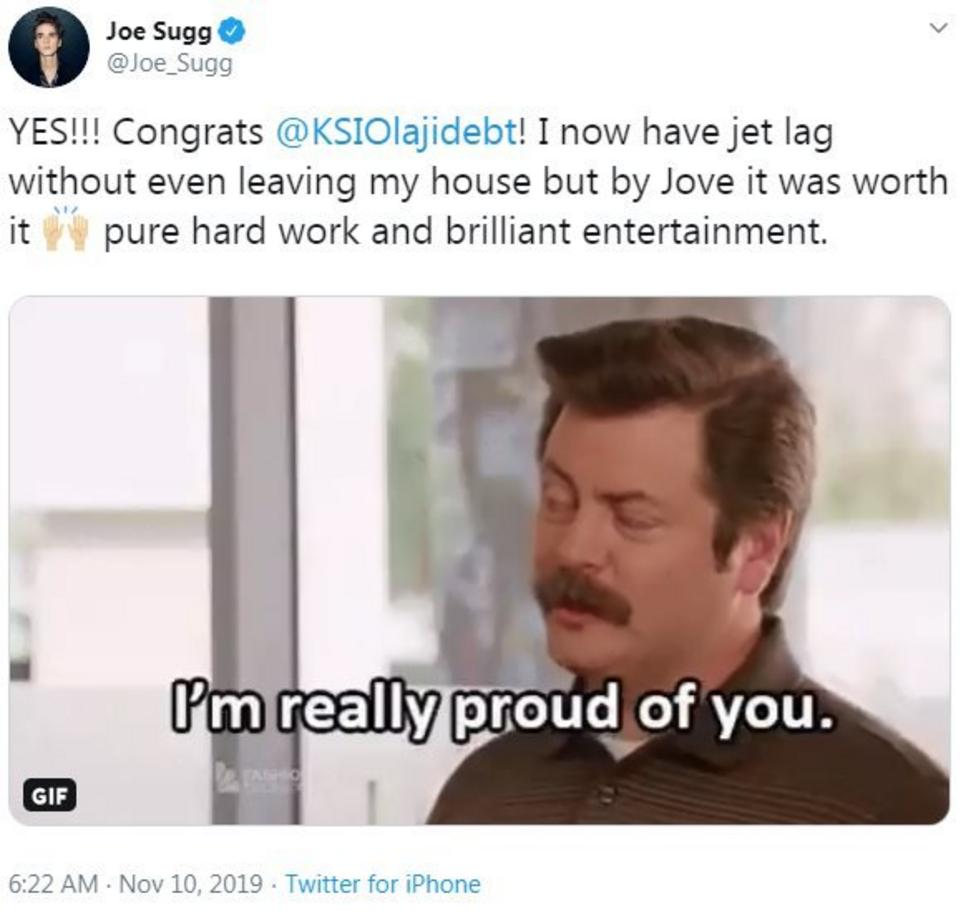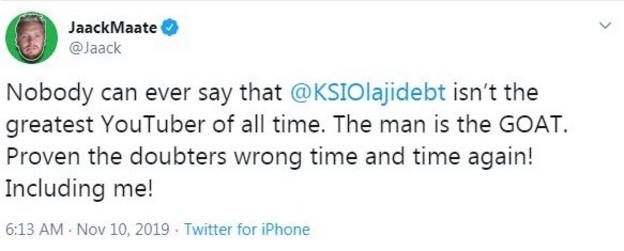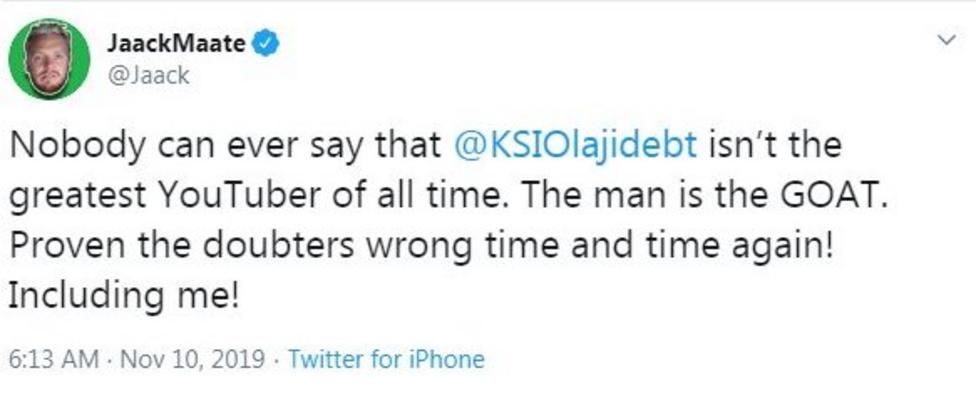 Will it happen again?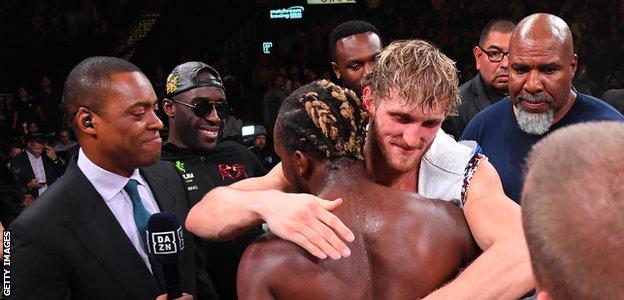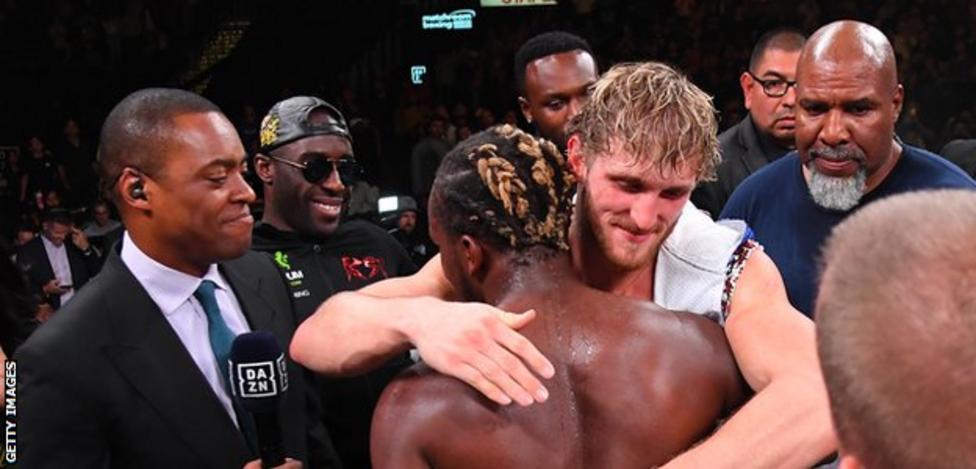 When both men were asked post-fight, Paul, 24, definitely fancied another crack at KSI. The victor less so.
"It's done," KSI said. "I'm on to the next thing."
In response, Paul, who said he would appeal against the decision to deduct him two points, said: "I'd love to fight KSI again - these are the best moments of my life. The more I practise the more I feel comfortable."
British boxing promoter Eddie Hearn was pleased with his first foray into staging a show headlined by two men with a combined YouTube subscribership of 40 million.
"That fight was everything that is great about boxing," said Hearn.
"There has to be a narrative and a respect for the sport and these two have that.
"If there are any other men or women who want to get into the ring - and they respect the code - then this can happen again."
As with most great boxing narratives, beneath all the ugly words is a deep-rooted respect for each other.
When asked to make up with Paul at the end, KSI paused, looked down and then offered his hand. Drama to the bitter end.
What you said
Arx: When you watch white collar boxing you can tell those who took the training seriously and those who didn't. Both of these guys put the work in and it made what could've been a shambles a pretty entertaining fight. Respect for both. Enjoyed it!
Bambalam: Logan won that fight, if not a draw. KSI missed with a majority of shots and the ref gave him the win with the ridiculous two-point deduction!
marswalker23: Boxing is in really bad shape if two YouTube personalities headline a boxing event. Especially over a world title fight.
notbad: KSI had absolutely no technique. He just swung wildly. How they could talk their own ability up so much is beyond me.
Bigglesworth: Some people saying this was more entertaining than a Tyson Fury bout? It was a good fight for the level of the fighters but not as entertaining as watching Wilder v Fury where you know that one wrong move is a knockout, more so for Fury. It was not the most technically appealing fight.
KritikulHit: Amazing six rounds, probably the best fight of the night! Do not appear to be "clowns" in my eyes!
Akay721: I never thought the day would come when YouTubers would fight it out in the ring, but here we are. Congratulations to KSI for taking the win in a close fight. I gotta give both KSI and Logan props for taking this seriously and training like real boxers.