Anthony Joshua's trainer Rob McCracken clarifies concussion comments
Last updated on .From the section Boxing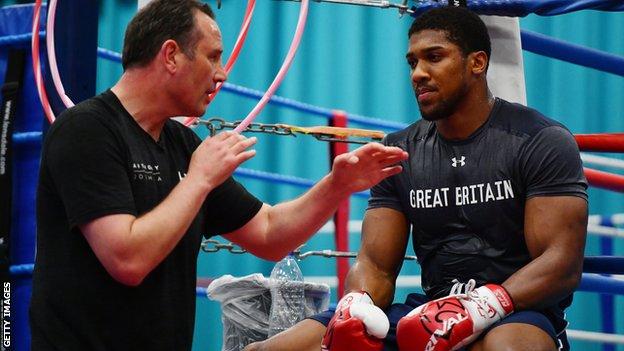 Anthony Joshua's trainer Rob McCracken insists the health of his boxers is of "paramount importance".
Brain injury charity Headway called it a "shocking admission".
"I am not a doctor and it may be that concussed is not the right term to have used," McCracken said on Thursday.
"The health of all the boxers I work with is of paramount importance to me and I have always used my judgement and experience to do what is right for them.
"There is no formal concussion protocol where the doctor steps in to assess the boxer so you have to use your experience as a coach and your knowledge of the person to make a decision on whether you think they can recover.
"I have had this a number of times in my career in professional boxing where boxers have recovered from a difficult round to go on and win the fight. I have also pulled boxers out of fights because I knew it was not in their interests to continue."
Before the seventh round, in which he was stopped by his Mexican-American opponent, Joshua looked perplexed in his corner and said to McCracken: "Why am I feeling like this?"
McCracken told the BBC Boxing podcast that Joshua had faced a "deadly" situation.
"I know him better than all these experts who virtually don't know him or have met him once or twice," he said.
"So I knew he was concussed and I'm trying to get him through a few more rounds, one round at a time, and see where he's at.
"He was glazy-eyed from when he got caught with the initial shot in the third round and he carried that with him until the end [in the seventh round]... he wasn't responding how he should.
"I've worked with him for nine years and I knew he wasn't quite where he needed to be. He was asking me why he was feeling this way and stuff."
GB Boxing has backed McCracken, 51, who is its performance director.
"Anyone who has ever seen him work knows that he has the best interests of the boxers at heart," a spokesperson said.
"Ensuring we deliver a duty of care and protect the physical and mental health of the boxers is central to the way that Rob McCracken has led the world class programme for boxing over the last 10 years."
Prior to McCracken's statement on Thursday, Luke Griggs, deputy chief executive of Headway, had said: "Trainers have a duty of care to their boxers and it seems clear that Anthony Joshua's trainer's sole priority was winning that fight, not protecting the fighter from a potentially fatal injury."
Headway has now called for "a discussion about concussion protocols in boxing".
Analysis
Dan Roan, BBC sports editor:
Within just four bleak days for boxing in July, Russian Maxim Dadashev and Argentine Hugo Alfredo Santillan became the 11th and 12th high-profile fighters to die as a result of injuries sustained in the ring over the past decade, sparking renewed debate over the safety of the sport.
So it is inevitable that Rob McCracken's comments have caused concern, especially given his status as the most senior coach in British boxing.
Many will have sympathy for him, arguing that the ability to recover from head injuries has always been an unavoidable part of the sport and that, realistically, boxing cannot apply the same protocols to concussion seen in other sports, where athletes are withdrawn from the action to medical undergo tests, before being allowed to continue.
Others however, will worry that McCracken has shown precisely why trainers and the referee cannot always be relied upon to know when a fighter has had enough, and that boxing needs to do more.
In amateur and Olympic boxing for example, referees have more scope to intervene, stepping in when a boxer is hurt. In professional boxing, they must wait until a fighter is no longer able to defend themselves. Could shorter bouts - or ringside doctors directly intervening to stop fights - be among the answers?
What is certain is that at a time of mounting debate around the perils of repeated head injury, there seems to be no easy answer for combat sports like boxing.