Sergey Kovalev stops Anthony Yarde to retain WBO world light-heavyweight title
Last updated on .From the section Boxing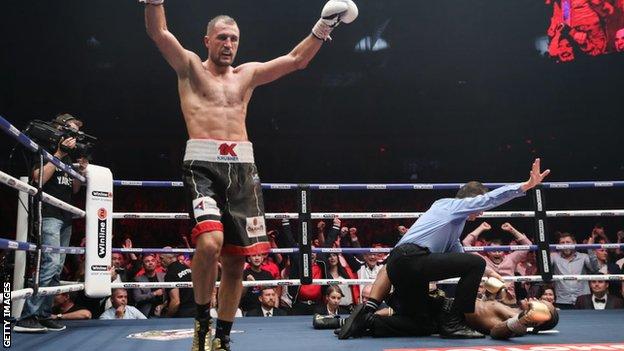 Sergey Kovalev survived an eighth-round scare to knock out Britain's Anthony Yarde and defend his WBO world light-heavyweight title in a thrilling fight.
Russia's Kovalev, 36, dominated early on in his home city of Chelyabinsk but was close to being beaten in the eighth round when under a sustained attack.
Yarde looked on the brink of glory but the champion's know-how shone through.
Despite being fatigued himself Kovalev responded well and pounced on a tiring Yarde to land an 11th-round knockout.
Yarde seconds from glory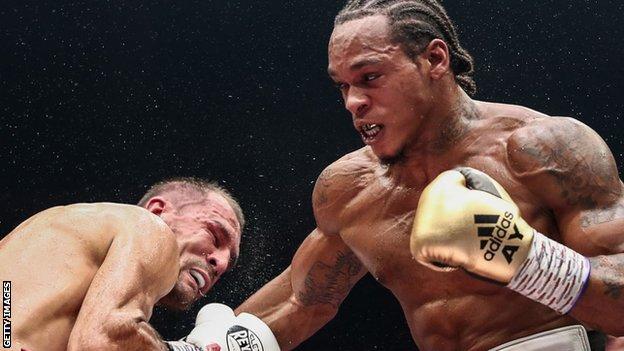 In what was his first world-title shot, Yarde will look back on an eighth round in which his promoter Frank Warren said he was "seconds away" from a colossal shock.
As the bell sounded, Kovalev's promoter Egis Klimas could be seen puffing out his cheeks, seemingly relieved that hope of a lucrative bout with Saul 'Canelo' Alvarez next remained alive.
Reflecting on how close he came Yarde, 28, said: "I hurt him to the body, I thought I should go for it and my corner said so, so we went for it.
"I am not ashamed or embarrassed, I am ambitious and trying to motivate people to go for what you want.
"I have done myself justice, even coming out here - 99% of people would not have dared to do what I did. Experience played a big part, he paced himself better."
Kovalev heeds trainer warning
Kovalev - a three-time world champion at light-heavyweight - has contested global titles in his last 16 fights, a run dating back to his demolition of Wales' Nathan Cleverly in Cardiff in 2013.
Yarde in contrast entered the contest after just 12 amateur and 18 professional fights and the London fighter had never gone past seven rounds.
Many in boxing questioned how good he was based on the calibre of opposition he had faced, while his trainer Tunde Ajayi has faced criticism for stating he does not endorse sparring in preparation.
Yarde, though, undoubtedly answered questions, notably over whether he could absorb punishment against a top-class fighter.
Kovalev, cheered to the ring in his first fight in Russia since 2016, controlled the first half of the contest, his greater experience and a sharp jab to head and body proving the difference.
But in the eighth, with Kovalev appearing fatigued, Yarde landed heavily and chased his rival, who was backed to the ropes and on unsteady legs before the bell.
Kovalev's trainer Buddy McGirt told him he would end the fight if he took similar punishment again and his fighter responded brilliantly, hitting and moving in the ninth before appearing close to stopping Yarde in the 10th.
Yarde's efforts in the eighth round looked to have emptied his own tank and while he gallantly strode forward in the 11th, he walked on to a shot which ultimately extended Kovalev's record to 34 wins, three losses and a draw.
Afterwards Kovalev said Yarde will "100%" become a world champion but he too deserves huge credit for coming through a test which looks set to pave the way for a fight with Alvarez - the world's best-paid fighter - in November.
Sparring, kudos and regret - reaction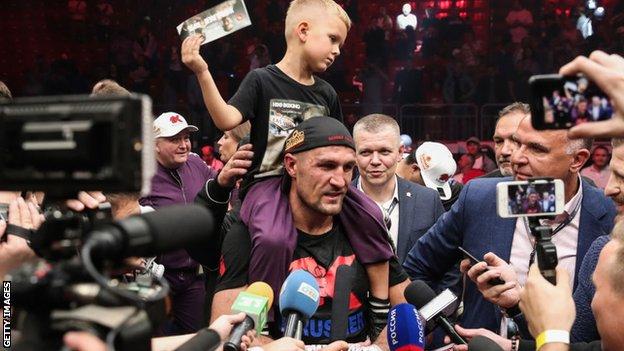 Former two-weight world champion Carl Frampton: "Yarde can win a world title, but he must spar. I've never heard anything as ridiculous."
Andre Ward, who beat Kovalev twice before retiring undefeated: "Yarde was two to three punches away from stopping Kovalev. Yarde can fight, he just needs to make adjustments with his camp. Respect to him. Kovalev proved he's still got something left, but he needs to grab that Canelo money and then, peace out. At this point every fight will be hard for him."
Former world heavyweight champion Lennox Lewis: "Big up to Sergey Kovalev on a big win proving he still has gas in that tank. Anthony Yarde is an up-and-coming talent. Hold your head high, your stock is rising and you will bounce back."
Former British super-middleweight champion Paul Smith Jr: "If Yarde was ever going to do it, it was then. He had one great round and didn't capitalise. Showed he belongs at that level, but it was all Kovalev in a good fight. He will kick himself for the rest of his life for taking round nine off."
Irish featherweight Michael Conlan: "What a fight. Well done Anthony Yarde. If I'm honest I thought he wouldn't get past six rounds but my God was I wrong. A very good performance against a fighter like Kovalev! Almost had him but he somehow survived."
Former British light-heavyweight champion Frank Buglioni: "Serious respect to Yarde, gave it everything and came so close to winning. Hold your head high champ! Definitely proved your heart, chin and desire!"