Vicky Glover eyes final after securing first women's European medal for Scotland

By Heather Dewar
BBC Scotland
Last updated on .From the section Boxing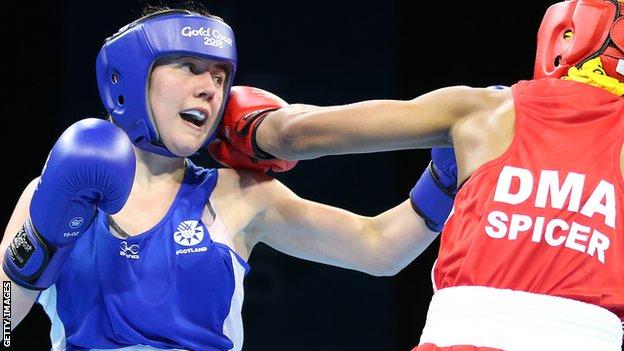 Vicky Glover is "very confident" of reaching the final at the European Under-22 Championships after securing Scotland's first women's boxing medal.
The 19-year-old featherweight meets England's Ellie Scotney on Saturday and told BBC Scotland: "If I box to my best, I know I can win."
She reached the last four in Russia by winning a unanimous decision against Amanda Millere of Lithuania.
"It will be a good contest, we both know what to expect," added Glover.
"We've sparred before and I've improved a lot since then."
Last year, Glover was the first Scottish woman boxer to compete at the Commonwealth Games but narrowly missed out on a medal on the Gold Coast.
"Since Australia, I've been working 10 times harder," she said. "I know what I have to do to get to the level I need to be at."
Glover started boxing aged 10 at Durie's Gym in Rutherglen but laments the lack of local competition.
"In nine years I've only boxed against three Scottish girls, most of my bouts have been down south or internationals.
"I just took to boxing straight away. It has changed my life around."