Referee denies Tyson Fury count against Deontay Wilder was slow
Last updated on .From the section Boxing243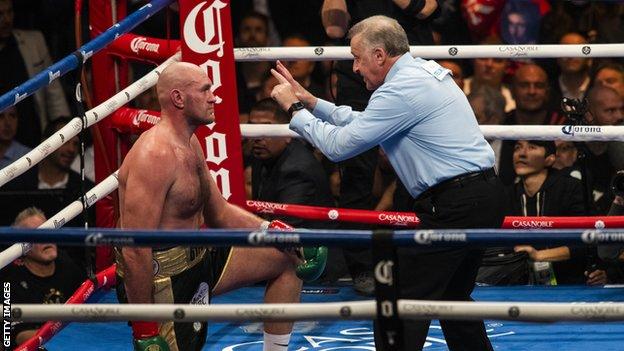 The referee who officiated Tyson Fury's world title fight with Deontay Wilder has denied his count was slow and said he just wanted the "best for boxing".
Briton Fury was knocked down in the ninth and 12th rounds but regained his feet in a stunning draw in Los Angeles.
American Wilder has questioned Jack Reiss' count but Reiss says he wanted to give Fury "every opportunity".
"If there was earlier, heavy damage and [Fury] had been hurt, I would have waved it off," he said.
Speaking to SiriusXM Boxing, he added: "The fight was so close, the magnitude of the fight - you know, a heavyweight championship fight - I've always been taught to count a champion out and I wanted to give him every opportunity.
"I took my time - not that I stalled the count like these knuckleheads are saying, just patient - and I went down to make sure what I was doing was correct, because I want to do what's best for boxing.
"Look at the controversy over who they thought won, the rematch. There was such a buzz over this. I think it's best for boxing."
Fury's incredible rise from the canvas in the 12th round was one of the biggest talking points of the fight.
Afterwards, BBC boxing correspondent Mike Costello says the length of Reiss' count would be "looked back on".
Speaking on BBC Radio 5 live's boxing podcast, analyst Steve Bunce added: "My gut feeling is it looked to me like Fury started to get up at eight. Was he up at 10? That will be debated. It would have been venomously debated if he [Fury] had walked away with the win and the agenda would be 'it was a long count'.
"It was 25 seconds from the punch to the instruction to 'box on', which is probably the long side of what happens."
On Wednesday, Wilder reposted a fan account on Instagram that claimed to show "proof" that Fury didn't make the count.
However, Fury's promoter Frank Warren responded with a different fan account's video, showing the Briton on his feet in under 10 seconds.