Tyson Fury says 'world knows real champion' after Deontay Wilder draw
By Luke Reddy
BBC Sport in Los Angeles
Last updated on .From the section Boxing559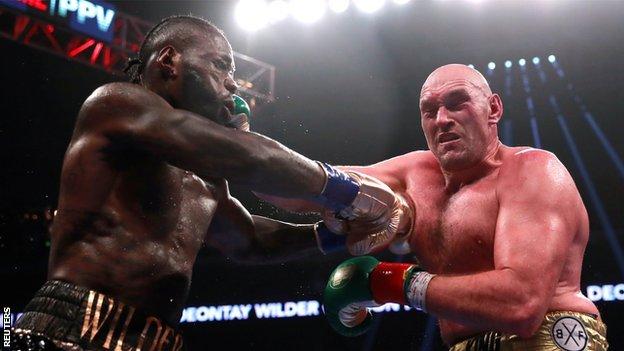 Tyson Fury says "the world knows who the real WBC champion is" and believes his draw with Deontay Wilder was "a gift decision" for the American.
Fury, 30, shared a thrilling battle in Los Angeles, with many former professionals saying he won the bout.
Promoter Frank Warren said he and the British Boxing Board of Control will write to the WBC demanding a rematch.
Speaking the day after the bout, Fury said: "To be honest, I've never seen a worse decision in my life."
The Briton added: "I don't know what fight they were watching."
Former world champions including Floyd Mayweather, Lennox Lewis, Tony Bellew and Carl Froch believed Fury had won.
Fury was floored in the ninth and final rounds - meaning they were scored 10-8 in Wilder's favour.
After the 12 rounds, the fight was scored 115-111 for Wilder, 114-112 for Fury and 113-113 with Alejandro Rochin the judge who had the American as the winner.
"I don't know what he was watching," added Fury. "It's stuff like this that gives boxing a bad name. All the media will report bad stuff. Everyone in boxing saying a bad thing, time and again we see it. He needs banning from boxing forever.
"The world knows who the real WBC champion is. Wilder had a gift decision in his own country. He must be thanking his lucky stars he still has the green and gold belt as that belt belongs to me."
'I didn't get wet, I got drenched'
Less than 12 hours after the contest, Fury sported cuts and bruises at a Los Angeles hotel for his news conference. He said he had managed to go to bed and watch snippets of the fight, adding he will "go home a hero".
His remarkable rise from the canvas after a devastating combination from Wilder in the final round was a hot topic, with Fury stating he was "like a phoenix rising from the ashes".
"It's easy to beat me - nail me to the canvas," Fury added.
"Credit to him, he caught me flush. I got up and don't know how. You can't go swimming and not get wet. I got wet, drenched actually.
"When you're on your back flat out, you don't know what your legs will be like. I see it in boxing, they get up after a few seconds and the legs are gone.
"I gave myself the time. Fair play to the referee, fantastic, one of the best I have ever experienced."
Fury 'in a great place' after mental health struggles
Fury said his 26-year-old trainer Ben Davison, who was under scrutiny due to his inexperience, should be given the prestigious Ring Magazine Trainer of the Year award.
Davison has helped his fighter shed 10 stone in weight following a tumultuous 30-month spell away from boxing in the aftermath of his 2015 world-title success over Wladimir Klitschko, where he battled depression and accepted a backdated two-year UK Anti-Doping ban.
"Am I going to go AWOL again? We are prepared this time," Fury said.
"Last time was nothing to do with media. I was suffering with mental health. When you give up the passion to live, you're in a bad place. I was already depressed before the Klitschko fight, heavily. Now I am in a great place.
"Look back at the videos, I was in an ill state. Now I am happy to be healthy. The most important thing is my health. Thank God I am alive and well. I go back chin up, chest out."
Analysis
BBC Sport boxing correspondent Mike Costello
Tyson Fury was so bright and so sporting the morning after a night which has been good for boxing.
In Fury, we are charting one of the most remarkable stories we have ever been attached to in any sport.
BBC Radio 5 live analyst Steve Bunce
Within three seconds of the bell I was up on the ring in the corner. At times Wilder was five feet away. He was thanking people in Tyson's camp for a great fight, he knew he had lost.
In the 12th round, the fight was over. People had their head in their hands. Time stood still. If you're not sucked in by it, this kid's storyline, you need to switch out of sports and go and do the arts.