Tyson Fury: Boxer's father on his son's lifetime of battles before Wilder fight
By Luke Reddy
BBC Sport in Los Angeles
Last updated on .From the section Boxing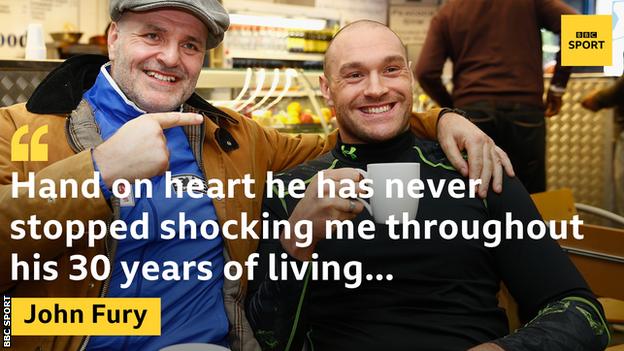 Deontay Wilder v Tyson Fury
Venue:
Staples Center, Los Angeles
Date:
Saturday, 1 December (local)
Time:
From 04:00 GMT on Sunday, 2 December
Coverage:
Live commentary on BBC Radio 5 live and live text commentary on the BBC Sport website and app
"When I put my hand on his small frame, I could feel the life in him. I said to the doctor 'he will make it'."
John Fury - father of British fighter Tyson Fury - recalls the day he cradled his newborn son, weighing just 1lb.
Born three months prematurely in the summer of 1988, the future heavyweight champion of the world was given a slim chance of survival.
Twenty-eight years later the fight was with depression - a struggle so ugly that his father says his son has now "nearly died twice".
"He has defied the odds since day one," adds John Fury. "Maybe this is just who he is."
'A strange encounter with life'
Fury is two years older and 10 stone lighter since the height of his struggles with mental health, but is once again the underdog as he prepares to face WBC heavyweight champion Deontay Wilder in Los Angeles on Saturday.
He won the WBA, IBF and WBO titles against Wladimir Klitschko in November 2015 but then did not fight for more than two and a half years because of depression and "anti-doping and medical issues".
Fury accepted a backdated two-year ban from UK Anti-Doping in December 2017 and has only fought twice since, in June and August this year.
His father will not be at the Wilder fight. He served four years of an 11-year sentence for gouging a man's eye out in a brawl and did not apply for a visa to enter the US because of his criminal record.
The mental health problems that followed Fury's world title success against Klitschko have served as a reminder of life's "fragility", according to John.
"Tyson was an unexpected pregnancy, given we had lost several children between him and his eldest brother," he tells BBC Sport. "We were just hoping we could bring life and keep it in the world.
"He came into the world, had breathing difficulties - no-one was optimistic.
"I could put him in the palm of my hand and looking at him I thought 'this is a strange encounter with life'. I had this tremendous feeling.
"I sat with him day and night, kept playing with him, working his little legs and arms, talking to him. There was something about him.
"It's a weird thing I am trying to describe and it must be hard to comprehend - but when I put my hand on his small frame I could literally feel the life in him. I thought 'you're a special human being'.
"I remember he would be lying on his back and have his fists up high. When I think about where he has been and where he has got to, extraordinary things have happened."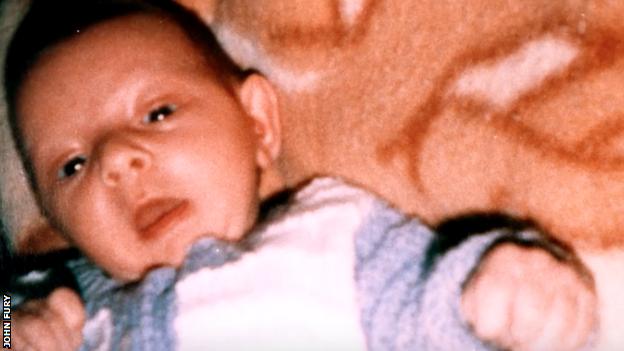 Leaving school at 11 to build the family house
That Tyson even survived to leave hospital influenced his father's decision to name his newborn after Mike Tyson, boxing's undisputed heavyweight champion at the time.
But problems persisted as Tyson - described by his dad as "a little fat kid" - suffered fevers and hallucinations in his early years.
"He used to imagine the curtains on fire or lions chewing his feet," adds Fury senior. "He'd have a high temperature and we'd have to ice him down or often take him to hospital."
Those health issues eventually settled down and the family of Irish travellers relocated from their home in Lancashire. Aged 11, Tyson left school to help his father build a new house in Wilmslow, Cheshire.
It was then that the boxing bug was beginning to bite.
"I got exploited in the boxing game by being overmatched for little or no money," adds John Fury, a renowned bare-knuckle and later professional boxer.
"I thought 'do I really want that for my children?' The answer was no. I wanted them to have an education, proper business or work.
"When I said Tyson couldn't come with me to training he would still end up waiting in the car. He'd want to spar as a fat little kid. One day I put gloves on him and he shocked me - he had natural talent.
"Hand on heart I can say he has never, ever stopped shocking me throughout his 30 years of living. Little things he does, I think - 'extraordinary'.
"When he got going he'd take his bike three miles to the gym. One of his coaches, Steve Egan, phoned me and said 'this kid is special, he will be a heavyweight champion of the world'."
World glory and a stormy ride
The teenage Tyson's progress was rapid. His father recalls his son's first amateur bout, the young boxer rolling out of the back of a minibus after a 200-mile journey less than an hour before his fight but going on to stop his opponent.
"I thought that this is what he wants to do so I am going to give him the best shot in the world at it," adds John. "I thought 'I'll make sure he has money in his pocket, that he is presentable and let him do his best.' And he did; he excelled."
John was not around for much of his son's rise to fame. He got out of prison just months before Fury beat Klitschko.
It was - again - a victory against the odds for the British fighter, beating a man who had been world champion for nine years, and it was one that thrust him into a limelight he struggled to handle, not least when he drew widespread criticism for a string of sexist and homophobic comments.
John believes a lack of recognition for the victory over Klitschko angered his son and prompted him to lash out verbally.
"After his win, we came back on the ferry and there wasn't much in the papers - it was like it didn't take place," says John.
"I used to say to him, 'Don't expect the same treatment as the man next to you. Travelling people have been talked down for centuries. If you win the heavyweight championship of the world, be prepared for a stormy ride.'
"It was all a mess and became trouble."
Six months on, there was chaos.
"His head was all over the place," says John. "He'd say things like 'I'm not interested, I don't want to box anymore, I don't want to live anymore, I want to die'.
"I was living in dread and fear, not knowing what the next 10 minutes would bring. Every time the phone rang I was scared to put it to my ear, braced for bad news. In the end I said 'I can't handle this, I'll move in with him'.
"I thought 'If I have to get in bed with you, lad, I will'. I ended up with him in the front room and bought a pull-out bed settee so I could watch him.
"I didn't shed a few tears… I shed bucket loads."
John asked Tyson to return from his house in Morecambe in Lancashire to the home he helped build in Wilmslow.
"He was home for three months and we never talked boxing. We went for walks, meals, lit fires out the back, spoke until all hours - family stuff.
"When I felt he was getting better I said 'son, life is the most fragile thing and you are very lucky. There are people who would give all they had for good health. There is always someone worse off. You've moved mountains and let's move on.'
"One thing this has shown me - family, good family, can help cure many ills of the mind. Love and care can deal with a lot."
'We were taking baby steps' - six months too soon for fight?
John Fury admits that he wanted another six months to pass before his son faced a test like Wilder, a man with 40 straight wins, 39 via knockout.
He adds: "It is my duty as a father to show concern or I wouldn't be much of a dad, would I? I mean, I was doing baby steps with this man.
"But I am still quietly confident in him being a genius in the ring and I know he doesn't have to be on full throttle as he is not fighting a hall of famer.
"If he gets the win, he'd be the most talked-about man on the planet," concludes his father. "If he doesn't then he's still my son and I won't think anything less of him."