Mixed fortunes for Irish boxers in Delhi
Last updated on .From the section Boxing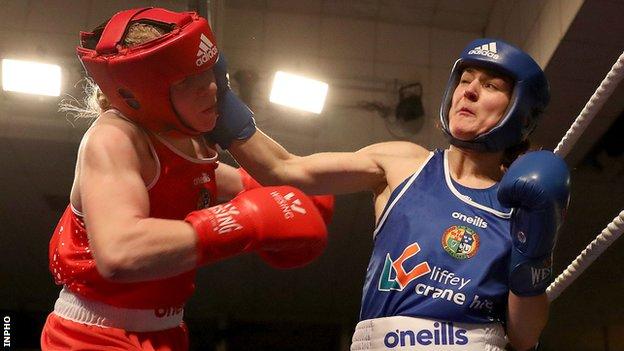 Irish boxer Kellie Harrington has secured a World Championship bronze medal but team-mate Amy Broadhurst has lost her quarter-final in Delhi.
Harrington continued her impressive performances in the lightweight division with a unanimous decision win against Canadian Caroline Veyre.
The Dubliner's semi-final opponent will be Karina Ibragimova of Kazakhstan.
Broadhurst was docked a point in a narrow split decision loss to India's Simranjit Kaur.
The Dundalk welterweight was penalised a point during the final round after she had been warned for slapping her opponent with the judges awarding the fight 3-1 to Kaur.
Harrington, who also won silver at the 2016 World Championships, will return to the ring on Thursday as she targets another final appearance.
The Saint Mary's BC boxer is the last member of the Irish squad still in contention this week after Commonwealth Games silver medallist Michaela Walsh and Cavan flyweight Ceire Smith lost their last-16 bouts on Monday.