Floyd Mayweather: Retired boxer agrees to face kickboxer Tenshin Nasukawa
Last updated on .From the section Boxing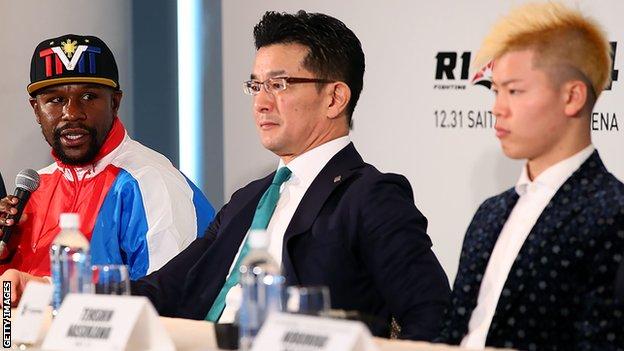 Floyd Mayweather has said he will face kickboxer Tenshin Nasukawa in a "boxing exhibition" in Japan on New Year's Eve - just over a week after claiming the fight would not take place.
But two days later he denied that, and said he had not heard of Nasukawa until that week.
Promoters now say the "misunderstanding" has been solved.
Mayweather told American broadcaster TMZ: "We're going to make it happen. It's going to be a little boxing exhibition. No kicking.
"I'm moving around with the guy for nine minutes, and of course it's going to be the highest-paid exhibition ever."
In August 2017, the unbeaten American extended his record to 50 wins with victory over UFC star Conor McGregor in a bout which earned him a reported $300m (£228m).
In July, he was named by Forbes as the world's highest-paid celebrity, beating actor George Clooney into second place.