Michael Conlan: to fight Jason Cunningham on Warrington-Frampton undercard
Last updated on .From the section Boxing
Michael Conlan will fight two-time Commonwealth champion Jason Cunningham on the undercard to the Carl Frampton-Josh Warrington bout on 22 December.
Conlan, 26, will aim to extend his nine-fight unbeaten record in his first professional bout against a southpaw.
Cunningham, 29, has 24 wins and five defeats and has held Commonwealth titles at bantam and featherweight.
"It is the type of opponent which I need at the minute. I need someone who wants to win," said Conlan.
"I think it's an opponent who could bring out the absolute best in me and it's something that excites me.
"When you go into a fight like this, when you've been in the fights I've been in, it could be a bit of an unknown as a professional and that's something that I always like - I like to go in there with an expectation of 'I don't know what's going to happen here at times', so I am looking forward to it."
The Northern Ireland featherweight will join his fellow Belfast fighters Frampton and Paddy Barnes on the card at the Manchester Arena.
It will be the fifth bout of the year for Conlan with his most recent victory coming in October with a seventh-round stoppage of Nicola Cipolletta in Las Vegas.
Cunningham, who has previously challenged for the British title at super flyweight, will be returning to the ring for the first time since a points victory over Paul Economides at the Doncaster Dome in June.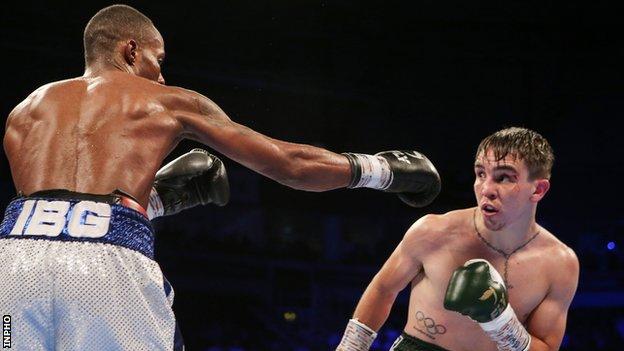 "He's been a Commonwealth champion before, he's a lot stiffer a test than what I've faced in the past, I feel. [Adeilson] Dos Santos would probably be more highly rated but maybe not given as much respect," added Conlan.
"I think it's good that I'm facing someone that people know, fans know and have probably seen him before, and obviously it's my first southpaw as a professional so he could cause a bit of problems.
"This is a fight which he probably believes he could win. He sees me as this kid coming up who only has nine fights. He's a lot more experienced than me in the professional game so he has an opportunity to go out there and impress."
The British middleweight title contest between Mark Heffron and Liam Williams is the only other bout confirmed for the Manchester Arena fight night when Warrington will defend his IBF featherweight belt against former two-weight world champion Frampton.