Liam Williams: Welsh boxer to challenge Mark Heffron at middleweight
Last updated on .From the section Boxing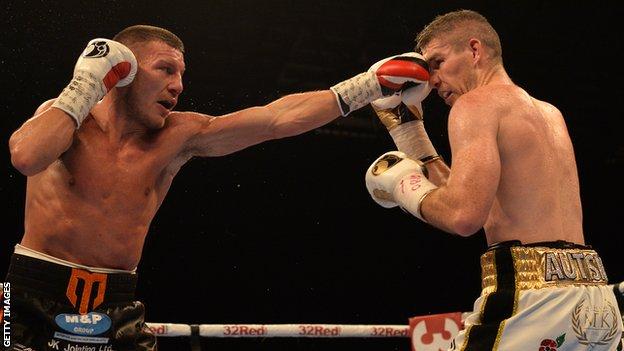 Welsh boxer Liam Williams will move to middleweight to try and win the British title against unbeaten Mark Heffron.
The pair will fight on the undercard of the Carl Frampton v Josh Warrington bill in Manchester on 22 December.
Both fighters have seen their scheduled opponents pull out, with Jason Welborn vacating his British title and JJ Metcalf out of a light middleweight fight with Williams due to injury.
Williams previously fought and beat Heffron's brother Ronnie in 2014.
"It is going to be some fight for me now on December 22 and it is one I am looking forward to as well," Mark Heffron said.
"It is definitely a bigger fight than I had lined up before and it is one that will move me onto massive titles afterwards. Credit to Williams for stepping up when nobody else wanted to and he is also coming up from light middleweight. Give him his due for that."
"One hundred per cent it is a bigger fight than I had lined up before - it is a cracking fight," Williams added.
"It gives me the chance to prove myself at the weight above as well and I should say that I am not being forced to move up because I can make light middle and will still make it."