Hannah Rankin ready to face Olympic champion Claressa Shields in Kansas
By Daldeep Kaur
BBC Sport Scotland
Last updated on .From the section Boxing
WBC world title fight: Claressa Shields v Hannah Rankin
Venue:
Kansas Star Arena, Kansas
Date:
Saturday, 17 November
"When you go out to play the bassoon, no-one is going to be punching you in the face."
Scottish boxer Hannah Rankin is a classically-trained musician, more familiar with orchestra pits than fighting Olympic champions.
But on Saturday night, a long way from the farm near Loch Lomond where she grew up, the 28-year-old will bounce into a boxing ring to face Claressa Shields.
The unbeaten two-time Olympic champion's IBF and WBA middleweight titles will be on the line, as will the vacant WBC belt. Rankin wants all three for herself.
"Nobody can take away what she has achieved, but we've seen flaws and we are going to exploit them," she says, motivated by the chance to become Scotland's first female world champion.
Here, Rankin tells BBC Sport Scotland about being the "black sheep" of her farming family, the similarities between the boxing ring and the stage, and how becoming world champion would "blow my brain".
'I was the black sheep of the family'
Rankin grew up on a sheep farm near Luss - "on a mountain in the middle of nowhere" - within sight of Loch Lomond. She spent most of her childhood summers with her two sisters and parents shearing sheep and rolling fleeces.
"It was really idyllic," she says. "When I was a teenager it obviously was not as cool because I wanted to be out with my friends but now I really appreciate going back home.
"My two younger sisters have gone into farming and the running joke is that I'm the black sheep of the family. I was always interested in so many other things."
One of those things was music. Rankin recalls "falling in love" at the age of 15 with a bassoon donated to her school.
She went on to study at the Royal Conservatoire of Scotland, travelled the world with the National Youth Orchestra of Scotland, and did a masters at the Royal Academy of Music, in London.
"The bassoon looked different and was the perfect instrument for me," says Rankin, whose granddad was a music teacher and mum played the piano, cello and French horn.
"Music was something my mum was really passionate about. She was always at all of my concerts, but she was my biggest critic. She's not with me anymore but she was my number one fan."
'Boxing and playing in an orchestra are just the same'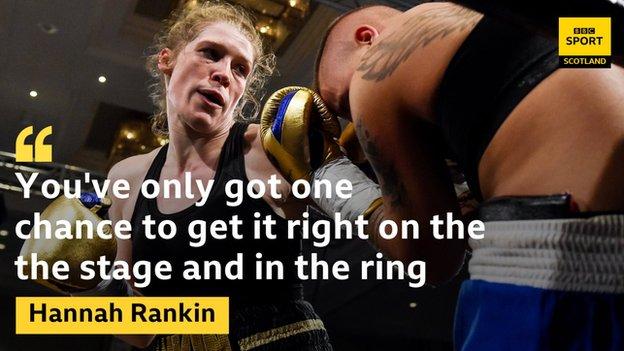 Rankin's mum, who died of cancer in 2013, was not such an admirer of her interest in combat sports. She wanted her to protect her hands and preserve her musical ambitions.
But having taken up taekwondo as a child, the youngster graduated to Thai boxing before moving to London, and it was there that she was introduced to boxing.
"I started doing a little bit of boxing for fitness and I fell in love with it," she says. "I did white-collar boxing to raise some money for charity, then the competitive instinct kicked in and I turned professional."
All the while, her music career was growing in tandem, playing with the London Sinfonietta at Festival Hall, and Swan Lake at The Coliseum with the St Petersburg Ballet Theatre.
Indeed, once this fight is over, she will return to the UK to perform Hansel and Gretel, The Opera as part of a quintet.
But while those two worlds seem an odd juxtaposition, Rankin insists there are plenty of "transferable techniques".
"It's a similar adrenaline rush, and you've got to control the nerves and excitement and just enjoy the moment in both," she says. "You've only got one chance to get it right on stage or in the ring.
"A classical music audience sit there nicely and listen, but once I get under the lights, it's the same scenario. It's you and your opponent, or it's you and the orchestra, you're a team or you're one-on-one.
"Whenever I tell anyone from the boxing family that I'm a classical musician, they all think I'm a little bit nuts.
"And some of the orchestra were concerned about my hands and my mouth, but I think they can really respect the level of dedication it takes to be at the top level in sport."
'Becoming world champion would blow my brain'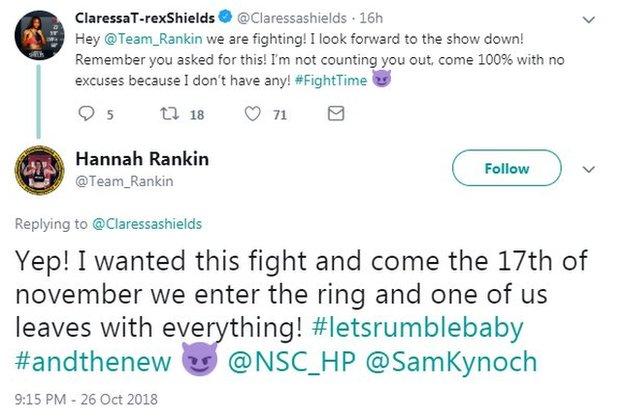 Rankin's last contest was in New York in August, when she lost by unanimous decision to Alicia Napoleon for the WBA super middleweight title.
That was only her seventh pro fight and second in the US, with her previous bout being when she beat Sanna Turunen in Paisley in June to claim the WBC silver middleweight belt.
The Scot acknowledges she will be expected to lose to double Olympic champion Shields - who has been threatening to "make her pay" - but is relishing the opportunity.
"Coming in as the underdog takes a lot of pressure off me and puts it mainly on Claressa," says Rankin, who will find a quiet corner to "chat" with her mum before the fight.
"I've got an opportunity to win not just one, but three world titles - if you're going to do it, go big. Once it's over and I become champion, then I can think about everything else.
"I'm so proud to be going over to America to represent Scotland. No-one really understands how amazing a thing that is unless they've had a chance to do it.
"To be the first ever female in Scotland to have a world title would blow my brain."