Belfast light-heavyweight Steven Ward hoping to tee up 'massive' 2019
Last updated on .From the section Boxing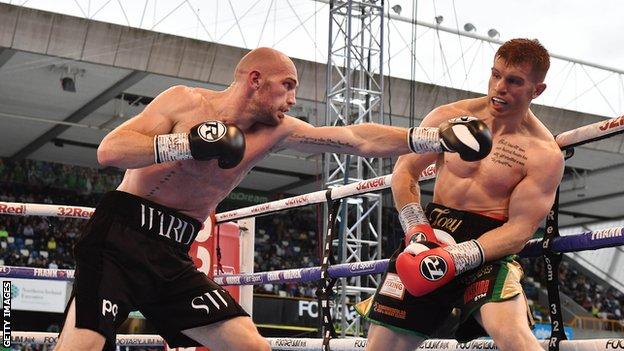 Since autumn 2016 Steven Ward has been going about his business in the professional ranks just at his nickname would suggest.
While 'The Quiet Man' may not attract the same fanfare as fellow Belfast fighters Carl Frampton or Michael Conlan, he remains completely content with where he is at this stage of his career having laid a solid platform for a "massive" 2019.
Undefeated in his first nine bouts Ward, who won the vacant BUI Celtic title in August, believes himself to be well placed to make a step-up and vie for more belts in the near future.
"Next year is going to be a massive year for me. The past 12 months with (trainers) Jamie (Moore) and Nigel (Travis) have been unreal.
"I feel like i am really developing as a fighter as a whole."
Before that, Ward will appear on the undercard of Frampton's world title fight with Josh Warrington alongside his former Commonwealth Games teammates Conlan and Paddy Barnes.
"This is my Christmas present come early. Getting on a bill like this, it is going to be unreal," said the 28-year-old.
"It is the type of bill that everyone is breaking their arm to get on, and luckily enough I got the nod."
It has been a steady start to life as a professional from the man who spent 15 years as an amateur and last visited Manchester Arena as a fan, to cheer on his now part-time housemate Frampton.
"I was there when he fought Quigg (in February 2016)," said Ward.
"I think I was second row from the top, I was actually getting a bit of vertigo I was that high up but it is mad to think I am going to be boxing there now."
'Level playing field'
Before 2019 arrives, two of Ward's stablemates face world title fights with Frampton's challenge for the IBF belt coming a week after Rocky Fielding travels to New York to face one of the sport's most famous names in Saul 'Canelo' Alvarez.
The stock of the stable in Salford continues to grow, with Moore recently named as 'Trainer of the Year' at the British Boxing Board of Control awards.
"In the gym Jamie has us all on a level playing field. Everyone has their individual things to work on but we are all there together, whether it is doing bags or pads," Ward said.
"It is good because we push each other on but we all have a game plan of what we are doing and what we are meant to be doing.
"Sometimes i will go into the gym and revert to working on my strengths and Jamie does not have that, he has you working on your weaknesses."
The plan for Ward is to take his record to 10-0 before embarking on "bigger" fights next year with belts and titles on the line.
"I think that is going to happen, next year is a massive year for me."