Warrington v Frampton: PPV clash with Whyte v Chisora means fans lose out
Last updated on .From the section Boxing110
IBF world featherweight champion Josh Warrington says "fans are the real loser" over a pay-per-view clash when he meets Carl Frampton on 22 December.
On the same night as Warrington, 28, defends his title at Manchester Arena, Dillian Whyte meets Dereck Chisora in a heavyweight bout at London's O2 Arena.
Fans will need to pay for two pay-per-view events if they wish to see both.
"There will be fans who have to make a choice. It's unfair really. No boxing fan is a winner," said Warrington.
"I think boxing fans are the real loser in this one."
Northern Ireland's Frampton, 31, will bid to recapture a world title and told BBC Sport: "It's not a good thing for boxing to have two pay-per-view fights on and fans will have to fork out for both, one or none.
"It's close to Christmas too. It's not good for boxing at all."
'Past their prime'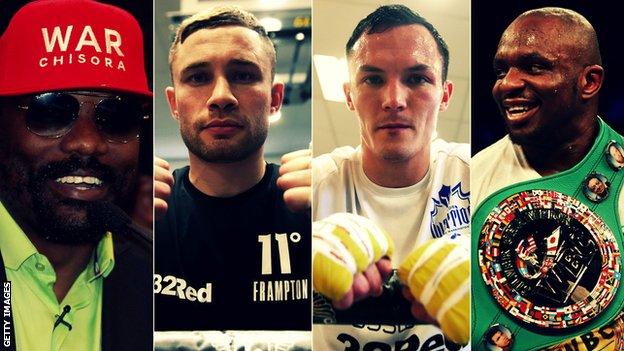 Warrington-Frampton will be shown on BT Sport Box Office and promoted by Frank Warren. Whyte-Chisora - contesting a rematch after their thrilling 2016 bout - will be on Sky Box Office and promoted by Eddie Hearn's Matchroom Sport.
Warren confirmed his world-title bout in September, while Hearn announced his main event on 1 November.
Hearn says the clash is "not ideal" but has stated a lack of suitable venues led to him opting for the date three days before Christmas. He feels each fight serves a different market, with Warrington-Frampton more appealing to hardcore boxing fans, while Whyte-Chisora will satisfy a broader market.
Warrington insists more should have been done to avoid a clash but believes his own contest will be a "fight of the year candidate" and sits on a "bigger bill".
"We have seen those other two fight before," he told BBC Sport. "We are fighting for a higher prize, a higher stake. This is two lads in their prime, whereas Whyte and Chisora have seen better days. They've both had losses.
"They are probably past their prime where as us two are both in our prime, dazzling. It's a world title, let's be right about it. And we both have passionate fans who follow us everywhere we go."