Tony Bellew bows out with health, wealth & reputation intact - Costello and Bunce
Last updated on .From the section Boxing90
Tony Bellew will be "one of the few to leave boxing with his health, wealth and reputation intact", says BBC boxing commentator Mike Costello.
The Briton was stopped in the eighth round by Ukrainian undisputed cruiserweight world champion Oleksandr Usyk on Saturday in Manchester.
After the fight, 35-year-old Bellew said his boxing career was "over", but insisted he had "won at life".
Speaking on BBC Radio 5 live's boxing podcast, Costello added: "In many ways Bellew has had his reputation enhanced in defeat, much like Wladimir Klitschko against Anthony Joshua last year."
BBC analyst Steve Bunce added that Bellew will "never fight again" and is now "rich beyond his wildest dreams".
On the podcast, the pair discuss Bellew's legacy and Usyk's potential move to heavyweight.
'A very big risk-taker'
Bellew fulfilled his dream of becoming a world champion in 2016, beating Ilunga Makabu to win the WBC cruiserweight title at his beloved Goodison Park.
After one title defence he stepped up to heavyweight and twice beat compatriot David Haye in two lucrative fights, before returning to cruiserweight to face Usyk.
Bellew, competing in his 34th professional fight, impressed in the early rounds, but Usyk grew into the bout and floored his rival with a devastating knockout.
Costello: Bellew's made an awful lot of what he had, and you can describe natural talent in many different ways, but one of the most important elements in boxing is determination, desire and bottle - and he had those in abundance.
Bunce: He married those with a good boxing brain and a boxing brain that definitely improved. I would argue those first three rounds [against Usyk] were the finest three rounds of his entire career.
In the Usyk fight, the two Haye fights and Makabu fight, there were a lot of tactics involved and a lot of power, but what was also needed was an awful lot of heart and guts.
He suffered a broken hand against Haye, he was under steady pressure against Usyk and against Makabu he was on the floor and had his nose broken. He drew on a combination of grit and bravery and there also has to be a little bit of ridiculous fearlessness and heart.
The top ones push themselves to and through pain barriers. They get abused and get hurt and hit. They put themselves in danger's way. That is what Bellew has done repeatedly.
Sure, he annoys and infuriates people sometimes with his repeated soundbites. But, at the end of the day, he has never let us down when it comes to getting in there and risking it all. All boxers are risk takers and Bellew proved himself to be a very big risk-taker.
Three years ago if you'd have said to Tony, 'you'll have four more fights, win a world title and make £5m', he'd have sold his granny. The bottom line is it might be nearer £20m in two and half years.
He has catapulted himself by grabbing that microphone, taking control of his career, telling us what we wanted to see, delivering what we wanted to see and doing what he said. He stepped above those lines and started to make those vast sums.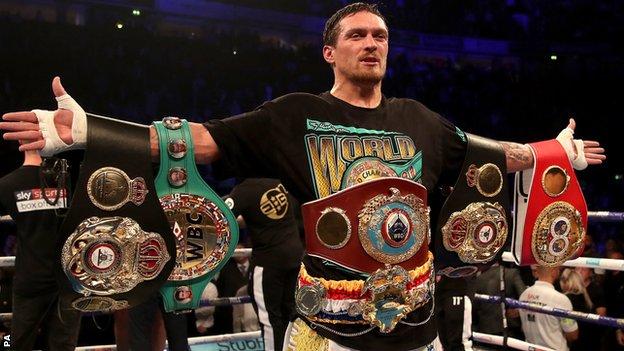 'He can compete as a heavyweight, no two ways about it'
In his past three outings, Usyk has now beaten Latvia's Mairis Bredis in Riga, Russia's Murat Gassiev in Moscow and Bellew in Manchester, earning and defending the IBF, WBA, WBO and WBC titles in the process.
The 31-year-old - who has four wins in 14 months - said it was "too early" to threaten moving up a division for a shot at unified world heavyweight champion Anthony Joshua.
Usyk is 6ft 3in and weighed in for the Bellew fight at 14st 2lb. Joshua is 6ft 6in and weighed 17st 8lb for September's victory against Alexander Povetkin.
Costello: It does seem the momentum is beginning to quicken for a contest between Usyk and Joshua if they keep winning. Where he has to find the balance is between the weight and how many of those skills does he deplete by putting on extra poundage.
Bunce: There are plenty of heavyweights he can find that out against. He is not Anthony Joshua's next opponent, but every heavyweight will fancy it. They will consider him a fantastic scalp.
He can compete as a heavyweight, no two ways about it. Can he compete against the 6ft 6in plus of Deontay Wilder, Anthony Joshua and Tyson Fury? I don't know. But Usyk's frames allows him to carry more weight.
These three or four giants at the moment [Joshua, Wilder, Fury] are yet to be beaten by ordinary men, that's the slight problem. But if an Evander Holyfield or a Mike Tyson at his peak was around, you think they'd find a way to do it. So perhaps Oleksandr Usyk can find a way to do it.
Before the Bellew fight, we said he [Usyk] is the guy in late 2019 and 2020 who will be in the heavyweight mix. All that the Bellew win showed was that is definitely the case.