AIBA Women's World Championships: Natasha Gale eyes redemption for GB Boxing
Last updated on .From the section Boxing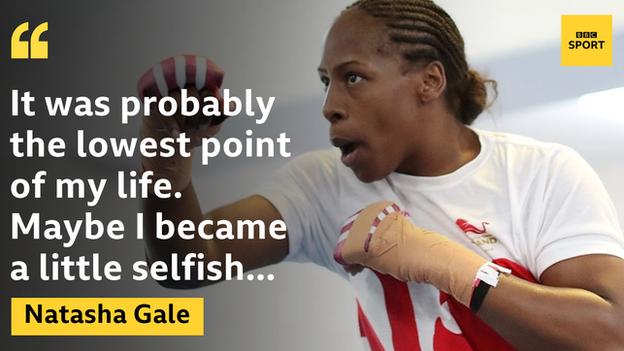 Natasha Gale says she hopes to conquer "demons" left by the Commonwealth Games as she prepares for the Women's World Championships.
Gale, 30, is part of a seven-strong GB Boxing squad competing at the AIBA event in New Delhi from 15-24 November.
A European champion in 2016, Gale was surprisingly beaten in her first fight at the Commonwealth Games in April.
"Everything crashed after that. It has left a scar - it did knock a lot of my confidence," she said.
Gale, who competes at 75kg, told BBC Sport: "I am still having to build myself up. There are still demons I am trying to get right.
"I was thinking I didn't even want to box after it. It's like you're protecting yourself in not wanting to feel the shame, the hurt. The pain is unreal. I was in a really low place for a little bit."
GB Boxing squad - Women's World Championships
Ebonie Jones (51kg), Ellie Scotney (57kg), Paige Murney (60kg), Rosie Eccles (69kg), Sandy Ryan (69kg), Natasha Gale (75kg), Lauren Price (75kg)
Gale will be joined in the seven-strong team heading to India by four Commonwealth Games medallists.
But while Lauren Price, Sandy Ryan, Rosie Eccles and Paige Murney were celebrating medals on the Gold Coast, Gale says her defeat led her to feel "isolated" and admits she "lost trust in people".
The Leeds-born fighter, who began boxing after being inspired by London 2012, was suspended by GB Boxing on conduct issues a month after returning home.
"When you're winning you have people around you but sometimes at your lowest points, you feel alone," Gale added.
"It was probably the lowest point in my life. Maybe I became a bit selfish."
Ryan's new book 'adds to belief'
Price, from Wales, believes the ability to train "three times a day" for over a year in the GB set-up has provided a platform for the "best year" of her boxing career.
The Commonwealth champion lives with Gale four days a week, despite both competing in the same 75kg category.
The seven GB women fighting in India will compete across five weight categories, but only Ryan and Price have experienced a World Championships before.
GB Boxing's performance director Rob McCracken says the group is "relatively inexperienced" and feels the event is key in helping him "build a new team for Tokyo 2020".
Sandy Ryan, a surprise silver medallist in 2014, took gold at the 2018 Commonwealth Games. The 25-year-old, from Derby, is keen to position herself as Britain's number-one at 69kg and is exploring new ways to maximise her potential.
"Lately I've been doing a lot of visualisation," she told BBC Sport. "I never really used to read but my coach begged me to read a book called How to Get From Where You Are to Where You Want to Be. It's helped me look at life with a different perspective.
"Now I expect to win the gold and be on a high for next year, when we will have qualification for the Olympics."
Eccles expert in time management
Also in the squad at 69kg is Wales' Rosie Eccles, who lost to Ryan in the Commonwealth final.
The 22-year-old joined the GB Boxing setup in August. In her first six weeks at the camp she was working in south Wales on Monday and Tuesday, training at GB's Sheffield base Wednesday to Saturday, and studying at university to complete a Masters in Sports Psychology on Sunday.
"I train and train and train until I hit the ground, so the other stuff helps me step back from things," she said. "This World Championships has more meaning as how you perform could impact who gets selected for the Olympics.
"So it can really have a big impact on my life. It gives me more reason to train properly and focus on the right things."
Scotney's hand packing hip-bone strength
Ellie Scotney, 20, will compete at 57kg in her first major championships since an extensive rehabilitation period.
The London-born fighter had bone taken from her hip and set into her broken hand.
"It built character and taught me a lot of lessons," Scotney told BBC Sport. "Now, hopefully, I can deliver on a big stage like the World Championships and it can change my life."
Elsewhere, Paige Murney, 23, will look to build on claiming Commonwealth Games silver at her first major event when she competes at 60kg, while 20-year-old Ebonie Jones makes the step up to 51kg from bantamweight.