Oleksandr Usyk v Tony Bellew: A southpaw headache, Olympic pedigree and predictions
Last updated on .From the section Boxing131
Usyk v Bellew
Venue:
Manchester Arena
Date:
Saturday, 10 November
Ring walk:
From 22:00 GMT
Coverage:
Radio commentary on BBC Radio 5 live and live text commentary on BBC Sport website from 20:30 GMT.
Tony Bellew must deliver one of the biggest wins ever by a British fighter if he is to humble Oleksandr Usyk, says BBC Radio 5 live's Mike Costello.
Saturday's Manchester Arena bout will present Bellew with the chance to become the first Briton to hold four world titles in a weight division.
Ukraine's Usyk - IBF, WBO, WBA and WBC cruiserweight champion - is unbeaten.
"I think it will be one of the all-time best displays by a Briton home or abroad if Bellew wins," said Costello.
"In Usyk, we are talking here about one of the best. If he is allowed to get into a rhythm, he does so very quickly within two or three rounds and becomes just about untouchable."
The bout - which will be broadcast on BBC Radio 5 live - is described by Eddie Hearn as "the best fight I have ever promoted". Four world titles will be on the line for just the sixth time in men's boxing history.
Room for one final flourish?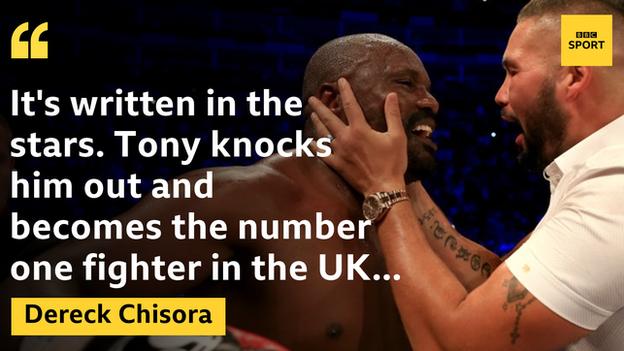 In his own words Bellew, 35, is ready to "shock the world and then do the greatest disappearing act."
Retirement beckons for a fighter who won three British amateur titles before earning professional belts at British, European, commonwealth and - famously at Goodison Park in 2016 - world level.
Early days spent earning supplementary income stuffing pillows in a factory or working nightclub doors created a gateway to an 11-year pro career which even took in a Hollywood film appearance as 'Pretty' Ricky Conlan in 'Creed'.
After two wins at heavyweight over David Haye, his rollercoaster career faces one final challenge against an opponent he describes as "a monster", despite insisting he will "break" Usyk's "heart".
"I just hope he comes back from it well as he will get a shock he does not see coming," Bellew told BBC Radio 5 live.
Why is 'regal' Usyk so good?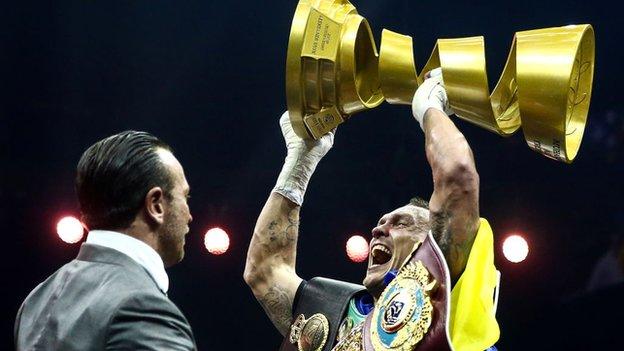 Social media footage of 31-year-old Usyk dancing demonstrates a sleight of foot not typically associated with men in the cruiserweight division.
His obscure movement and high-pace assaults helped him claim gold at the London 2012 Olympics, catapulting him into a professional career which saw him win the inaugural World Boxing Super Series - and all four titles - in his 15th and most recent bout.
His display in the Super Series final - beating Russia's Murat Gassiev in Moscow - was described as "regal" by 5 live's Steve Bunce. It also ensured the father of three became the first Ukraine fighter to become an undisputed champion in a division.
Bellew's trainer Dave Coldwell said: "If you just looked at the Gassiev win you'd think 'how on earth do you beat this guy?' But there are fights and moments where he doesn't have it all his own way. Do I think my fighter can take advantage? Yes I do."
In addition to movement, speed, Olympic pedigree and general work rate, Usyk brings another notable challenge...
'Havoc' from the 'maverick' southpaw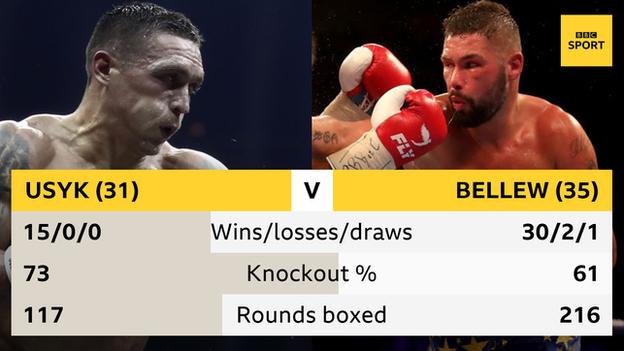 Bellew admits he has in the past faced a "massive problem" in dealing with fighters - like Usyk - who sport a southpaw stance.
He says he has overcome the issue since working with trainer Coldwell but the clash of orthodox versus southpaw can historically present problems.
"I often used to refuse to go near southpaws," Bellew said. "I've sparred them for 12 weeks now so I can hit them and know what they do. This guy is unlike any other fighter in the world.
"He's a one-off, a maverick, he's formidable at what he does. I just know I am going to find a way. I even know how I am going to do it, I just can't say."
BBC 5 live commentator Mike Costello:
Why is there that issue? It is very difficult to get a jab going and get into a good rhythm against a southpaw. The reason the southpaws don't have the same problem is the numbers mean they are so used to meeting plenty of orthodox fighters compared to the other way around. It took 100 years until we saw a southpaw heavyweight world champion - Michael Moorer.
We know the old adage of a kid turning up at a gym and being asked what hand he writes with. Whatever the strong hand is tends to be a fighter's back hand as it's then more powerful, so a right handed kid would typically be orthodox in his stance.
I've read about the great Soviet coach Andrei Chervonenko who went to Cuba and revolutionised their boxing in the 60s. He was committed to turning fighters to southpaw regardless of their strongest hand as he felt southpaws would wreak havoc on the international scene.
BBC 5 live analyst Steve Bunce:
From when I first started covering international events in the late 1990s, you're stunned by just how many Eastern Block fighters and the entire Cuban team are southpaws. They 100% switch guys around and make southpaws out of guys that should have been orthodox.
'Tony wins, it's in the stars' - what they said...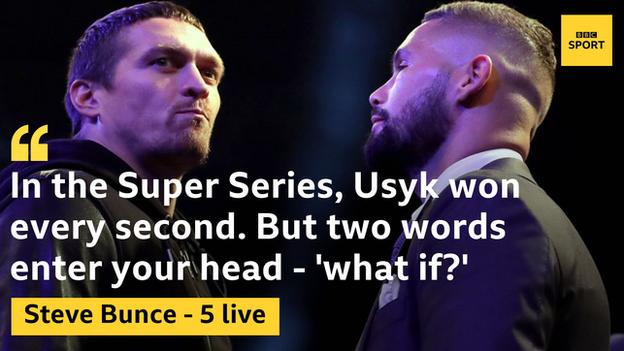 Former world heavyweight champion David Haye: I consider Bellew a friend. Someone who fairly beat me. It'll be better for my ego to say I got beat by a guy who beat Usyk. He can do it. If he doesn't it's a points loss. Usyk on points, or Bellew by stoppage.
British heavyweight Dereck Chisora: It is just written in the stars. Tony wants this badly. He will be losing this fight but when he hits this guy he will stay hit. He will knock him out, 100%. Then Tony becomes the number one fighter in the United Kingdom.
Former British middleweight champion Matt Macklin: If Bellew wins this it is without doubt the best win of his career.
Former two-weight world champion Paulie Malignaggi: People have counted Tony out before, made him the underdog. Appreciate Usyk but appreciate the desire and determination Bellew has shown us over the years. He always gives people their money's worth and comes to fight.
Send us your predictions to #bbcboxing.
Final thoughts - 'What if?'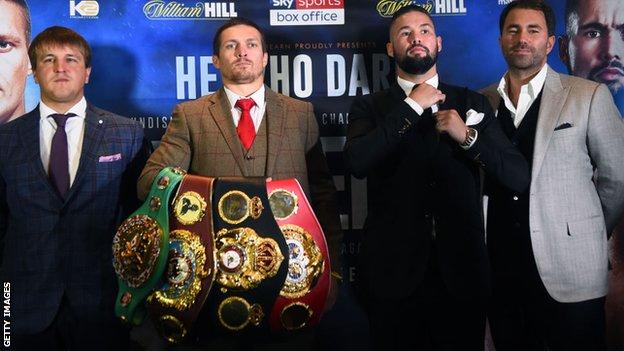 BBC 5 live commentator Costello:
Bellew is a bookmakers' underdog just as he was against David Haye twice, Nathan Cleverly twice and Adonis Stevenson.
In Usyk, we are talking here about one of the best. He claimed the World Boxing Super Series but in the semi-final, he did see a few problems against Mairis Briedis, who varied the line of attack, going to the body and head in the same attack.
It did get through. And one judge gave it a draw while the others two went 7-5 Usyk, so there is a way to get to him.
BBC 5 live analyst Bunce:
In the Super Series, Usyk was owning every second of every single fight. I doubt he lost 20 seconds of any of the fights he had.
This is a Bellew fight. If we are still working in 25 years time, when crazy fights come up we will be saying 'that's like a Bellew fight that is'.
Usyk is the man who will fight Anthony Joshua, maybe dominate for five years. And then you start to think about it, the two words that come up in boxing come into your head, 'what if?'