Tyson Fury says it is his 'calling' to help people with mental health problems
Last updated on .From the section Boxing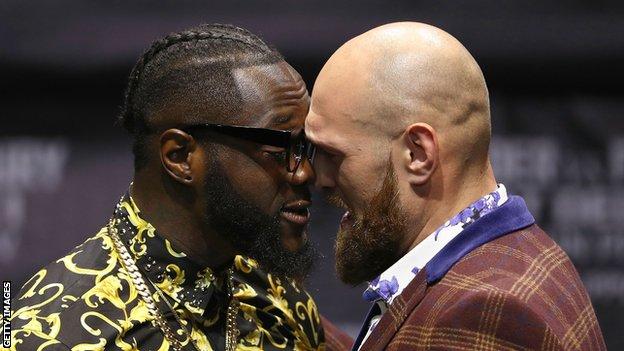 Tyson Fury says it is his "calling" to help people with mental health problems and that rival Deontay Wilder's views on the issue are "uneducated".
Fury will fight American Wilder on 1 December for the WBC heavyweight title.
It will be the Briton's third bout since he vacated his WBO and WBA titles to focus on treatment for depression.
"Other than boxing, I think this is my calling - trying to help other people with the same problems," Fury told BBC Sport.
"Trying to get it across that you are not a weak person, you are not a let down, you are not a failure.
"People won't laugh at you. It is an illness. Just like cancer. Just like every other illness out there. This is a real, real problem."
He added: "Mental health is one of the biggest issues we have now in the world. It's a silent killer. It's just a constant battle with yourself.
"The more it's talked about, the more it becomes open and will smash the stigma of mental health.
"If I can get through it and live a normal happy life I suppose everybody else can too."
What did Wilder say about mental health?
Wilder, 33, has a 40-0 unbeaten record going into the fight in Los Angeles and said Fury was "trying to feed off this mental illness thing like it isn't a recurring issue with the world".
"We all have been there - I can tell you stories about myself," Wilder said.
"[It's] a state of mind where we feel like killing ourselves and feel like doing the wrong thing or something to ourselves because life isn't going right.
"He put himself in that position. Drinking is a choice and, once we continue to do it, it becomes a habit. Doing drugs is a choice and, if you continue to do it, it becomes a habit. If that habit continues it becomes life-threatening.
"I've been there. We all have been there. I took hold of my life.
"I thought about my kids and said 'I ain't going out like no punk'. So now he overcomes this situation and he wants to take advantage of it, which he should."
What does Fury think about Wilder's comments?
Fury became world champion in 2015 with a shock win over Wladimir Klitschko but then spent just over two and a half years out of the ring.
During that time, he said he "hated boxing", admitted to using cocaine and relinquished his titles.
He tested positive for a banned steroid - something he blamed on eating uncastrated wild boar - while he had treatment for depression.
"I had money, fame, glory, belts - I had everything everyone would want," said Fury. "I had family, kids, house, cars, watches, jewellery, whatever.
"There was no drinking at this time but the day after the [Klitschko] fight I was totally depressed and wanted to die. This is before alcohol and drug abuse, so that opinion means nothing to me at all.
"It's hard to explain to someone who doesn't understand what you are going through but, listening to that message, it's clear to see that he doesn't have mental health problems and he has never had mental health problems.
"Some people have never touched a drug in their life or a drink but they still take their life through mental health problems. It's got nothing to do with drugs or drink.
"I suppose you take the drugs or drinks to get rid of the pain and get out of what you are going through. You don't do it to get yourself in that position.
"So that's coming from Deontay Wilder and his uneducated opinion on the matter. It's that sort of behaviour that makes people not want to come out with their problems.
"Deontay Wilder is a boxer. He is not a doctor in mind and mental health."


Analysis
Jo Loughran, director of the mental health anti-stigma campaign Time to Change
Mental health problems are a serious subject. One in four of us will experience them in any one year, and they should not be oversimplified.
We know that many people are still uncomfortable talking about their mental health problems.
We ask everyone to consider their use of language carefully when discussing mental health - negative comments can have a lasting and damaging impact, making people feel isolated, ashamed and unable to reach out for support.


Back to the fight - how does Fury beat Wilder?
Fury, who has beaten Sefer Seferi and Francesco Pianeta since his return to boxing, and Wilder are both unbeaten going into their fight.
Fury boasts a 27-fight winning streak, while Wilder has 39 knockouts from 40 bouts.
"I'll beat this guy with what I do best and that's boxing," said Fury.
"I think he is the most fearsome puncher of all time. It must be natural because he doesn't have great ability. What he lacks in boxing, he makes up for in power."
He added: "You can't go swimming and not get wet. It's boxing. Am going to get hit? It's about getting caught and not getting caught again straight away.
"I don't fear getting knocked out. I wouldn't be here if I didn't think I could win.
"But you never can tell. There is no shame in losing. If I beat him or he beats me, I will shake his hand.
"All this nonsense of body bags and all that rubbish - it's a sport. I don't hold any hard feelings towards Deontay."