Tony Bellew column: The seven pictures that define me
Last updated on .From the section Boxing

Tony Bellew takes on Oleksandr Usyk for all four world cruiserweight titles on 10 November. It is - he says - "probably" the last bout of his career. So in his latest column, he talked BBC Sport through the seven photographs which illustrate a remarkable boxing journey.
'Chasing a different kind of dream'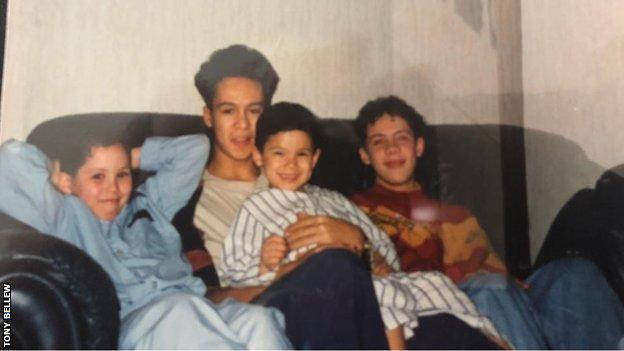 The little fatty on the left - me - had eyes on playing for Everton Football Club rather than fighting in the ring.
I knew about boxing as my dad could fight. He had a successful security firm in Liverpool and I'd see him come back from a jog before shadow boxing in the back yard. I'd watch and replicate what he was doing, as kids do. It's funny how things turn out.
This, at about nine or 10, was when I'd say my life was forming. My dad left, my oldest brother was about to move out and so the family was evolving.
Every spare second away from school was spent at youth clubs with mates. When my family changed, friends became my family and I had a group of 8-10 mates I still speak to now.
Back then, between getting clips around the ear for pestering my older brothers, I was chasing my dreams. Football dreams that is.
'It was all to impress my dad'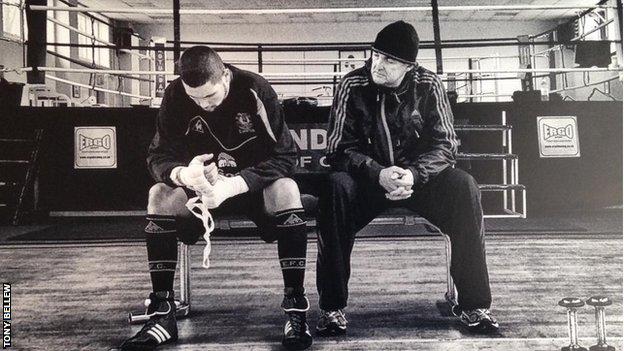 From those early years, everything I have done or become was to try to impress my dad.
I was going to work on nightclub doors with him at 16 purely to impress him, to show him I could be like him. I was a big boy but had the face of a fat child.
I remember being asked to guard a DJ box at a club and Paul Ince, the former Liverpool player, and his mates were dancing around by me so I had to keep them in check.
This photo is fitting as in every moment I've had in competition since the age of 15, dad has been by my side, my greatest supporter. I guess it's rare but even though I come from a broken home, I still believe I have the most amazing father.
If I wasn't training or working I'd go with him to his office and watch him work. I am so proud of him for how hard he grafted having come from very little.
I am so thankful to be able to say all my dad does now is tell people about me. It wasn't easy, he always pushed and believed I could do more, more, more. That can be hard to follow but thankfully I have used his faith and proven him right.
How to drag 4lbs out...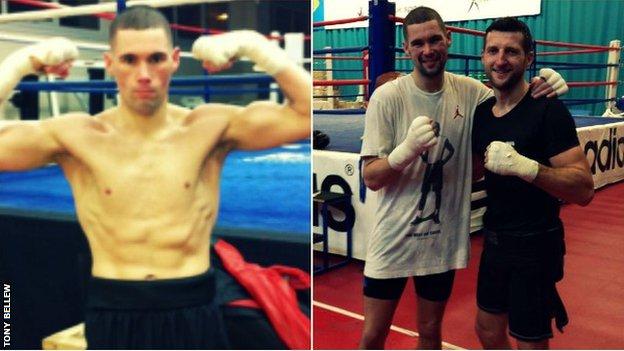 I've put 16lbs on in 24 hours between weigh-in and fight. I know someone who has added 26lbs.
These images really showcase an opponent like no other, one I faced time and again - the weight cut I had in making 12st 7lbs at light-heavyweight. That's three stone lighter as a 30-year-old man than I was at the age of 15.
In the image on the left I still had 5lbs to go. Where did I lose it from? I don't know.
Before I fought Adonis Stevenson in 2013 I had 4lbs to shift in a morning before weighing in. I had zero energy left to train, so the nutritional adviser said the only way was to drag it from my body in a hot bath full of salts.
I can remember getting in, it was so hot it was burning me. I watched stand-up comedy - it was Kevin Hart - on my iPad. I'd laugh and then seconds later be crying. I honestly thought I was having some kind of breakdown.
Often I'd stop and think 'what am I doing?' I was chasing a dream no-one else could see and you'll always look like a lunatic until you achieve it.
It's absolutely crazy when I look back at what I used to do to my body but it formed years of my life which helped get me to where I am now. Still though, I look at these images and wonder how that bag of bones is me.
'My dad beat Creed'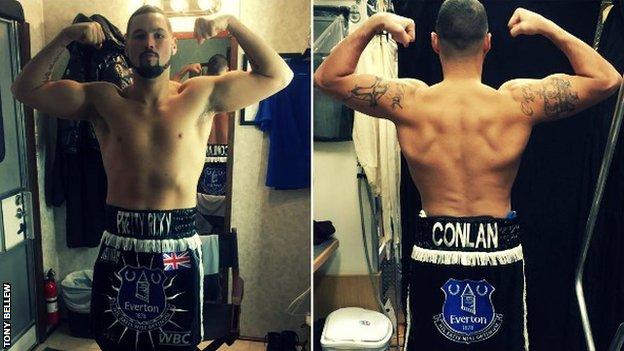 Getting into character to become 'Pretty' Ricky Conlan for the Creed film was surreal. To this day, my youngest son Carter watches the film and thinks it's the only fight I've actually had. It's not 'my dad beat David Haye', it's 'my dad beat Creed'.
I thought the phone call proposing the role was a joke and told the guy on the other end I wasn't in the mood for a wind-up as I'd just watched Everton get hammered. That day changed my life in some ways though.
Everything I was earning at this stage of my career I was re-investing in property, believing that would go right for me. I always wanted the flashy things - the Rolls-Royce or a posh watch - but I would never live beyond my means. Even now the money is there I still can't bring myself to splurge on those things.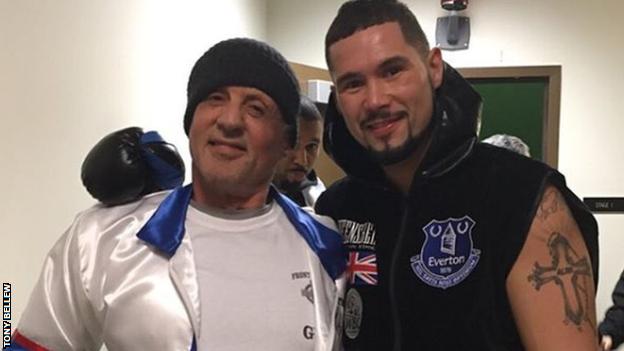 Creed helped massively financially and there were spin-offs, though I still can't believe that part of my life happened.
The film set opened my eyes, mainly the time it takes to do anything. All you're waiting to hear at the end of the day is 'check the gate' as when you hear those words from a director they mean you're very close to it.
When I got home I regretted doing the movie but when I saw the way it turned out on screen I was so, so impressed and my boys love it.
'That's enough now son, stop'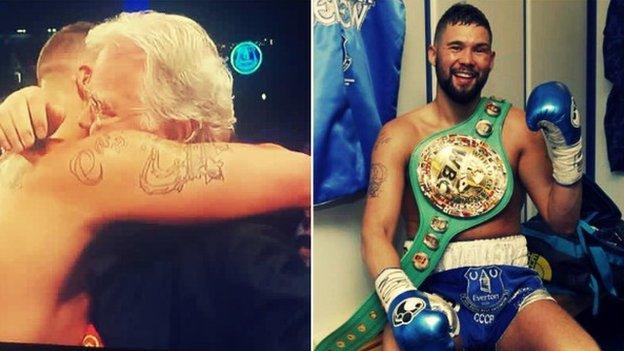 Hugging Bill Kenwright after the greatest night of my career will stay with me. I was just so happy I could share it with him. The Everton chairman had a big role in my career.
He made my night at Goodison Park - where I beat Ilunga Makabu to win the WBC world cruiserweight title - happen. I owe him a massive debt. When we last spoke he said: "That's enough now son, stop."
During my career, I had access to Everton's training complex to do strength and conditioning work with trainer Dave Billows. Ten years on from linking up, Billows is still training me.
Not many outfits in the Premier League would help like that. I can recall often sitting in an ice bath and the former Everton striker Yakubu would just come in, look at me and say: "You are crazy."
I try to speak to Mr Kenwright regularly and once this career is over will continue to do so. A while back he said to me: "Let's do Goodison Park again son. It'll be massive - bigger than last time."
I just say: "No, I never want to go back." It was the night the dream came true and I don't ever want to tarnish it. But the chairman is just someone I love - just a really, really good person.
'She rejected me three times'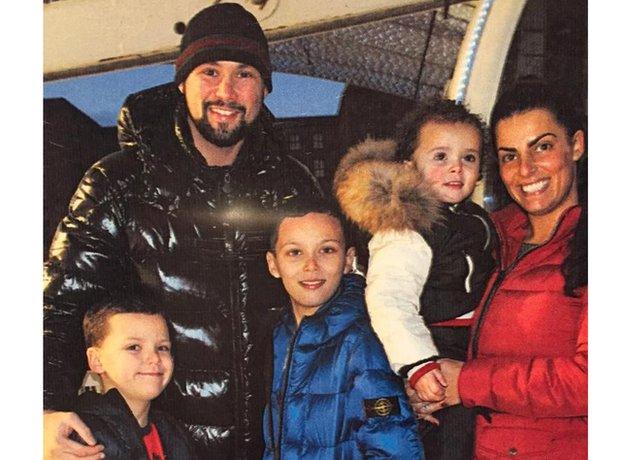 I've known Rachael since she was nine but was 18 when I met her - I was working on a nightclub door and saw her waiting to come in. I thought 'wow, she's changed'.
I tried to chat to her but got rejected. A week later I was out with friends, saw her, and tried again, only to get another 'no'. Weeks later I tried again, telling her I only wanted to take her to the pictures, and she said 'no' but went away and did some research on me.
She put up with all the nonsense of me telling her I'd be world champion. I was representing my country at the time, travelling and earning £350 a week.
The minute she got pregnant I identified I couldn't earn money doing door work, I had to do things a grown-up way. So I turned professional and lost money for two years because of injury. Putting it bluntly, I was broke.
After 16 professional fights, I was British champion, had just lost a world-title shot narrowly and was skint.
I don't know if it's luck, fortune or what, but it's worked out. All I have learned is to believe in yourself.
Rachael and the kids - Corey, Cobey and Carter - mean the world and more to me. They are the focus now as I contemplate calling time. It's satisfying to see how it worked out and soon I'll be able to be a totally normal dad.