Billy Joe Saunders: World champion boxer charged with misconduct over 'sickening' social media video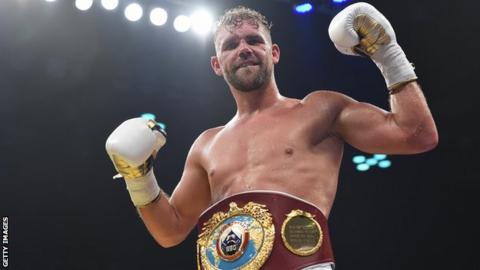 British WBO middleweight world champion Billy Joe Saunders has been charged with misconduct by the British Boxing Board of Control over a social media video police described as "sickening".
Saunders, 29, has apologised for the video, in which he tells a woman he will give her £150 worth of drugs to perform a sex act.
She is then asked to punch a passer-by, and does, before Saunders drives off.
Police have started an investigation into the incident.
No drugs could be seen in the video and he later described it as "banter" that "went wrong".
"Apologise to everybody who's took offence totally in the wrong, can't do anything but be sorry," Saunders tweeted.
The BBBC will hold a hearing next week to investigate the incident.
Unbeaten Saunders is due to defend his title against American Demetrius Andrade in Boston on 20 October.
"A woman is offered drugs in exchange for committing an act of violence, and potentially committing a sex act in public," a Nottinghamshire Police spokesperson said.
"Officers will be looking to identify and speak to all of those who feature in this sickening video, and a full investigation will be carried out into the number of offences that have been captured on film, including the offer to supply Class A drugs, aiding and abetting an assault, assault and public order offences."
Nottinghamshire Police later said it had handed over the investigation to South Yorkshire Police, who declined to comment.
The BBBC said: "The British Boxing Board of Control are aware of a video featuring WBO middleweight champion Billy Joe Saunders and have called Mr Saunders to appear before the Stewards of Board on a misconduct charge next week."