Away from Anthony Joshua, the reality of becoming a professional boxer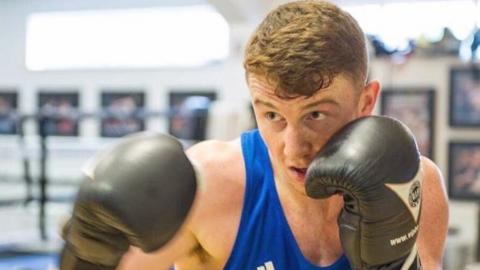 "Sometimes I wake up and think 'why don't I get a proper job and be financially secure, instead of being punched in the head?'"
While Anthony Joshua prepares for his next world heavyweight title defence in front of 80,000 at Wembley, 20-year-old Bradley Rea has just made his professional debut in Manchester.
It's a world away from the millions Joshua is expected to make against Alexander Povetkin. Rea has to sell his own tickets, find his own sponsors and has even been put up in a house by Ricky Hatton to be able to fulfil his dreams.
Rea's story is a common one in British boxing, following the same path as the likes of former world champions Hatton and Joe Calzaghe.
"What these kids are doing is chasing a dream," says BBC Radio 5 live boxing analyst Steve Bunce. "It is unbelievable how many half decent kids you lose in the first year of turning pro."
'Financially tough'
"When Hatton turned pro in his first fight he was not even on the poster," says Bunce. "Some of the biggest names in British boxing have come up through the 'sell the ticket to fight' route. There are fewer than you can imagine that haven't had to."
Bunce says there are only 10-20 active fighters who didn't have to sell tickets when they started out, including the likes of Joshua, Nicola Adams and Daniel Dubois.
"I was worried when I turned over, 'would I sell enough tickets?'," says Rea, who turned professional in June after 97 amateur fights. "Alongside the actual boxing there is a lot on my mind, and always something to sort out.
"It doesn't sound much but it's a lot of running about to do with last minute sales, especially after a long week in the gym - it takes a lot of effort."
The Stretford-born middleweight signed a contract with VIP Boxing, joining a stable that includes the likes of Terry Flanagan and Josh Warrington.
Then began a 14-week training camp with coach Blain Younis at Hatton's Gym in Hyde, Greater Manchester.
While he says the training is a step-up from the amateur ranks, he says turning pro is "financially tough" and the pressure of selling tickets is "mentally draining".
"When I first turned over, my mates presumed I was on big money and would be on TV and be famous, that's not the way it works," continues Rea. "They didn't get why I had to sell tickets, a lot were surprised how it works."
Rea take a percentage of tickets sales and a basic wage, the rest pays his opponent and then promoter Steve Wood, who is responsible for all the costs associated with staging the show at Victoria Warehouse, which had 10 fights including two debutants, Rea and Muhammad Ali, the first professional boxer with type one diabetes.
The money from the ticket sales goes into a pot for overheads, which on this show totalled £11,000, of which £2,500 were doctors' fees and the rest paid security, the ring, lighting, PA and officials.
Wood said: "Brad put a larger than normal amount into the pot through ticket sales, and I compensated him adequately but even with Brad and the other debutant doing very well, as per normal on shows I lost money, like 80% of shows I put on.
"It's hard for the fighter and promoter, we are both hoping that he can become a champion where it all changes."
Bunce says: "Most young kids are barely making £100 a week if you break it down to what they clear and how long they have been in a training camp.
"Right now it is all fun and games dropping off tickets at the drop of a hat, but that will change, It is a big relief for a fighter when the burden is taken off them.
"With the best will in the world, he will not make more than £25,000 over the next year and will be lucky if he gets a week off in between fights before he is back in the gym."
Rea won on a points decision against Jordan Grannum on Saturday night and his next fight is on 17 November - he could have a third fight before the end of the year.
Bunce continues: "As Bradley will find out, selling tickets for the first fight is easy, selling them for the second and third is harder."
"If someone comes to one fight, they might not be able to afford to come to the next one, tickets are not cheap," adds Rea.
'I can't thank Ricky enough'
"For 14 weeks I have not earned any other money," says Rea, who started boxing when he was eight-years-old. "That's where sponsors come in."
Rea trained twice a day during his camp and there was no time for a part-time job.
"Without my sponsors I would not be able to do it, I'd have to have a job on the side and would not be able to train like I do and not reach my full potential because of that."
His four sponsors have helped pay for his boxing licence (£140), medical including brain scan (£550), plus kit and living costs, including food. "Eating healthy is not cheap", adds Rea.
Then there is the contribution of Hatton, who put Rea up in a house near the gym, with a number of others boxers including Tyson Fury's younger brother Tommy, who is yet to make his professional bow.
"I cannot thank Ricky enough," says Rea. "It was a massive weight off my shoulders. I was struggling to get down every day as I didn't have enough money to pay for the train.
"I am very lucky to have this opportunity, without it I would not be able to train at the same standard."
Being at Hatton's gym has had many benefits, he has sparred with former WBO light-middleweight champion Liam Smith, while the likes of Tyson Fury and Carl Frampton are regular visitors.
Joshua v Povetkin, 22 September: Live text commentary on the BBC Sport website and build-up throughout the week.
'Knew what I was getting myself in for'
Rea turned pro after becoming frustrated with the amateur ranks and was not in the British Olympic team and the high profile that can bring.
"If he is not part of that system [Olympics] by now, two years out from Tokyo 2020, then he would have no chance," says Bunce.
"But there could be a kid at his weight on it who might not get to Tokyo, who might not qualify and in April 2020 find himself with nowhere to go. By which time Brad will have had 12 fights and be in line for an eliminator. It is a risk."
Rea says: "Since I was a young kid I wanted to be a pro. I knew what I was getting myself in for and I was happy to do that. Although it is small horse shows and not flashy - not what you see on the TV - it is a step in the right direction."
Getting onto the bill of a televised fight is Rea's goal and what he calls the "holy grail", so he can get spotted by a bigger promoter.
"Hopefully one day I will get picked up by a big promoter, until then it will be a struggle," he adds.
However Bunce warns that selling tickets for a televised fight in a bigger venue can bring its own problems with increased ticket costs.
Rea concludes: "There are so many other kids in the same boat as me, so many other middleweights on the same journey, selling tickets. Somehow I need to make myself stand out and get noticed.
"One of my biggest fears is doing a 9-5 job and living for the weekend, although it is tough, I love what I am doing."