Sean McComb and Steven Donnelly to fight at Madison Square Garden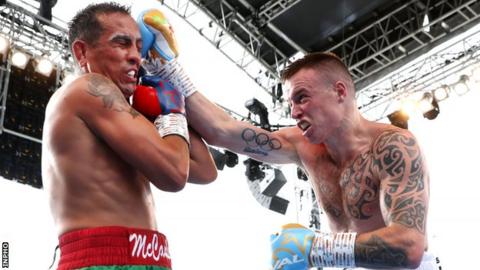 Former leading amateur boxers Sean McComb and Steven Donnelly are to fight at Madison Square Garden on 27 October.
The pair made their professional bows on the undercard of Carl Frampton's fight at Windsor Park on 18 August.
They have since recorded wins on the Amir Khan card in Birmingham and will fight again at Belfast's Titanic Exhibition Centre on 5 October.
"I wasn't expecting to start my career off like this. You couldn't ask for anything better," said McComb.
"It's unbelievable. It's unheard of and it doesn't seem real. It seems like a big dream.
"Madison Square Garden is something every single fighter dreams of. To have a big stadium fight on debut and again now is just incredible," added the Belfast fighter, who will be on the undercard of Daniel Jacobs v Sergiy Derevyanchenko.
"It's good to have someone who's career is going in the same direction in Steven, too. Steven was top 10 in the world as an amateur and he's a serious talent.
"Steven's a bit older and experienced so he's looking to push on in his career and fight for titles quickly. For me to go along with him, it boosts my confidence if I'm getting pushed with him."
Donnelly said: "Windsor Park was fantastic and now I'm on at Madison Square Garden having had my second fight on Amir Khan's undercard. You can't get much better than that.
"Fighting at Madison Square Garden is what boxing dreams are made of. I have to pinch myself and it's a great surprise.
"Once again, it's myself and Sean McComb and it's great to have him with me on the same cards and going at the same pace so bring it on.
"I improved in my second fight and felt a different fighter. I hope to keep that going in Belfast on 5 October and then improve again for Madison Square Garden. I'm absolutely buzzing for it."