Mike Costello & Steve Bunce on Joshua, Bellew, Frampton, Khan, Golovkin & Groves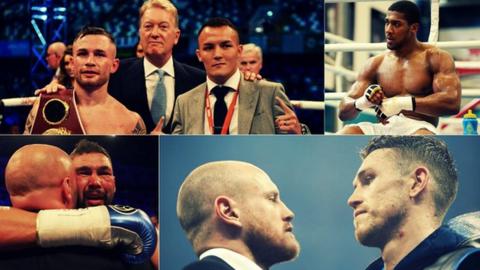 "It might just be the greatest start to a boxing season since BBC Radio 5 live has been on air."
BBC analyst Steve Bunce believes boxing fans should be braced for a memorable few months, with eye-catching bouts featuring Amir Khan, Anthony Joshua and George Groves.
Bunce and BBC Sport boxing commentator Mike Costello are also salivating at the prospect of fights yet to be signed - think Tony Bellew, Carl Frampton and Josh Warrington.
Costello tells fight fans they "have to appreciate this era" and with a plethora of storylines set to unfold between now and the new year, says "it might get even better".
Will time catch up with GGG?
Saul Alvarez v Gennady Golovkin
15 September (Las Vegas): There has been plenty of heat since a controversial draw between Gennady Golovkin and Saul 'Canelo' Alvarez in 2017. Failed drugs tests by Alvarez saw a rematch postponed, so will the time lost hinder Kazakhstan's Golovkin?
Costello: The WBA and WBC world middleweight titles are at stake and the draw last time was perfect in terms of building a rematch. Golovkin is now 36 and although he is unbeaten, there is this thinking that the longer things went before this fight was made, the more it starts to dent his chances.
Bunce: I know his fights have got harder the last few years - a couple going the distance - but he lives well. When he has down time, you know he's doing yoga or running in a swimming pool somewhere. The guys who can compete past the age of 32 are often the ones who live the best lives. Bernard Hopkins and the Klitschko brothers lived like saints from the age of 17. I get the same thing with Golovkin and I'm not sure he has lost enough to tip the scales for Canelo just yet.
One more step to Brook?
Amir Khan v Samuel Vargas
8 September (Birmingham): Khan ended almost two years out of the ring last time out and steps up in his quest for a world title or a bout with British rival Kell Brook by facing a Colombian who has shared the ring with Danny Garcia and Errol Spence Jr.
Bunce: In the top three on the list of fights I'd love before Christmas I would like to see Khan and Brook as it's getting on now and is years overdue. If it drags on, we are getting close to a fight taking four years to make.
Khan has rediscovered something. There's something back in his voice, there's a sparkle back in his eyes. I think he sees a few routes to where he wants to go.
Costello: It looks as though Khan has decided to park himself at welterweight, which is still a red-hot poundage with any number of prospects. I think the best fight out there for him is the Brook one but I sense - from talking to him about the weight at which it should take place - that he's playing hardball and will not move up from 147lbs at all.
'The British heavyweight championship of the world'
Anthony Joshua v Alexander Povetkin
22 September (Wembley Stadium): Anthony Joshua will put his IBF, WBA and WBO world heavyweight titles on the line against mandatory challenger Alexander Povetkin, a 38-year-old Russian twice banned for failing a drugs test.
Costello: Povetkin is yet another drug offender in boxing being given another chance.
The whole aura around this fight has changed in the last month or so with the announcement that Deontay Wilder and Tyson Fury are highly likely to fight later in the year. In some ways it has diluted the fight but in others it increases the attention because of all that it now means for everyone involved if they lose.
Whatever happens, if you look at the permutations and possibilities in the heavyweight division, then factor in Dillian Whyte, Joe Joyce and Daniel Dubois, and you are talking about a scene where - Wilder apart - it is now the British heavyweight championship of the world.
Bunce: Do we see an old Joshua - a bit more of a warrior who wants to be in ridiculous fights? Or do we see the Joshua who was praised by Lennox Lewis but not necessarily everyone else when he beat Joseph Parker? That was the sensible man, the man who put boxing first and used his brain.
If we see that Joshua, he can make Povetkin easily. He could make this simple but I think he will get sucked in as Povetkin is good enough to suck him in. And Povetkin knows this is it; if he loses this, it's a long, slow road back.
'Warrington turned in the best of 2018 so far'
Josh Warrington v Carl Frampton
Fight and venue yet to be signed: Josh Warrington upset the odds to take the IBF featherweight title from Wales' Lee Selby at Elland Road in May. After beating Luke Jackson in August, Carl Frampton said a meeting with the Leeds fighter this year was an "easy fight to make".
Bunce: I don't think after seeing the Selby fight that you can write off Warrington. That, at the moment, is the best display by a British boxer in 2018.
He showed better footwork and punch variety, as well as the ability to work to a plan. Frampton will have to be faster, sharper and nastier than he was against Luke Jackson, who ended up with two ruptured eardrums and was in a right old state.
Costello: This might be the best fight in Britain this year, I think it has all the elements. The event of the year will be if Fury fights Wilder but if there was a fight I would like to see with a free ticket, it would be Frampton-Warrington.
I think it's shrewd business as there is a way back for Warrington if he loses here but there is also the chance he can grow again. The trainer Virgil Hunter once told me that sometimes a fighter produces a special performance that even people in his own gym didn't know was there. There may just be more to come from Warrington.
'Smith to beat Groves? A big ask...'
George Groves v Callum Smith
28 September (Jeddah, Saudi Arabia): The delayed final of the World Boxing Super Series tournament sees George Groves defend his WBA world super-middleweight title against Liverpool's Callum Smith in a mouth-watering affair.
Costello: Groves has beaten Jamie Cox and Chris Eubank Jr in the tournament already while Smith was not so highly tested, so Smith is the one taking the leap up. The question is: Can he bridge that gap between that opposition and one of the best?
Bunce: I think it's a big ask. I think he starts an underdog. Groves has had much harder fights than Smith has faced so far. When Groves fought Eubank Jr, how right he was and how wrong some of us were. His camp said Eubank Jr wouldn't know enough and since, Groves has said he is surprised at just how much he himself now knows about this game when he's in the ring. He is a smart man.
'You cannot write off Bellew'
Tony Bellew v Oleksandr Usyk
Fight and venue yet to be signed: Fresh from two wins over David Haye at heavyweight, Tony Bellew was keen on facing Oleksandr Usyk, who owns all four belts from the weight division below. Given Usyk called out Bellew immediately after his win to secure all four cruiserweight world titles against Murat Gassiev, a dust-up looks likely.
Costello: Many have written off the British fighter. He is a huge outsider according to bookmakers but I am troubled and a bit confused by Usyk. His display against Murat Gassiev to win the World Boxing Super Series - was it all him? I got the sense that Gassiev was very happy to lose that night and I need more evidence that Usyk is absolutely really special.
Strangely, this fight will not sell like Bellew's bouts against Haye and yet you have possibly one of the great champions of modern times rising from the opposite stool.
Bunce: You cannot write off Bellew. He will have to lose some weight to come back down a division from heavyweight, which he says he can do. Is he a bigger underdog in this than he was in the first Haye fight? I will argue no.
How much would you pay for this?
Ryan Burnett v Nonito Donaire
Fight signed with venue TBC: The second season of the World Boxing Super Series will feature tournaments at cruiserweight, super-lightweight and bantamweight - where Northern Ireland's Ryan Burnett begins his tournament against former four-weight world champion Nonito Donaire. The bout, where Burnett's WBA world title will be on the line, forms part of a tournament also boasting the IBF and WBC title holders, meaning one man will eventually hold all three.
Costello: Let's look at the left-hand side of the draw. The seeds are Burnett, Zolani Tete, Naoya Inoue and Emmanuel Rodriguez. Who wins it? I can't budge from Inoue. I think he is very, very special. It is special and if these fights all stay in place, how much money are you willing to pay to sit and watch them?
Bunce: It's a tough one for Burnett and if he wins, he probably faces Tete. Facing Donaire and then Tete - that is going some. This is a savage line-up. I know Tete hurts people, he's vicious. Burnett marks up around the face. To go the distance with Tete would be very hard for his face because of how he marks up.