Andrew Selby: Welsh boxer looks to return from 'rock bottom'
By Michael Pearlman
BBC Wales Sport
Last updated on .From the section Boxing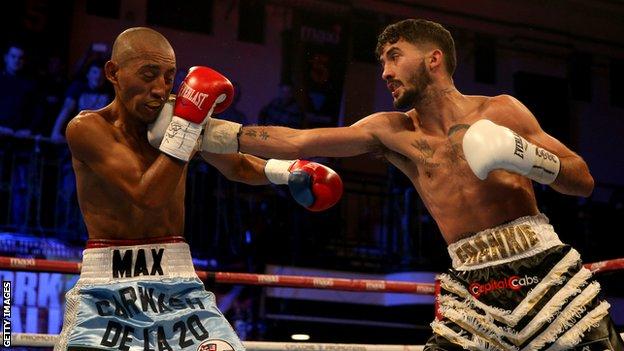 Welshman Andrew Selby says he has hit "rock bottom" in the past 12 months, but is now more determined than ever to win a world title.
Once tipped as British boxing's brightest rising star, Selby is currently unable to fight because he has been stripped of his licence after a tumultuous period in his life.
Selby says he has been inspired to return to the ring after seeing WBC flyweight champion Cristofer Rosales beat contender Paddy Barnes in Belfast last weekend. Selby beat Rosales in resounding fashion in 2017.
The younger brother of Wales' last world champion, Lee Selby, Andrew says he is hoping to return to the ring in 2018 to challenge for the European flyweight title after questioning whether he would ever fight professionally again.
His moment of doubt followed a year in which Selby:
Grieved the death of his mother and aunt

Split with his partner and no longer sees his daughter

Had a fracas with a taxi driver that went to Magistrates Court and saw him given a fine and community order

Attended court-ordered counselling

Was stripped of his boxing licence and warned he could face a ban

Broke his ankle in training
Selby has now been inactive since last October, when he collected his 10th career victory against Maximino Flores at London's York Hall.
The 29-year-old was supposed to go on to bigger and better things, but matters outside of the ring took over.
Family 'feels cursed'
"My last fight was October, it's been hard since," Selby told BBC Sport Wales.
"I had a big break-up with my baby's mother. But there are two sides to the story. I say she is bad, she'd say I am... but I don't see my daughter.
"I missed my daughter so much I just lost interest in boxing really.
"My mother passed away in July, the break-up came next and I just could not focus on boxing.
"With my mother, it was just me and her living in a caravan. I was very close with her and it hit me so hard. It's hard to move on, but you've got to.
"My brother handled his grief in a better way, he handled it all better.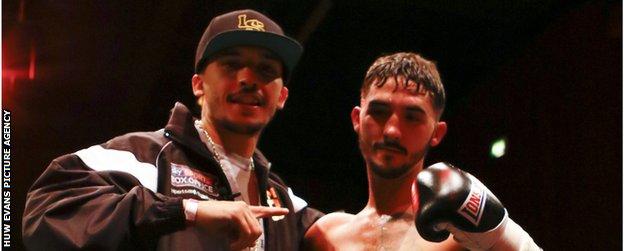 "Weeks pass and people stop thinking about it, but for me sometimes you are putting on a brave face. I'm still grieving, it is always there. Me and my brother used to be quite close but we don't really speak at the moment.
"My auntie died on New Year's Day too. My family, we are quite cursed, it feels like that.
"I also fractured my ankle in April, so that was another setback; that made me even more down.
"I have hit rock bottom and there is no way I am going back there, the only way is up now and I actually feel happy at the moment. I haven't smiled for a long time but I am feeling better."
Court, counselling and a community order
Selby has been unable to box since having had his licence stripped at a British Boxing Board of Control (BBBoC) hearing, following an altercation with a taxi driver. The incident led to a court conviction for a public order offence in May 2018.
He has threatened to retire if he receives a longer suspension, but BBC Sport Wales understands that is unlikely to be the case.
The BBBoC says it is waiting on paperwork from Selby's manager Chris Sanigar before renewing his fighting licence but feels the matters that led to Selby's suspension "have been resolved".
"We want him back in the ring as soon as possible," a BBBoC spokesperson told BBC Sport Wales.
Selby - Wales' most successful boxer at amateur level before turning pro - hopes he will be reinstated.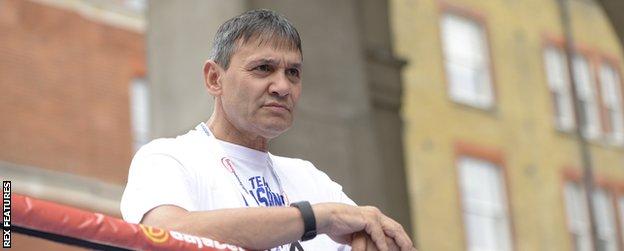 "I am suspended for now, but if they do suspend me further I will just retire. I hope they will give me a chance, because I think I am one of the closest in Wales to winning a world title," Selby said.
"I just had an argument with a taxi driver. I went to court and I got probation [after being issued with a community order] and a fine; the court also ordered I did counselling.
"I went to a place that specialises in alcohol and drug issues. I went in and they were absolutely fine with me. I passed that and now it's just meeting with a probation officer every three weeks.
"Even in court, the judge said he was a fan of my boxing. That is why I didn't get community service, because he knew I needed time for training. But the suspension I have learned from.
"I did the counselling as well, I passed that. I haven't had a drink for quite a while."
Rosales result 'inspired' comeback
While Selby has been fretting over his boxing future, he has had to endure watching his boxing past not only catch him but eclipse him.
He looked every inch a superstar in the making in the World Boxing Series, where he represented the British Lionhearts and Italian Thunder. He lost only one of 10 contests and beat Irish star Michael Conlan.
Even as a 17-year-old, Selby's talent was clear when he was defeated on points in a close contest by Vasyl Lomachenko, the current WBA and Ring magazine lightweight champion regarded as one of the best pound-for-pound boxers.
Selby was part of the Team GB boxing squad at the London 2012 Olympics, but has only been able to look on since while team-mates such as Anthony Joshua and Nicola Adams have claimed titles, glory and big pay days.
Not only that, but a boxer Selby dominated last summer, Rosales, is now a full world champion, holding the prestigious WBC flyweight world title.
Selby, despite his inactivity, remains the number one ranked challenger with the WBC and is also a top 10 contender for both the IBF and WBO crowns.
Selby is scheduled to challenge European champion Vincent Legrand in his next fight - tentatively set for October - and should he win, he would almost certainly get a WBO world title opportunity.
Once he returns to the ring, Selby promises his new attitude will translate to even better results, despite being unbeaten in 10 professional contests, especially as a world title chance has never meant more to him.
Indeed, after beating Rosales, Selby at the time declared he "doesn't even like boxing".
"The Paddy Barnes fight, watching it, I felt sick," Selby said. "I want to come back and prove everyone wrong, all those people on the internet who say I am already past my best.
"When I was professional I was only half trying! Now I am going to put everything I have into boxing.
"I've always relied on my natural talent more than my dedication but now it has turned around, I feel absolutely 100% dedicated.
"I think I can be a world champion and put money in the bank and look after my kids.
"At the moment my life is just training, I haven't got any money to do anything else anyway!
"Before, I didn't care about being a world champion. I had a lot of pressure put on me, people saying 'he will be a world champion next year'.
"But I used to think 'nah, it's not about that, it's about money. The money is what boxing is about'.
"Now I see it differently, I actually want to be a world champion to prove a lot of people wrong.
"The WBC is the best title out there and I could grab it with both hands right now. The champion? I beat him in 11 out of 12 rounds. I want to beat him again.
"I made Rosales look silly, so I must be good. His last fight made me realise I could be a world champion within a year.
"I was in the gym 10 minutes after Rosales beat Barnes. It made me train harder as well."
It certainly sounds, finally, like the penny has dropped for one of Britain's most naturally talented fighters.
And after a difficult year, boxing fans will be hoping Selby can finally fulfil his immense talent.