Luke Jackson: Carl Frampton fight is 'life changing' opportunity for Australian boxer
Last updated on .From the section Boxing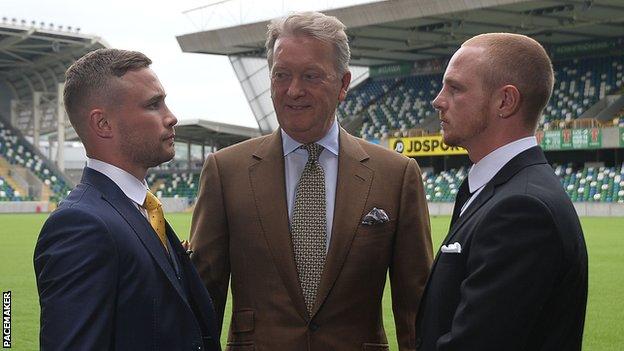 Luke Jackson will adopt a familiar role on Saturday when he looks across the Windsor Park ring and sees Carl Frampton staring back at him.
Fighting a two-weight world champion in front of a partisan 24,000-strong crowd are not the kind of odds most boxers would embrace but Jackson, 33, has already faced greater challenges.
He has overcome a tough upbringing and a mental disorder to get to this point.
"I've been an underdog my whole life," he said. "I'm not supposed to be here."
"My friends are either in jail or they're dead and that's where I'm supposed to be.
"A lot of my family are on drugs and are doing the wrong thing and I dropped out of school in grade eight [aged 14] and I wasn't supposed to amount to nothing, that's what everyone said to me, but I have because I've been dedicated to the sport of boxing.
"I've trained hard and I've made all this happen myself; I've had no hand-outs no freebies, no rich parents, nothing like that and I've worked hard and I'm proud of myself."
'I'm ready to shock the world'
A latecomer to the sport, Jackson did not take up boxing until his late teens and won a featherweight bronze medal at the 2006 Commonwealth Games.
He resisted the temptation to turn professional for almost a decade until he made it to the 2012 Olympics where he lost in his opening bout.
He joined the pro ranks the following year and is undefeated in his 16 career fights but Saturday's showdown with Frampton will be a completely different level for the Tasman-native and one that he says would be life-changing for him and his family.
"My life has been very difficult. I didn't just arrive here, I spent a lot of time as a young kid doing the wrong thing, on drugs and I dropped out of school and I was just going nowhere," Jackson revealed.
"I've got severe OCD (Obsessive Compulsive Disorder), that I take medication for every day, and it's been a battle to get here.
"It hasn't come easy and I've worked hard and I deserve to be here. I'm ready to shock the world and cause a major upset and I feel this is my destiny.
"I'm just appreciating every day and not taking it for granted because I know it will be over one day and this is a big moment for me and my family and I'm looking to win and change our lives."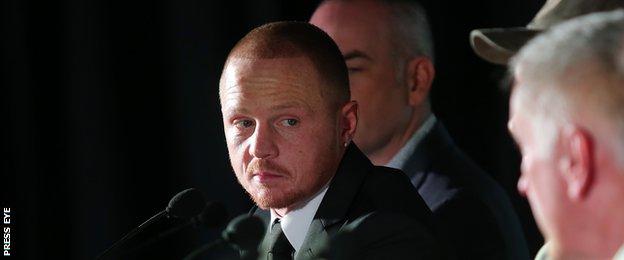 Like putting a puzzle together
As a professional, Jackson has never fought outside of Australia but his struggle to identify and tackle his OCD means that he is used to being outside his comfort zone.
"I was living with a mental health condition for 28 years of my life and I didn't understand it because I grew up by myself and my parents weren't around to see me doing little things that were maybe a little unusual," he explained.
"People think OCD is just touching stuff and keeping your hands clean and whatever but it's so much more than that.
"Ever since I started seeing someone about it, I understand so much more about myself and everything makes sense now.
"I'm still learning stuff to this day about why I used to do some things. It's like putting together a puzzle and for me to be able to live 28 years of my life with that and not understand that is absolutely insane."
'I want his money, I want his fame'
Family remains important to Jackson despite his difficult childhood and he is determined to grasp his opportunity to forge a better life for himself and his loved ones.
"Money doesn't make the world go around but it helps you live a better life and I want to do that for my family," he added.
"I want what Carl's got. I want his money, I want his fame - I want everything so that's why we do it. We want to be at the top and I want to be able to look after my family."
Jackson's father is now an important figure in his life and he has travelled outside Australia for the first time in order to watch his son attempt to defy Frampton and his army of supporters.
"My father is 67-years-old and he's never left Australia so for me to be able to give my father a reason to get on a plane and fly half way across the world, that makes me very proud.
"There'll be one man in the 24,000 on Saturday night that will be fighting with me."