Dillian Whyte: 'I'll never be the golden goose like Anthony Joshua'
Last updated on .From the section Boxing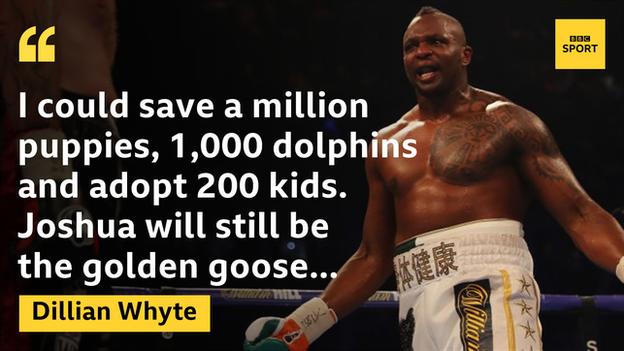 Dillian 'the Body Snatcher' Whyte has just showcased ferocious hitting but now he's in a rush to get back to his hotel as his pet puppy Zeus needs a walk.
There's a gentle side to a man who has been shot twice, stabbed three times and in his last outing, quite literally punched a couple of Lucas Browne's teeth out to maintain his momentum at the sharp end of boxing's brutal heavyweight division.
Whyte's life has changed markedly since a deprived childhood. It has also changed markedly since 2015, when his only career defeat - by Anthony Joshua - made clear the flaws in his setup.
He says he will never become the "golden goose" Joshua is for the public but what he could change he did - a new trainer, a new training base, a new emphasis on scientific details and a fresh persona.
"I could go to church, save a million puppies, 100,000 dolphins, seven blue whales and adopt 200 kids tomorrow and Joshua will still be the golden goose," Whyte tells BBC Sport. "There's no point me fighting that battle with him. People will get to see I'm real and a straight guy. And they'll realise I can fight as well."
Seven wins in a row since his Joshua loss have moved Whyte to within touching distance of a world title shot. A win over Joseph Parker - who lost to Joshua last time out - on Saturday, will perhaps finally secure a shot at a world belt. If this cruel sport can for once be fair, it will.
'I responded to defeat, will AJ?'
Few fighters in any weight division right now have won the so-called 'eliminator' bouts Whyte has. He knocks them down, "politics" in the sport force him to wait. On the plus side, the 30-year-old is now ready.
When he switched to train at Loughborough University after defeat by Joshua, the institution's sports science types were disbelieving of his physical state. Balance, flexibility, some of the attributes a "natural athlete" possesses, were lacking.
There was surprise he was able to wobble Joshua and take the eventual unified world heavyweight champion seven rounds. The message from the science types was clear, his approach had been spit and sawdust when the man in the other corner was precision engineered.
"I just thought enough is enough man. What I was doing wasn't good enough," adds Whyte. "It was good enough up until I met someone who was doing it properly - someone who was stronger than me and in better mental and physical condition than I was.
"He was training with good structure around him. I wasn't an Olympic champion or an ABA champion. I never had that setup.
"That loss, it depends on what person you are. If you're mentally weak it can destroy you. Some guys who look talented, lose and never come back. We will see what happens when Joshua loses for the first time."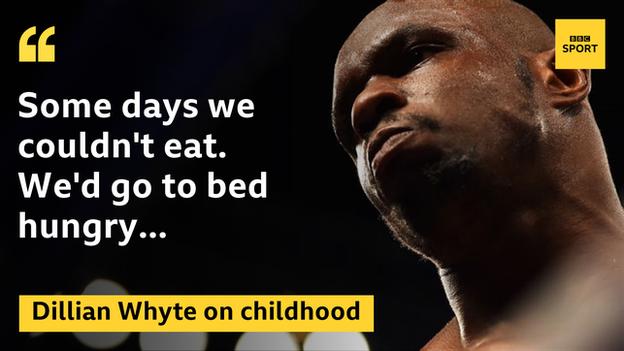 'We went to bed hungry'
Eleven days out from facing Parker, Whyte has already done a track workout before I watch him go through pad work. He's been training for about four hours. Later there will be a weights session.
His trainer Mark Tibbs has both elbows taped as he holds the pads. The force thrust through them has taken its toll. A right to the body suit from Whyte forces Tibbs to jump backwards. A straight right follows.
"That was a good shot," says Tibbs. "Use the shoulder more this time." Whyte does and the snap of glove on pad is cleaner, crisper, better.
Whyte - a former European champion kick boxer - is visibly more muscular nearly three years on from his Joshua test. The mental stance has changed too.
By his own admission, he was fine with being portrayed as trouble in 2015. It made the necessary noise to draw in a pay-per-view audience and Joshua earned a reported £3m. The street crime that filled Whyte's teenage years aligned nicely with the good versus bad narrative.
Now, as he sweats profusely sat under the ring ropes, such troubles seem a thing of the past for the father of three. A man who once pulled a bullet from his own leg knows he has achieved against the odds.
"Man when I was growing up in Jamaica we suffered, suffered, suffered," explains Whyte.
"My mum left when I was two to come and find work in London to make money, as we had nothing. Some days we couldn't eat, we'd go to bed hungry. She left me with people who didn't take very good care of me. They were taking the money my mum was sending and was telling me she wasn't sending anything.
"I came here when I was 12 and was shot twice, stabbed three times. That was my path. Thank God I found martial arts.
"That's why I believe there should be a far greater emphasis on children doing sports. I believe nowadays, part of the problem is kids don't have anything to do in some areas and hang out on streets.
"The government should have something in place where in school they see what sport you are most suited for and it should be mandatory that you do more of it in your curriculum."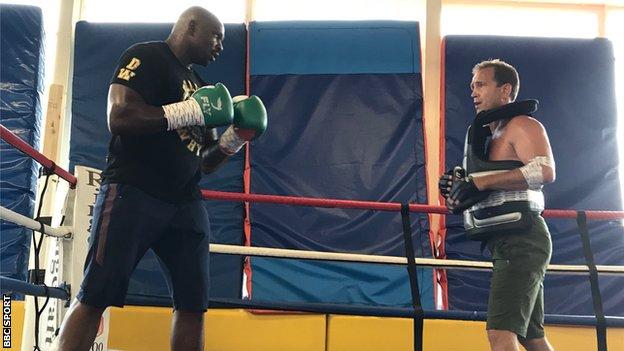 'Politics will not see me rest'
Combat - he also has one 12-second Mixed Martial Arts win to his name - has proven educational for Whyte. There have been hard lessons too, notably a drugs ban as a result of using an illegal supplement in 2012.
But that he has found a focus, a path and riches is not enough. A world title remains the burning ambition. Whyte has navigated a handful of so-called 'eliminator' fights and called out WBC world-title holder Deontay Wilder, but still he waits.
"Boxing has changed my life but I need to get to the top level to inspire more people," he says. "I can show that no matter what your background is, you can be great.
"I'm frustrated, but it's boxing. Money and politics run things. I understand I am fortunate to be in these big fights with no world title on the line.
"Some guys wouldn't take this chance but I want to fight, be active, be busy. I don't want to sit down. Look at Bermane Stiverne, he sat down, waited two years, fought Wilder and was banged out in a round. In that two years Wilder had six or seven fights.
"This test and patience is like when I arrived on the scene. No one ever gave me the keys to the door. I had to climb fences and jump through windows. I'm used to it."
By his own admission, Whyte "has everything to lose" against Parker. The world rankings, the world-title shot in touching distance, they can be ripped away by a man who has held the WBO world title himself.
Without the currency of momentum, Whyte would also prove hard to match. Who on earth would want to deal with such a hard night's work as him unless a sizeable carrot is on offer to justify such risk?
There is much to play for.
Whyte is a melting pot of the mental scars of poverty, the consequence of poor choices and of hope stemming from new-found ways.
"I am sharp now, grafting, no playing," he says while unwrapping his hands. "I want to leave it all out here so when I get in there I am ready to break this guy's face."
Parker is waiting, as is Zeus.