Michael Conlan beats Adeilson dos Santos in Belfast homecoming bout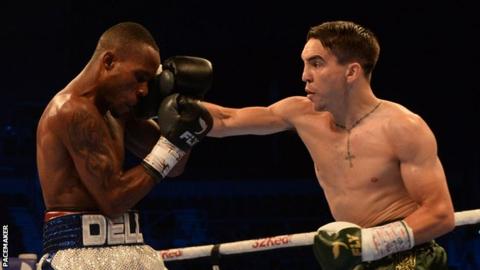 Michael Conlan marked his first professional fight in his native Belfast with a points defeat of Brazil's Adeilson dos Santos.
The former world amateur champion used his superior footwork to seal a workmanlike victory at the SSE Arena.
In a battle of similar styles, London 2012 bronze medallist Conlan dominated the opening rounds before holding his opponent at bay in the closing stages.
Conlan won the eight-round super-featherweight contest 79-73.
After a spectacular ring-walk by both fighters, the atmosphere among the partisan crowd gave way to a cagey opening round as the two fighters began cautiously.
Conlan, who is now 8-0 at the start of his professional career, was able to use his foot speed to keep out of range but the Brazilian (19-5) drew on his greater experience as he looked unperturbed by the intimidating atmosphere outside the ring.
Neither fighter was able to seriously hurt their opponent during the opening rounds, although Conlan looked the more aggressive of the two as the crowd urged him to land a knockout blow.
Dos Santos attempted to use his reach advantage with a series of forward lunges behind his long, right jab but Conlan was able to counter with some vicious left hooks to the body that landed just on his opponent's waistband.
The pace increased during the third round as Conlan cuffed his opponent around the head with a series of swinging left shots before weaving back out of range.
The 2012 Olympic bronze medal winner also used some impressive glove work to land further body shots before Dos Santos replied with a demonstration of his own hand speed to momentarily stop the onslaught.
The fourth round devolved into a grappling contest with both fighters wrestling to try and gain the upper hand close in, before Conlan finished strongly with a powerful right-hand shot on the bell.
Both fighters began to show their switch-hitting abilities during the second half of the fight, with Conlan determined not to allow his opponent to settle into a rhythm.
The Belfastman was arguably the more aggressive fighter throughout but referee Phil Edwards did warn both men about low blows during a stop-start fifth round before Dos Santos unleashed a thudding right uppercut in the sixth that momentarily stunned Conlan.
The pace began to slow slightly in the final rounds but Conlan, who had only gone eight rounds once before in his career, attacked his rival's body in the seventh round as he desperately sought to entertain his home support with an early stoppage.
Dos Santos hung on to reach the final round and he was comfortably able to frustrate Conlan's attempts to produce a grandstand finish.
Analysis
Former world flyweight champion Dave 'Boy' McAuley on BBC Radio Ulster
Conlan is nowhere near ready for a world title shot yet and I would say he's at least a year away. In any year you would have three or four fights so he's probably even further down the line than that.
To be fighting for world titles, realistically you need to be well into the teens in terms of fights so I think he's at least a year away. I would say possibly two years.
Right now he's a very good prospect and after that performance tonight he's still a very good prospect. He knows it wasn't a world class performance tonight but in my mind he is still a very good prospect and I think he's one to watch for the future.